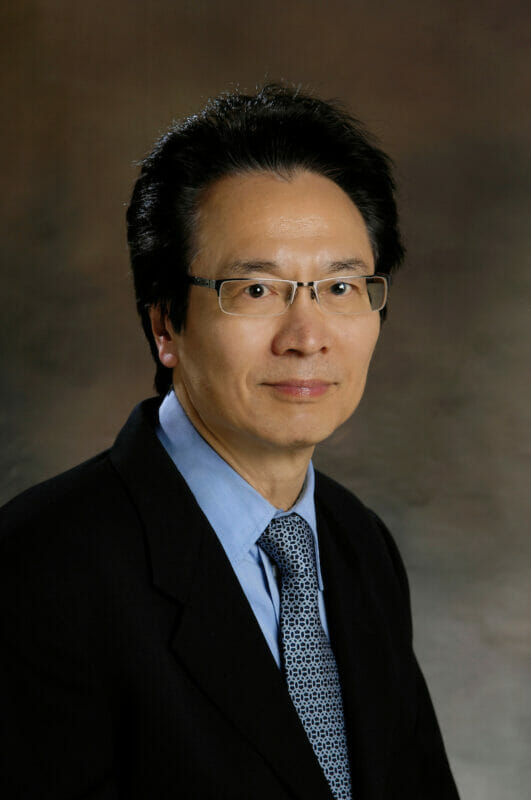 Moses S.S. Chow, PharmD
Professor
College of Pharmacy
E-Mail: mchow@westernu.edu
Phone: 909-469-5301
Education
AA 1968 City College of San Francisco
PharmD 1972 University of California, San Francisco
Credential
FCCP 1985 American College of Clinical Pharmacy
FCP 1988 American College of Clinical Pharmacology
Education Experience
PGY1 Training
Clinical Pharmacy 1973 VA Hospital, Palo Alto, CA
Research Interest
Dr. Chow has over 40 years of experience in transitional research and clinical studies in the areas of pharmacotherapy and application of pharmacokinetics pertaining to cardiovascular drugs and anticancer therapy. His current research is devoted to the development of treatment modality for resistant cancer (herb-drug, ultrasound-drug combination ) as well as formulation for rapid drug delivery via nasal or sublingual administration . He has also established a strong network with Asian countries, especially China, where he served as Director of the Pharmacy School at the Chinese University of Hong Kong for 8 years and also as the Founding President of the Asian Association of Schools of Pharmacy.
Publications
1. Yin Ophelia Q.P., Tomlinson Brian, Waye Mary M.Y., Chow Albert H.L., Chow Moses S.S. "Pharmacogenetics and Herb-drug Interactions: Experience with Ginkgo Biloba and Omeprazole". Pharmacogenetics 2004;14:841-850.
2. Chen Xiao, Yin Ophelia Q.P., Zuo Zhong, Chow Moses S.S. "Pharmacokinetics and Modeling of Quercetin and Metabolites". Pharmaceutical Research. 2005;22:892-901.
3. Yin Ophelia Q.P., Tomlinson Brian, Chang Qi, Poon Emily, Chow Moses S.S. "CYP2C9 but not CYP2C19 polymorphisms affect the pharmacokinetics and pharmacodynamics of glibenclamide in Chinese subjects". Clinical Pharmacology and Therapeutics 2005;78:370-377.
4. Wang ZH, Yin O, Tomlinson B, Chow M. OCT2 polymorphisms and in-vitro renal functional consequence: studies with metformin and cimetidine. Phamracogenetics and Genomics: 2008; 18: 637-645.
5. Wang Y, Chow MSS, Zuo Z. Mechanistic analysis of pH-dependent solubility and trans-membrane permeability of amphoteric compounds: application to sildenafil. Int J Pharmaceutics 2008; 352: 217-224
6. Wang YF, Wang Z, Zuo Joan, Tomlinson B, Lee B, Bolger M, Chow MSS. Clinical Pharmacokinetics of Buffered Propranolol Sublingual Tablet (PromptolTM) - Application of a new "physiologically based" model to assess absorption and disposition. The AAPS Journal 2013; DOI: 10.1208/s12248-013-9479-1.
7. WangZ, Ravula R, Shi, Song Y, Yeung S, Liu M, Lau B, Hao J, Wang J, Lam CWK, Chow MSS, Huang Y. Overcoming chemoresistance in prostate cancer with Chinese medicine Tripterygium wilfordii with multiple mechanisms. Oncotarget. 2016 Jul 28. doi: 10.18632/oncotarget.10868
8. Wang Z, Liu X, Ho RLKY3, Lam CWK3,Chow MSS. Precision or Personalized Medicine for Cancer Chemotherapy: Is there a Role for Herbal Medicine. Molecules. 2016 Jul 7;21(7). pii: E889. doi: 10.3390/molecules21070889.
9.Li, C., WangZ., WangQ., Ka Yan HoR. L., HuangY., Chow M.S.S., Lam, C. W.K., Zuo, Z.. Enhanced anti-tumor efficacy and mechanisms associated with Docetaxel-Piperine combinations in a Taxane-resistant prostate tumor xenografts model. Oncotarget. 2017; 9 (3): 3338-3352.
10. Chow MSS, Chow SL, Kember D. A conceptual basis and key components for pharmacy core curriculum in the age of artificial intelligence. J Asian Assoc of Schools of Pharmacy 2018; 7:15-20
11. Wang, Z., Xie, C., Yeung, S., Wang, J., Chow, MSS. Development of a simple and rapid HPLC-MS/MS method for quantification of streptomycin in mice and its application to plasma pharmacokinetics studies. Biomed Chromatogr. 2019; 33(2):e4408