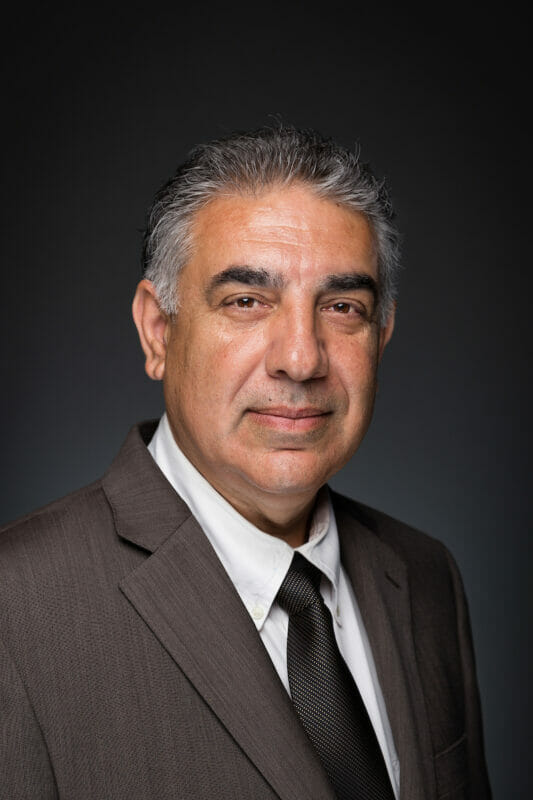 Nissar Darmani, PhD
Associate Dean for Basic Sciences and Research; Chair of BMS;Professor of Pharmacology
College of Osteopathic Medicine of the Pacific
Join year: 2005
Education
Ph.D., Neuropharmacology, University of Wales, UWIST, U.K., 1988
M.S., Applied Pharmacology, University of Wales, UWIST, U.K., 1984
Medical Scientific Officer, Immunohematology Center, Cambridge, UK, 1979-1983
B.S., Honors: Pharmacology & Biochemistry, Leeds University, England, U.K., 1979
Education Experience
Postdoctoral Fellow, Neuropsychopharmacology, Department of Pharmacology, Medical College of Virginia, 1988-1991
Teaching Experience
Associate Dean of BMS and Research, Western University of Health Sciences, COMP, 2011-present
Assistant Dean of BMS and Research, Western University of Health Sciences, COMP, 2008-2011
Chair, Department of Basic Medical Sciences, Western University of Health Sciences, COMP 2005-present
Professor, Department of Pharmacology, Kirksville College of Osteopathic Medicine, Kirksville, MO, 2000-2005
Associate Professor, Department of Pharmacology, Kirksville College of Osteopathic Medicine, Kirksville, MO, 1995-2000
Assistant Professor, Department of Pharmacology, Kirksville College of Osteopathic Medicine, Kirksville, MO, 1991-1995
Research Assistant Professor, Department of Pharmacology, Medical College of Virginia, 1991
Courses
Dr. Darmani's main training has been in the field of pharmacology and will be teaching the core pharmacology course involving introduction to pharmacology, pharmacodynamics and pharmacokinetics.
Research Interest
Dr. Darmani has several avenues of research interest that include:
Developmental effects of drugs of abuse on the newborn.
Serotonergic mechanisms of cocaine's actions.
Mode of action of antidepressant drugs.
Adaptive mechanisms of serotonergic 5-HT2 receptor functions.
The role of delta-9 -THC and synthetic cannabinoids on chemotherapy- and radiotherapy-induced vomiting. His laboratory had the first opportunity to demonstrate the mechanisms of antiemetic actions of marijuana.
Role of 5-HT3-, Dopamine D2/3-, Lekotriene CysLT1- and NK1- receptors in emesis and application of their antagonists as antiemetics.
Another of his research interests involves the role of osteopathic manipulative medicine on the blood levels of endogenous cannabinoid-like compounds and other pain markers in patients with back pain. He had been successful in obtaining several million dollars of research grants from numerous funding agencies including the Pharmaceutical industry, the National Institute of Drug Abuse, the National Institute of Cancer, the Department of Defense and the Environmental Protection Agency.
Publications