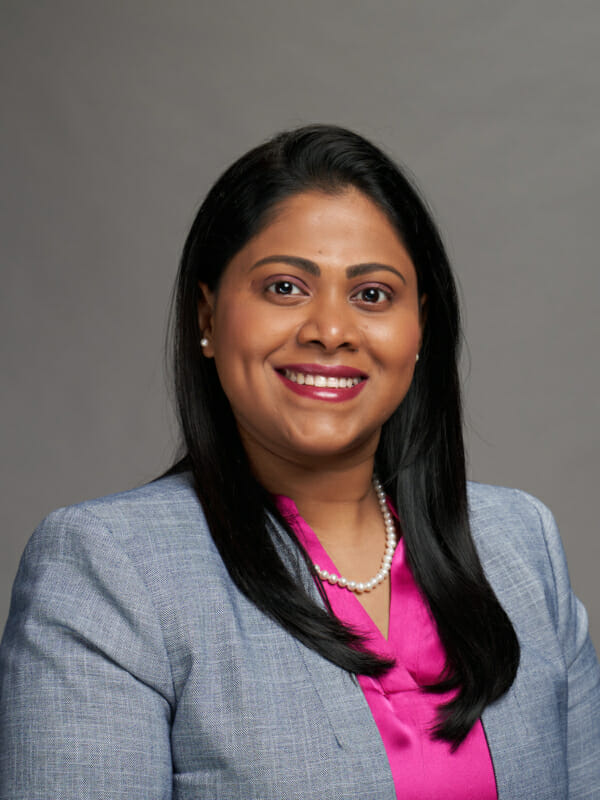 Preshita Desai, B. Pharm., Ph.D.
Assistant Professor
College of Pharmacy
Education
Ph. D. (Tech.) – Pharmaceutics, 2016
Institute of Chemical Technology, India
M. Pharmacy – Pharmaceutics, 2012
Institute of Chemical Technology, India
B. Pharmacy - Pharmaceutical Sciences and Technology, 2010
Institute of Chemical Technology, India
Certification
Design and interpretation of clinical trials, online Coursera certification, Johns Hopkins University, USA, 2017
Initiating and planning projects, online Coursera certification, University of California - Irvine, USA, 2017
Professional Experience
Research scientist, post-doctoral fellow, 2017-2022
Western University of Health Sciences, College of Pharmacy, California, USA
UK-India Education and Research Initiative (UKIERI) Visiting Fellow, 2012-2013
University of Bradford, UK
Research Interest
Strategic designing, development, optimization, scale up and characterization of novel pharmaceutical formulations, nanotechnology based targeted delivery systems, specialized formulation for controlled drug delivery and/or bioavailability enhancement, tumor treating fields, cancer chemoprevention and treatment, neurodegenerative diseases.
Research Grant
Co-Investigator – 'Preparation of disulfiram, sulfasalazine lipid nanoformulations and analysis of mouse plasma samples', NIH R-01 Grant subaward, 2022
Principal Investigator – 'AACR-Novocure tumor treating fields research fellowship: tumor treating fields triggered targeting of nanoparticles in cancer', American Association of Cancer Research (AACR), 2019-2022.
Awards
'2019 DDTR-CRS OrDD Best Oral Delivery Paper' for Desai P, Thakkar A, Ann D, Wang J, Prabhu S. Loratadine self-microemulsifying drug delivery systems (SMEDDS) in combination with sulforaphane for the synergistic chemoprevention of pancreatic cancer. Drug Deliv Transl Res. 2019 Jun;9(3):641-651, 2020
Research Highlight Talk, 43rd CRS Annual Meeting and Exposition, USA, 2016
OMICS International Best Young Researcher Award, Italy, 2015
Ranbaxy Science Scholar Award in the field of Pharmaceutical Sciences, India, 2014
Organizations
American Association of Cancer Research (AACR)
American Association of Colleges of Pharmacy (AACP)
American Association of Pharmaceutical Scientists (AAPS)
Controlled Release Society (CRS)
Publications
Granted Patents
Indian patent 356157 (2822/MUM/2015): Novel targeted lipid bioconjugates and delivery systems thereof , 2021
Indian patent 323787 (1108/MUM/2012): Pharmaceutical composition for bioenhancement of active agents, 2019
Applied Patent
US patent: 62/596,380: Lipid emulsified drug delivery systems for chemoprevention and treatment of cancer, 2018
Publications – Peer Reviewed
P. Desai, S. Prabhu. Drug loaded nanoparticle targeting of pancreatic cancer using tumor treating fields (TTFields). Cancer Research, 81(13), LB023, 2021 DOI: 10.1158/1538-7445.AM2021.
P. Wagh*, P. Desai*, J. Wang, S. Prabhu. Nanotechnology-Based Celastrol Formulations and Their Therapeutic Applications. Frontiers in Pharmacology,12, 673209, 2021 DOI: 10.3389/fphar.2021.673209. (*Equal Authorship)
P. Desai, N. Thumma, P. Wagh, S. Zhan, D. Ann, J. Wang, S. Prabhu. Cancer chemoprevention using nanotechnology-based approaches. Frontiers in Pharmacology, 11, 323, 2020 DOI: 10.3389/fphar.2020.00323.
P. Desai, K. Wang, D. Ann, J. Wang, S. Prabhu. Efficacy and pharmacokinetic considerations of loratadine nanoformulations and its combinations for pancreatic cancer chemoprevention. Pharmaceutical Research, 37(2), 21, 2019 DOI: 10.1007/s11095-019-2737-x.
P. Desai, A. Thakkar, D. Ann, J. Wang, S. Prabhu. Loratadine self microemulsifying drug delivery systems (SMEDDS) in combination with sulforaphane for the synergistic chemoprevention of pancreatic cancer. Drug Delivery and Translational Research, 9(3), 641-651, 2019, DOI: 10.1007/s13346-019-00619-0 (2019 DDTR-CRS OrDD Best Oral Delivery Paper Award)
P. Desai, N. Thumma, J. Wang, S. Prabhu. Self-microemulsifying drug delivery systems (SMEDDS) containing novel compounds in combination with gemcitabine: bioavailability enhancement and synergistic anticancer efficacy studies for pancreatic cancer management. Cancer Research, 79(13), 2165, 2019, DOI: 10.1158/1538-7445.AM2019-2165
P. Desai, D. Ann, J. Wang, S. Prabhu. Pancreatic cancer: recent advances in nano-formulation based therapies. Critical ReviewsTM in Therapeutic Drug Carrier Systems, 36 (1), 59-91, 2019, DOI: 10.1615/CritRevTherDrugCarrierSyst.2018025459
A. Thakkar, P. Desai, S. Chenreddy, J. Modi1, A. Thio, W. Khamas, D. Ann, J. Wang, S. Prabhu Novel nano-drug combination therapeutic regimen demonstrates significant efficacy in the transgenic mouse model of pancreatic ductal adenocarcinoma. American Journal of Cancer Research, 8(10), 2005-2019, 2018.
P. Desai, A. Thakkar, J. Wang, S. Prabhu. Self-microemulsifying drug delivery systems (SMEDDS) containing novel compounds for the chemoprevention of pancreatic cancer. Cancer Research, 78 (13), 2238, 2018. DOI: 10.1158/1538-7445.AM2018-2238
P. Desai, S. Mapara, V. Patravale. Crystal engineering: upcoming paradigm for efficacious pulmonary drug delivery. Current Pharmaceutical Design, 24(21), 2438-2455, 2018. DOI: 10.2174/1381612824666180518080948
P. Desai. Insights of Pharmaceutical Co crystals. Biomedical Journal of Scientific and Technical Research, 3(3), 1-2, 2018. DOI: 10.26717/BJSTR.2018.03.000899
P. Desai, V. Patravale. Curcumin co-crystal micelles - multifunctional nanocomposites for management of neurodegenerative ailments. Journal of Pharmaceutical Science; pii: S0022-3549(17)30836-5. 2017. DOI: 10.1016/j.xphs.2017