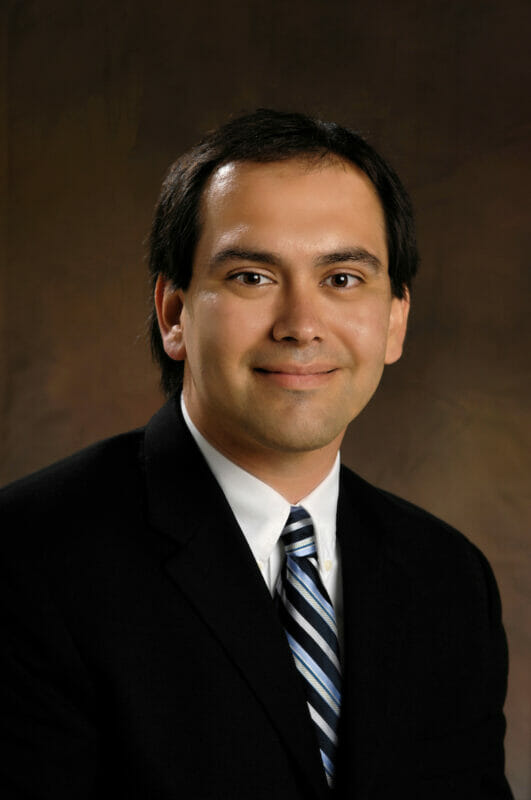 David J. Sanchez, PhD
Associate Professor, Biotechnology and Pharmaceutical Sciences, Director, Diversity Equity and Inclusion
College of Pharmacy
Join year: 2011
Education
PhD Biomedical Science
University of California San Francisco 2004
BS Biochemistry
University of Texas 1999
Postdoctoral Fellowship
Department of Microbiology, Immunology & Molecular Genetics
University of California, Los Angeles 2004-2009
Research Interest
The focus on my laboratory is the manipulation of the immune response by a virus that allows that virus to grow more effectively within a host, despite the very immune system it is manipulating. In the past, a major focus of research was how viruses "hid" from the immune system. Now, we understand that the viruses have evolved to hijack key signaling components of immune cells to produce a microenvironment that allows the viruses to better persist and replicate inside the host.
Our laboratory is currently focused on three different projects: (1) how HIV infects different cell types to allow for better spread and persistence by manipulating the cytokines produces, (2) determination of the mechanisms by which the oncogenic herpesvirus KSHV is able to manipulate the activation of innate cytokines and T cells with specialized viral proteins, and (3) understanding why SARS-CoV-2 is able to both induce and diminish innate immune protein production to enhance its replication within cells. Taken together, our laboratory is focused on better defining how viruses manipulate components of the immune system so that we can better understand how to limit disease and control viruses.
Research Grant
Principal Investigator, "HIV Redirecting Innate Immunity by Vpu Targeting of JAK1" NIH, National Institute of Allergy and Infectious Diseases (NIAID), R03 program, 2023-2025.
Principal Investigator, "Disruption of Type I Interferon Induction by a KSHV Homologue of IPS-1" NIH, National Cancer Institute (NCI), NIH notice of special interest on "High" Priority AIDS Research on AIDS-defining Cancers, R21 program, 2021-2024.
Principal Investigator, "Manipulation of Type I Interferon by HIV Infection" NIH, National Institute of Allergy and Infectious Diseases (NIAID), R15 program, 2018-2021.
Principal Investigator, "KSHV Modulation of Type I Interferon" NIH, National Institute of Dental and Craniofacial Research (NIDCR), R03 New Investigator program, 2013-2015.
Publications
Miranda D Jr and Sanchez DJ "Monkeypox as a warning to preserve global herd immunities. (Invited Editorial)" Virulence 2023;14(1):2154424. doi: 10.1080/21505594.2022.2154424.
Law A, Sanchez DJ, Hata M and Hsu D. "The Critical Role of the Pharmacist in the Global COVID-19 Pandemic." in Contemporary Issues in Global Medicine and Moving Toward International Healthcare Equity. 2022, Page 274-292.
Miranda D Jr and Sanchez DJ "Cytokine storm and stem cell activation in unveiling potential targets for diagnosis and therapy." in Stem Cells and COVID-19. 2022, Pages 59-70.
Thankam FG, Sanchez DJ, Agrawal DK. "Design of the lentivirus-driven sustained LR12 delivery system for TREM-1 inhibition for palliating atherosclerosis." Molecular and Cellular Biochemistry 2022; 477(3), 701+.
Miranda D Jr and Sanchez DJ "Targeting Viral RNA-Dependent RNA Polymerases as an Antiviral Therapy." Curr Med Chem. 2021;28(40):8384-8391. doi: 10.2174/0929867328666210204205726.
Ding X, Krutzik PO, Ghaffari AA, Zhaozhi Y, Miranda D Jr, Cheng G, Ho CM, Nolan GP, Sanchez DJ., "Cellular Signaling Analysis shows antiviral, ribavirin-mediated ribosomal signaling modulation." Antiviral Research, 2019 Sep 9;171:104598. doi: 10.1016/j.antiviral.2019.104598. [Epub ahead of print]
He B, Tran JT, and Sanchez DJ, "Manipulation of Type I Interferon Signaling by HIV and AIDS-Associated Viruses," Journal of Immunology Research, vol. 2019, Article ID 8685312, 10 pages, 2019. https://doi.org/10.1155/2019/8685312
Houghton JS, Nguyen H, Casillas P, Dizon TMA, Nguyen NV, Miranda D Jr, and Sanchez DJ. (2019) Stimulation of IL-16 Release by Cells Exposed to HIV Virion Proteins. J Immunol Infect Dis 6(1): 101.
Nguyen, NV Tran, JT and Sanchez, DJ. (2018) HIV Vpu and Nef Block Type I Interferon Signaling Through Disruption of STAT1 Phosphorylation. Innate Immunity. 24(8): 490-500. 1753425918803674 doi:10.1177/1753425918803674.
Wang L, Liu S-Y, Chen H-W, Xu J, Chapon M, Zhang T, Zhou F, Wang YE, Quanquin N, Wang G, Tian X, He Z, Liu L, Yu W, Sanchez DJ, Liang Y, Jiang T, Modlin R, Bloom BR, Li Q, Deng JC, Zhou P, Qin FX-F, Cheng G., (2017) Generation of a Live Attenuated Influenza Vaccine that Elicits Broad Protection in Mice and Ferrets. Cell Host & Microbe, 21(3):334-43. doi: 10.1016/j.chom.2017.02.007.
Sanchez DJ, Miranda D Jr, Marsden MD, Dizon TMA, Bontemps JR, Davila SJ, et al. (2015) Disruption of Type I Interferon Induction by HIV Infection of T Cells. PLoS ONE 10(9): e0137951. doi:10.1371/journal.pone.0137951
Liu SY, Sanchez DJ, Cheng G. New developments in the induction and antiviral effectors of type I Interferon. Curr Opin Immunol. 2011 Feb: 23(1): 57-64. Epub 2010 Nov 29. Review
Sanchez DJ, Ding X, Schopf E, Liu Y, Deng JC,Yang S, Cheng Y, Ho CM, Cheng G. Harnessing Nanotechnology to Create New Diagnostics and Treatments for Infectious Disease. Nanotechnology (IEEE-NANO), 2010 10th IEEE Conference on August 2010: 75-79.
Sanchez DJ, Miranda D Jr, Arumugaswami V, Hwang S, Singer AE, Senaati A, Shahangian A, Song MJ, Sun R, Cheng G. A repetitive region of gammaherpesvirus genomic DNA is aligand for induction of typeI interferon. J Virol. 2008 Mar;82(5):2208-17.Epub2007 Dec12.
Renn CN, Sanchez DJ, Legaspo AJ, Sieling PA, Cheng G, Modlin, RL. Function of Langerhans cell-like dendritic cells in antiviral immunity of the skin. J Immunol. 2006 Jul1;177(1):298-305.
Sanchez DJ, Gumperz JE, Ganem D. Regulation of CD1d display and function by a herpesviral infection. J Clinical Investigation. 115:1369-1378(2005).