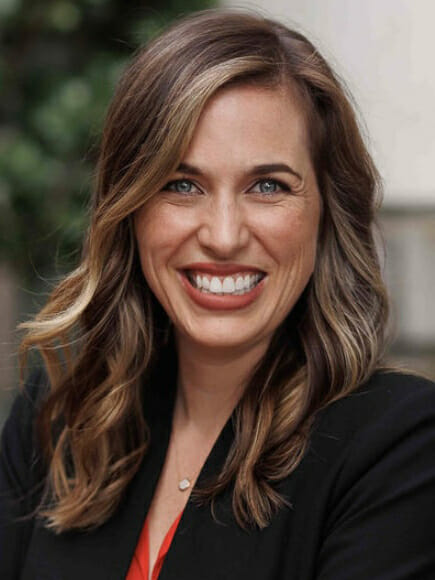 Sarah Wolff,
Director of Clinical Curriculum
College of Osteopathic Medicine of the Pacific - Northwest
Join year: 2022
Education
Resident Physician - Family Medicine of Southwest Washington, Vancouver WA, 2019
Doctor of Osteopathic Medicine - Western University of Health Sciences COMP, Pomona, CA, 2016
BS - University of Oregon, Eugene, OR, 2009
Certification
Good Clinical Practice, 2021
Advanced Life Support in Obstetrics, 2016
Basic Life Support, Expiration 08/2022
Buprenorphine/Naloxone Waver Class, 2016
Battle Field Acupuncture Training, 2016
Baby Friendly Hospital Training Waver, 2017
Nexplanon Clinical Training, 2017
Screening, Brief Intervention, Referral, Treatment (SBIRT), 2014
License
American Osteopathic Board of Family Medicine, Diplomate
American Board of Family Medicine, Diplomate
Oregon Medical Board, License, 2019-Current
Washington Osteopathic Medical Board, Training License, 2016-2019
Professional Experience
Heatherington Foundation, Board member | 2021-Present • Active participant of philanthropic organization with mission of health of communities and the promotion osteopathic ideals.
Osteopathic Physicians and Surgeons of Oregon, Multiple Positions | 2014-Present • Positions Held: President Elect (2021-2023), Student Board Advisor (2022), Director (2017-2021), Student Director (2014-2015), Chair of Student Board (2014-2015). • Assisted with awareness and opportunity development surrounding advocacy, education (CME), and professional outreach for students and practicing physicians within the state. • Provided group with national organizational context for controversial initiatives and changes.
Bryan Institute for Physician Leadership, Council member | 2018-Present • Constructed a reoccurring platform for physician executives, medical officers, and national physician thought leaders to exchange ideas aimed to improve the national medical system.
American Osteopathic Association's Bureau Council and Committees, Multiple Positions | 2017-Present • Bureau of Membership | 2017-present: o Evaluated trends and research policy to make recommendations on policies affecting AOA recruitment and retention of members. • Bureau of Emerging Leaders | 2016-2021: o Positions Held: Co-Chair (2017-2018), Resident Board Member (2016-2017), New Physician Board Member (2018-2021). o Task Forces Chaired: Membership Value Task Force (2017), New Physician Member Integration (2019), Scholarship Task Force (2020). o Developed and lead innovative programs and national initiatives for scholarship, advocacy, legislation, and more. o Acted as liaison between the Board of Trustees, the AOA staff, and young physicians, on issues including osteopathic profession, board certification, osteopathic identity, and graduate medical education. • Ethics Subcommittee | 2017-2019: o Reviewed, researched, and provided decisions regarding complaints of ethics. o Develop suggestions to refine and guide AOA policy. • Bureau of OMED | 2017-2019: o Helped create programming of the annual Osteopathic Medical Education Conference & Exposition.
American Osteopathic Association's House of Delegates, Multiple Positions | 2012-2020 • Reference Committees: Single Accreditation System Reference Committee (2015), Ad Hoc Reference Committee (2019, 2020). • Voting Member: Bureau of Emerging Leaders Delegate (2016, 2017), California Delegate (2012, 2013, 2014, 2015), Oregon Delegate (2018, 2019, 2020). • Researched, advocated for, and voted on AOA policy, bylaws, and directional strategy.
National Board of Osteopathic Medical Examiners, Ambassador | 2018-2020 • Aligned actions of NBOME with strategic plan and student/young physician feedback. • Provided presentations, created content material, and assisted in awareness campaigns.
American Osteopathic Association's Board of Trustees, Resident Trustee | 2017-2019 • Acted as liaison of residents on issues within osteopathic profession with goals to increase involvement. • Participated in strategic planning, legislative discussions, and national initiates to engage and support members of the osteopathic profession.
American College of Osteopathic Family Practice, Resident Council Member | 2017-2019 • Positions Held: Vice Chair (2017-2018), Council Member (2018-2019). • Coordinated inaugural year of Resident Council designed to connect residents to issues of the profession at large. • Increased relationship between ACOFP, residents, students, and practicing physicians.
PeaceHealth SW Washington Medical Center, Wellness Committee Member | 2017-2019 • Initiated programs to improve a practitioner's physical and mental wellness, while cultivating resources and assistance programs for at-risk staff members.
Family Medicine of SW Washingtons Quality Improvement Committee, Member | 2018 • Clinic No-Show Improvement Committee: Improved attendance numbers within residency clinic with identification, creation, and implementation of multiple interdisciplinary strategies and PDSA cycles. • Contraceptive Care Incitive: Worked with provider team to limit unintended pregnancies and increase contraceptive use based on interventions and studies on PDSA cycles.
American Osteopathic Foundation, Student Board Member | 2014-2016 • Provided feedback and directional support over finances, programing, and strategic initiatives to advance the mission & objectives of the 501c3 philanthropic foundation.
Council of Osteopathic Student Government Presidents, National Executive Board | 2013-2016 • Positions Held: National Secretary (2013-2014), Student Representative to the American Osteopathic Foundation (2014-2016), Co-chair on committees for global health, student services, and medical education. • Helped lead national council through strategic planning, creation of leadership development seminars, design of meetings, participation on legislative actions, coordination of community service events, and publicized national initiatives.
WesternU Student Government, Class President & Representative | 2011-2015 • Designed and analyzed process of improvement for curriculum, course efficacy, and technology during initial year of dual campuses. • Integrated new practices, authored bylaw changes, established student life & leadership development programs. • Co-founded and participated in annual intercampus exchange program.
WesternU Council of Leaders, Multiple Positions | 2011-2015 • Positions Held: Class of 2015 Representative (2011-2014), Vice President (2014) • Designed and analyzed processes for curriculum, course efficacy, and technology during initial year of WesternU's dual campus educational model. • Promoted leadership development, ensured school traditions continued, encouraged camaraderie between classes.
The Council on Osteopathic College Accreditation, Student Representative Attendant | 2014-2016 • Attended and testified at meetings of medical school accreditors on issues such as school expansion, graduate medical education requirements, and non-discrimination policies.
Single Accreditation System of Graduate Medical Education, Student Representative | 2013-2014 • Selected to view, discuss, and testify on confidential memorandum of understanding of proposed unification of graduate medical education, leading to one of the most significant changes in medical education.
National Student DO of the Year Award Committee, Multiple Positions | 2012-2014 • Positions Held; National Coordinator (2014), WesternU Local Chair (2013), WesternU Selection Committee (2012). • Directed application concept, information dissemination, interim communication, and selection of national award.
Osteopathic Legislative Advocacy, Multiple Positions | 2012-2014 • Founded WesternU Student Government Advocacy Trip to DO Day on the Hill (Washington D.C.). 2013 introducing students to health care policy. • Participated in Oregon Medical Association's Advocacy Day in Salem (Salem, OR). 2014 meeting with local legislators to testify on medical legislation.
Teaching Experience
Family Medicine Clinical Preceptor
WesternU College of Osteopathic Medicine & William Carey University | 2022
Created comprehensive rotation including orientation, expectations, curriculum, presentations, practice management, coding, multidisciplinary longitudinal experiences, finance, and formalized review process for medical students in outpatient nonacademic family medicine clinic.
Solid Pharmacology Series Content Review
Doctors in Training, Virtual | 2016
Reviewed and provided feedback for multiple part medical educational review series.
Osteopathic Manipulative Medicine Teaching Assistant
Western University of Health Sciences, Pomona CA | 2012-2013
Provided hands-on assistance and guidance to students learning osteopathic manipulative medicine.
Labor and Delivery Simulation Instructor
Western University of Health Sciences, Lebanon OR | 2015
Assisted in learning module on the cardinal movements of labor and delivery techniques.
Guest Lecturer Assistant on Heat Stroke physiology
Lindfield College Department of Athletic Training, Pomona CA | 2012
Led hands-on learning module on physiology of heat stroke and its associated protocols.
Teaching Assistant
Summer Medical School Prep Program, Pomona, CA | 2014
Constructed and presented anatomy and physiology lectures; assisted with cadaver dissections for medical students.
Lead Undergraduate Teaching Assistant
University of Oregon Department of Biology, Eugene OR | 2007-2009
Classes taught: Biology of Organisms, Intro Biochemistry & Genetics.
Supervised teaching assistant and students in biology laboratory classes.
Designed assignments and lectures of complex scientific concepts.
Teaching Assistant
University of Oregon Department of Human Physiology, Eugene, OR | 2007-2009
Classes taught: Anatomy Lab, Advanced Anatomy Dissection.
Guided prosection labs and created content connecting physical structures with physiologic topics.
Research Interest
CLINICAL INTERESTS
Medical Education & Leadership
Obstetrics & Women's Health
Pediatrics
Osteopathic Manipulative Medicine
Office-Based Procedures
Preventative Medicine
Transgender Care/Gender Affirming Hormones
Population Health
Quality Panel Management
Alternative Models of Healthcare
Interdisciplinary teams
Medical Home Model
Physician Wellness.
Awards
2021 AOF State Emerging Leader, American Osteopathic Foundation, 2021
WesternU Student Doctor of Osteopathic Medicine of the Year, 2015
NW Osteopathic Foundations Women¿s Scholarship, 2014
Lawrence F. Gosenfeld Award & Scholarship, 2014
Dean's Award, Western University of Health Sciences, 2013
Who's Who Among Medical Students, 2013
Organizations
American Osteopathic Association
American College of Osteopathic Family Physicians
Osteopathic Physicians & Surgeons of Oregon
American Academy of Family Physicians