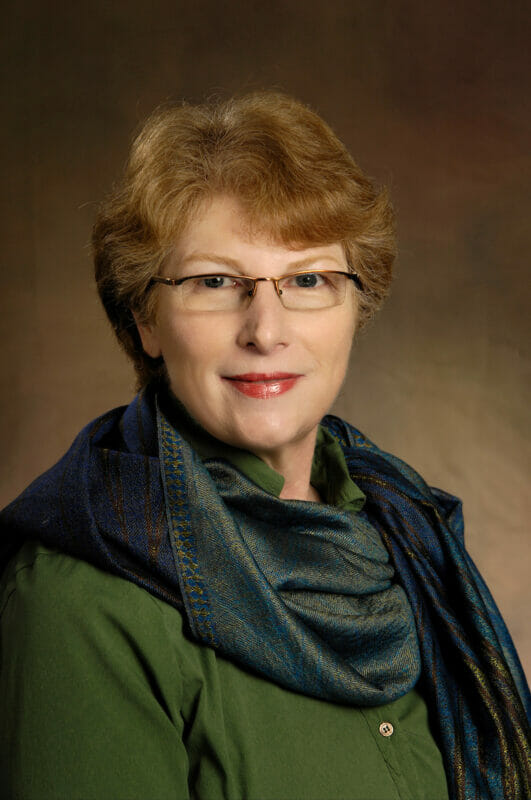 V. Kathleen Satterfield, DPM, FACPM, MAPWCA
Dean and Professor
College of Podiatric Medicine
Join year: 2010
Education
University of Texas at El Paso. B.A. Mass Communications

University of Osteopathic Medicine and Health Sciences, College of Podiatric Medicine & Surgery, Des Moines, Iowa. B.S. DPM
Certification
Diplomate of the American Board of Podiatric Medicine
Professional Experience
Past President of the American College of Foot and Ankle Orthopedics and Medicine (now American College of Podiatric Medicine)

Past President of the American Association for Women Podiatrists

Former Associate Professor in Orthopedic Department, University of Texas Health Science Center at San Antonio

Former Associate Dean for Academic Affairs, Des Moines University, College of Podiatric Medicine, Des Moines, Iowa
Research Interest
Diabetic wound healing

Education
Awards
Master status in the American Professional Wound Care Association
Publications
The Why Behind the Establishment of Western University College of Podiatric Medicine. Harkless LB, Satterfield VK J Am Podiatr Med Assoc. 2018.

Labovitz JM, Shapiro JM, Satterfield VK, Smith NT. Excess Cost and Healthcare Resources Associated With Delayed Diagnosis of Charcot Foot. J Foot Ankle Surg. 2018 Sep-Oct;57(5):952-956. doi: 10.1053/j.jfas.2018.03.036. Epub 2018

Harkless LB, Satterfield VK. The Why Behind the Establishment of Western University College of Podiatric Medicine. J Am Podiatr Med Assoc. 2018 Nov;108(6):568-571. doi: 10.7547/8750-7315-108.6.568. PMID: 30742520.

Fife C, Mader JT, Stone J, Brill L, Satterfield K, Norfleet A, Zwernemann A, Ryaby JT, Carney DH. Thrombin peptide Chrysalin stimulates healing of diabetic foot ulcers in a placebo-controlled phase I/II study. Wound Repair Regen. 2007 Jan-Feb;15(1):23-34. doi: 10.1111/j.1524-475X.2006.00181.x. PMID: 17244316.

Satterfield VK, Jolly GP. A new method of excision of painful plantar forefoot lesions using a rotation advancement flap. J Foot Ankle Surg. 1994 Mar-Apr;33(2):129-34. PMID: 8019532.

Burks JB, Satterfield K. Foot and ankle injuries among martial artists. Results of a survey. J Am Podiatr Med Assoc. 1998 Jun;88(6):268-78. doi: 10.7547/87507315-88-6-268. PMID: 9642907.
Narrative
Dr. Satterfield is originally from Texas and graduated from the University of Texas with a BA in Mass Communications. She was an award winning journalist for years before going to medical school to become a podiatric physician, studying at the College of Podiatric Medicine and Surgery at the University of Osteopathic Medicine and Surgery in Des Moines. Her two-year surgical residency program was done at Yale University School of Medicine Clinical Campus / West Haven Veterans Administration Medical Center in Connecticut, where she was Chief Resident.
After briefly practicing in Vermont, Dr. Satterfield was recruited to return to her alma mater, CPMS, to join the faculty and rose quickly through the ranks to the position of Associate Dean for Academic Affairs. She left there to return home to Texas and join the faculty of the Orthopaedic Department/Podiatry Service at the University of Texas Health Science Center at San Antonio and stayed until she took a brief hiatus from practice before moving to California to teach at WesternU.
While in San Antonio, Dr. Satterfield became widely known for diabetic wound care and residency education. In California she concentrates on classroom education, academic research, writing and her service as Director of Pre-Clinical Curriculum and Co-Director of Interprofessional Education.
When away from the office, Dr Satterfield enjoys visiting the residents of a local nursing home - "They have more wisdom than the Encyclopedia Britannica "and a visit from someone in the community means the world to them. Additionally, she enjoys weekend trips with her husband to discover the many beautiful locations in their new adopted state. Add her dog and her spirituality and Dr. Satterfield says, "I'm blessed!"