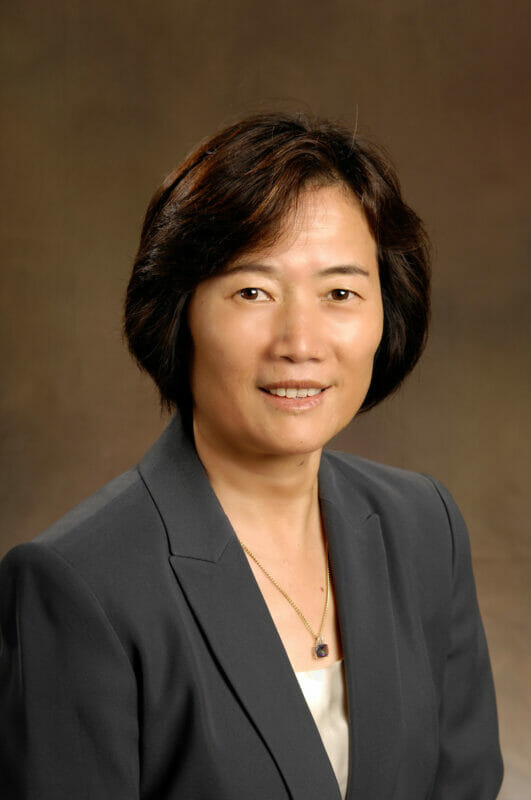 Xiaoning Bi, PhD, MD
Professor of Physiology
College of Osteopathic Medicine of the Pacific
Join year: 2006
Education
Ph.D., Neurobiology, Neuroscience Program, University of Southern California, Los Angeles, CA, 1996 M.D., Neuroanatomy, Brain Research Institute, Zurich University, Switzerland, 1994 M.S., Neurophysiology, Third Military Medical University, P.R. China, 1986 M.D., Medicine, Binzhou Medical University, P.R. China, 1982
Education Experience
Postdoctoral Fellow, Dept. of Anatomy and Neurobiology, UCI, Irvine, CA, 1997-1998 Postdoctoral Fellow, Neuroscience, University of Southern California, Los Angeles, CA, 1996-1997
Teaching Experience
Professor, Department of Basic Medical Sciences, COMP/Western University of Health Sciences, 2012-present
Associate Professor, Department of Basic Medical Sciences, COMP/Western University of Health Sciences, 2006-2012
Assistant Professor In-Residence, Department of Psychiatry and Human Behavior, UCI, Irvine, CA, 2002-2005
Adjunct Assistant Professor, Anatomy and Neurobiology, UCI, Irvine, CA, 1998-2001
Courses
Endocrine System; Physiology (COMP) Gastrointestinal system; Physiology (COMP) Molecular and Cellular Basis of Life (GCBS) Molecular and Cellular Basis of Medicine (COMP) Neuroscience System; Physiology (COMP)
Research Interest
Research in my laboratory seeks to understand how neurons develop, mature, and function properly and how they die when challenged by natural aging process, by intrinsic genetic defects, or by various insults. We hope that by understanding the basic molecular and cellular mechanisms that govern these processes we can develop better preventive and therapeutic strategies for central nervous system disorders in children as well as in elders.
Current Research Projects:
1. Signaling pathways in learning and memory and other brain functions. Signal transmission at junctions between neurons, the synapses, is regulated by multiple signaling pathways. One of my lab projects for the last few years has focused on the mTOR (mechanistic/mammalian target of rapamycin) signaling pathway. The mTOR network consists of two complexes mTORC1 and mTORC2 and integrates signals from nutrients, energy levels, growth factors, and stress status. We have recently found that mTORC1 activity is increased while mTORC2 activity is decreased in a mouse model of Angelman syndrome (AS), a disease caused by maternal UBE3A deficiency. Furthermore, the imbalanced mTORC1 and mTORC2 activity is causally related to learning and memory impairment and motor dysfunction in AS mice. These results suggest that mTOR signaling is regulated by UCE3A. Since abnormal mTOR signaling has been reported in other neurological disorders, including Alzheimer's disease and autism spectrum disorders, our findings may have broad implications.
2. Regulation of potassium channels by UBE3A. Small conductance calcium-activated potassium channels (SK1-3) are widely distributed throughout the brain and other organs. SK2 channels play important roles in learning and memory and in abnormal brain functions, such as seizures. We have demonstated that synaptic SK2 levels are regulated by UBE3A and the lack of this regulation resulting from UBE3A deletion contributes to learning impairment in Angelman sydrome mice. Since SK2 channels are widely expressed in mammalian brain, these findings have significant implications for a vast array of neurologic/neuropsychiatric disorders.
Publications
Recent Publications:
Zhu G, Briz V, Seinfeld J, Liu Y, Bi X, Baudry M. (2017) Calpain-1 deletion impairs mGluR-dependent LTD and fear memory extinction. Sci Rep. 2017 Feb 16;7:42788. doi: 10.1038/srep42788.
Liu Y., Sun J., Wang Y., Lopez D., Tran J., Bi X., Baudry M. (2016) Deleting both PHLPP1 and CANP1 rescues impairments in long-term potentiation and learning in both single knockout mice. Learning and Memory. 2016 Jul 15;23(8):399-404.
Sun J., Liu Y., Tran J., O'Neal P., Baudry M., and Bi X. (2016) mTORC1-S6K1 inhibition or mTORC2 activation improves hippocampal synaptic plasticity and learning in Angelman syndrome mice. Cell Mol Life Sci. Nov;73(22):4303-4314..
Wang y., Lopez D., Gavey P.G., Cameron J., Nguyen K., Tran J., Marquez E., Liu Y., Bi X., and Baudry M. (2016) Prevention of retinal ganglion cell degeneration by a selective calpain-2 inhibitor in mouse models of acute glaucoma. Neurobiol Dis. 2016 May 13. pii:S0969-9961(16)30101-2. doi: 10.1016/j.nbd.2016.05.007.
Wang Y., Hersheson J., Lopez D., Hamad M.B., Liu Y., Pinto V., Seinfeld J., Wiethoff S., Sun J., Amouro R., Hentati F., Baudry N., Tran J., Singleton A.B., Bi X., Houlden H., Baudry M (2016) Defects in the CAPN1 gene result in cerebellar ataxia and granule cell loss in mice and humans. Cell Rep. Jun 28;16(1):79-91. doi:10.1016/j.celrep.2016.05.044.
Baudry M., and Bi X. (2016) Calpain-1 and calpain-2: the yin and yang of synaptic plasticity and neurodegeneration. Trend Neurosci. 39(4):235-45. doi:10.1016/j.tins.2016.01.007. Epub 2016.
Liu Y., Wang Y., Zhu G., Sun J., Bi X., Baudry M. (2016) A calpain-2 selective inhibitor enhances learning& memory through prologed ERK activation. Neuropharm. Feb 18;105:471-477. doi:10.1016/j.neuropham.2016.02.022. [Epub ahead of print]
Zhu G, Liu Y, Wang Y, Bi X, Baudry M. (2015) Different Patterns of Electrical Activity Lead to Long-term Poteniation by Activating Different Intracellular Pathways. J Neurosci; 35(2):621-33.
Briz V, Zhu G, Wang Y, Liu Y, Avetisyam M, Bi X, Baudry M. (2015) Activity-dependent rapid local RhoA synthesis is required for hippocampal synaptic plasticity. J Neurosci; 35(5):2269-2282.
Sun L, Liu Y, Moreno S, Baudry M, Bi X. (2015) Imbalanced mTORC1 and mTORC2 activity in cerebellum of Angelman syndrome mice impairs motor function. J Neurosci. 35(11): 4706-4718.
Liao G, Wang Z, Lee E, Moreno S, Abuelnasr O, Baudry M, Bi X. (2015) Enhanced expression of matrix metalloproteinase-12 contributes to Npc1 deficiency-induced axonal degeneration. Exp Neurol. 269:67-74.
Bi X, Sun J and Baudry M. (2015) Yin-and-Yang of mTORC1/C2 in Angelman syndrome. Oncotarget, Vol. 6, No. 16. 13844-1384. Editorial.
Sun J, Liu Y, Zhu G, Standley S, Ji A, Tunuguntla R, Wang Y, Claus C, Lou L, Baudry M, Bi X. (2015) UBE3A regulates synaptic plasticity and learning and memory by controlling SK2 channel endocytosis. Cell Rep. 12 (3): 449-461.
Baudry M; Zhu G; Liu Y; Wang Y; Briz V; Bi X. (2014) Multiple cellular cascades participate in long-term potentiation and in hippocampus-dependent learning. Brain Res. pii: S0006-8993(14)01617-5.
Baudry M. and Bi X. (2014) Calcium and signal transduction. (2014) In "Encyclopedia of Neuroscience". Squire, L. (ed). Elsevier Science, Ltd. Clin Anat. 2014 Jan;27(1):118-30. doi: 10.1002/ca.22340.
Wang, Y., Zhu, G., Briz, V., Hsu, T.-T., Bi, X., and Baudry M. (2014) A molecular brake controls the magnitude of long-term potentiation. Nature Comm 2014 Jan 7;5:3051. doi: 10.1038/ncomms4051.
Baudry, M., Bi, X. (2013) Learning and memory: An emergent property of cell motility. Neurobiol Learn Mem. 2013 May 21;104C:64-72.
Briz, V., Hsu, Y.-T., Li, Y., Lee, E., Bi, X., and Baudry, M (2013) Calpain-2-mediated PTEN degradation contributes to BDNF-induced stimulation of dendritic protein synthesis. J. Neurosci. 2013 Mar 6;33(10):4317-28.
Baudry, M., Chou, M.M., and Bi, X. (2013) Targeting calpain in synaptic plasticity. Expert Opin Ther Targets. 2013 May;17(5):579-92.
Baudry, M., Bi, X., and Aguirr, C. (2013) Progesterone-estrogen interactions in synaptic plasticity and neuroprotection. Neuroscience. 2013 Jun 3;239:280-94. 2012 Nov 7.
Allyson J, Bi X, Baudry M, Massicotte G. (2012) Maintenance of synaptic stability requires calcium-independent phospholipase a(2) activity. Neural Plast. 2012;2012:569149.
Baudry M, Kramar E, Xu X, Zadran H, Moreno S, Lynch G, Gall C, Bi X. (2012) Ampakines promote spine actin polymerization, long-term potentiation, and learning in a mouse model of Angelman syndrome. Neurobiol Dis. 2012 Aug;47(2):210-5.
Clausen A, Xu X, Bi X, Baudry M. (2012) Effects of the superoxide dismutase/catalase mimetic EUK-207 in a mouse model of Alzheimer's disease: protection against and interruption of progression of amyloid and tau pathology and cognitive decline. J Alzheimers Dis. 2012 Jan 1;30(1):183-208.
Qin Q, Liao G, Baudry M, Bi X. Role of calpain-mediated p53 truncation in semaphorin 3A-induced axonal growth regulation. Proc Natl Acad Sci U S A. 2010 Aug 3;107(31):13883-7.
Click link for additional articles:
http://www.ncbi.nlm.nih.gov/pubmed?term=Xiaoning+Bi