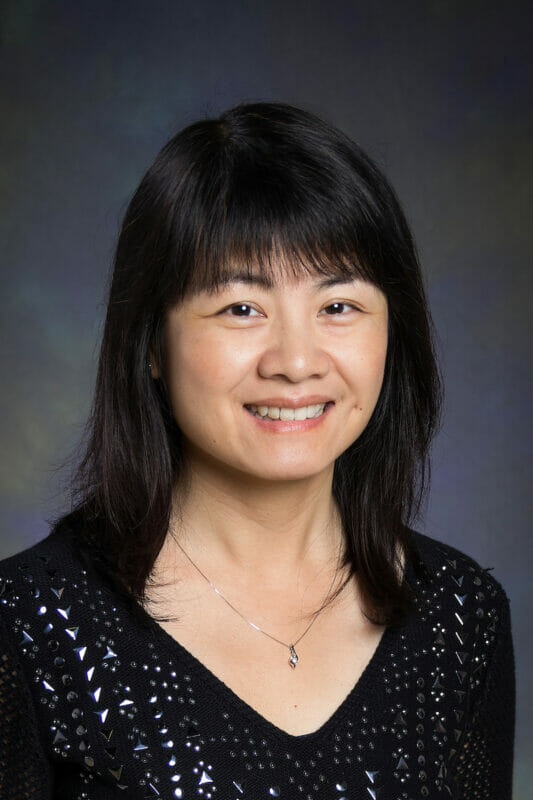 Education

PhD 2002
Ohio State University

Master of Medicine 1997
Institute of Virology, Chinese Academy of Preventive Medicine

M.D. 1994
Beijing Medical University


Academic Interests
Pharmacogenomics
Cancer
Drug Transporters
Inter-Professional Education
Research Interest
Anticancer Mechanisms of Beta-blockers in Cancer Prevention and Therapy
Working together with my colleague Dr. Bradley Andresen, an expert in G protein coupled receptor (GPCR) signaling, we are exploring a new role of β-blockers in cancer prevention and treatment. The ongoing work is to answer the questions such as which β-blockers have better cancer preventive activity and what the mechanisms are. Repurposing β-blocker has become the focus of my laboratory and we expect to generate more exciting results contributing to the field.
Anticancer Mechanisms of Traditional Herbal Medicines (TCMs)
We are using in vitro and in vivo carcinogenesis models to examine cancer preventive or therapeutic efficacy of TCMs. This work is funded by Hong Kong and Macau governments or private companies. Our results contribute to modernization of traditional herbal medicines and the use of integrative medicine for cancer prevention and therapy.
Pharmacogenomics of Membrane Drug Transporters
We are working on membrane drug transporters ABCB1 (MDR1 or P-glycoprotein), ABCC1 (MRP1) and SLC7A11 (xCT) for their role in cancer treatment resistance. We are also interested to develop new approach of modulating transporter function to enhance efficacy of anticancer therapies using inhibitors or drug delivery strategies.
Publications
A Complete List of Published Work in My Bibliography:
https://www.ncbi.nlm.nih.gov/myncbi/ying.huang.2/bibliography/48079848/public/
Below are some selected publications representative of current work within the laboratory:
1. Huang KM, Liang S, Yeung S, Oiyemhonlan E, Cleveland KH, Parsa C, Orlando R, Meyskens FL Jr, Andresen BT, Huang Y. Topically Applied Carvedilol Attenuates Solar Ultraviolet Radiation Induced Skin Carcinogenesis. Cancer prevention research(Philadelphia, Pa.). 2017; 10(10):598-606. PubMed [journal] PMID: 28912118
2. Liu MM, Huang KM, Yeung S, Chang A, Zhang S, Mei N, Parsa C, Orlando R, Huang Y. Inhibition of Neoplastic Transformation and Chemically-Induced Skin Hyperplasiain Mice by Traditional Chinese Medicinal Formula Si-Wu-Tang. Nutrients. 2017; 9(3). PubMed [journal] PMID: 28335476, PMCID: PMC5372963
3. Wang Z, Ravula R, Shi L, Song Y, Yeung S, Liu M, Lau B, Hao J, Wang J, Lam CW, Chow MS, Huang Y. Overcoming chemoresistance in prostate cancer with Chinese medicine Tripterygium wilfordii via multiple mechanisms. Oncotarget. 2016;7(38):61246-61261. PubMed [journal] PMID: 27487134, PMCID: PMC5308648
4. Chinison J, Aguilar JS, Avalos A, Huang Y, Wang Z, Cameron DJ, Hao J. Triptonide Effectively Inhibits Wnt/β-Catenin Signaling via C-terminal Transactivation Domain of β-catenin. Scientific reports. 2016; 6:32779. PubMed [journal] PMID: 27596363, PMCID: PMC5011721
5. Chang A, Yeung S, Thakkar A, Huang KM, Liu MM, Kanassatega RS, Parsa C, Orlando R, Jackson EK, Andresen BT, Huang Y. Prevention of skin carcinogenesis by the β-blocker carvedilol. Cancer prevention research (Philadelphia, Pa.). 2015; 8(1):27-36. NIHMSID: NIHMS640862 PubMed [journal] PMID: 25367979, PMCID: PMC4289657
6. Liu M, Ravula R, Wang Z, Zuo Z, Chow MS, Thakkar A, Prabhu S, Andresen B, Huang Y. Traditional Chinese medicinal formula Si-Wu-Tang prevents oxidative damage by activating Nrf2-mediated detoxifying/antioxidant genes. Cell & bioscience. 2014; 4(1):8. PubMed [journal] PMID: 24507416, PMCID: PMC3930016
7. Hao J, Lee R, Chang A, Fan J, Labib C, Parsa C, Orlando R, Andresen B, Huang Y. DMH1, a small molecule inhibitor of BMP type i receptors, suppresses growth and invasion of lung cancer. PloS one. 2014; 9(6):e90748. PubMed [journal] PMID: 24603907, PMCID: PMC3946239
8. Wang Z, Fan J, Liu M, Yeung S, Chang A, Chow MS, Pon D, Huang Y. Nutraceuticals for prostate cancer chemoprevention: from molecular mechanisms to clinical application. Expert opinion on investigational drugs. 2013; 22(12):1613-26. PubMed [journal] PMID: 24050482
9. Lewerenz J, Hewett SJ, Huang Y, Lambros M, Gout PW, Kalivas PW, Massie A, Smolders I, Methner A, Pergande M, Smith SB, Ganapathy V, Maher P. The cystine/glutamate antiporter system x(c)(-) in health and disease: from molecular mechanisms to novel therapeutic opportunities. Antioxidants & redox signaling. 2013; 18(5):522-55. PubMed [journal] PMID: 22667998, PMCID: PMC3545354
10. Chaudhary A, Sutaria D, Huang Y, Wang J, Prabhu S. Chemoprevention of colon cancer in a rat carcinogenesis model using a novel nanotechnology-based combined treatment system. Cancer prevention research (Philadelphia, Pa.). 2011; 4(10):1655-64. NIHMSID: NIHMS311158 PubMed [journal] PMID: 21914855, PMCID: PMC3188363
11. Wen Z, Wang Z, Wang S, Ravula R, Yang L, Xu J, Wang C, Zuo Z, Chow MS, Shi L, Huang Y. Discovery of molecular mechanisms of traditional Chinese medicinal formula Si-Wu-Tang using gene expression microarray and connectivity map. PloS one.2011; 6(3):e18278. PubMed [journal] PMID: 21464939, PMCID: PMC3065471
12. Pham AN, Blower PE, Alvarado O, Ravula R, Gout PW, Huang Y. Pharmacogenomic approach reveals a role for the x(c)- cystine/glutamate antiporter in growth and celastrol resistance of glioma cell lines. The Journal of pharmacology and experimental therapeutics. 2010; 332(3):949-58. PubMed [journal] PMID: 20007406
13. Liu R, Blower PE, Pham AN, Fang J, Dai Z, Wise C, Green B, Teitel CH, Ning B, Ling W, Lyn-Cook BD, Kadlubar FF, Sadée W, Huang Y. Cystine-glutamate transporter SLC7A11 mediates resistance to geldanamycin but not to 17-(allylamino)-17-demethoxygeldanamycin. Molecular pharmacology. 2007; 72(6):1637-46. PubMed [journal] PMID: 17875604
14. Pham AN, Wang J, Fang J, Gao X, Zhang Y, Blower PE, Sadée W, Huang Y. Pharmacogenomics approach reveals MRP1 (ABCC1)-mediated resistance to geldanamycins. Pharmaceutical research. 2009; 26(4):936-45. PubMed [journal] PMID: 19067123
15. Huang Y, Blower PE, Liu R, Dai Z, Pham AN, Moon H, Fang J, Sadée W. Chemogenomic analysis identifies geldanamycins as substrates and inhibitors of ABCB1. Pharmaceutical research.2007; 24(9):1702-12. PubMed [journal] PMID: 17457659
16. Huang Y, Prasad M, Lemon WJ, Hampel H, Wright FA, Kornacker K, LiVolsi L, Frankel W, Kloos RT, Eng C, Pellegata NS, and de la Chapelle A. Gene Expression in Papillary Thyroid Carcinoma Reveals Highly Consistent Profiles. Proc Natl Acad Sci U S A 2001 98: 15044-15049

17. Huang Y, Anderle P, Bussey KJ, Barbacioru C, Shankavaram U, Dai Z, Reinhold WC, Papp A, Weinstein JN & Sadee W. Membrane Transporters and Channels: Role of the Transportome in Cancer Chemosensitivity and Chemoresistance. Cancer Research 2004, 64:4294-4301

18. Huang Y, Blower PE, Yang C, Barbacioru C, Dai Z, Zhang Y, Xiao J, Chan KK & Sadee W. Correlating gene expression with chemical scaffolds of cytotoxic agents: ellipticines as substrates and inhibitors of MDR1. The Pharmacogenomics Journal, 2005, 5: 112-125

19. Huang Y, Dai Z, Barbacioru C & Sadee W. The cystine/glutamate transporter SLC7A11 in cancer chemosensitivity and -resistance. Cancer Research 2005 Aug 15;65(16):7446-54

20. Huang Y and Sadee W. Membrane transporters and channels in chemoresistance and -sensitivity of tumor cells. Cancer Letter (Invited review). 2006, 239:168-82