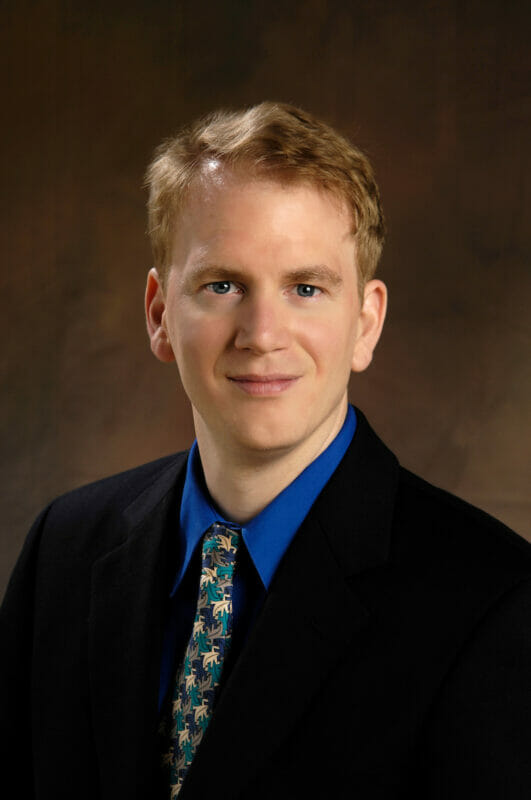 Bradley T. Andresen, PhD, FAHA
Associate Professor of Pharmaceutical Sciences
College of Pharmacy
Phone: (909) 469-8483 | Fax: (909) 469-5600
Join year: 2011
Education
BS
Hope College 1998
PhD
Unversity of Pittsburgh2002
Postdoc
NIH 2004
Academic Interests
GPCRs
Signal transduction
Hypertension
Cancer
Molecular Modeling
Research Interest
Molecular Function of GRK4 gamma
GPCR kinases (GRKs) are a family of serine/threonine kinases that phosphorylate the carboxyl tail of GPCRs. Polymorphisms within the RGS homology (RH) domain and kinase domain of GRK4 have been implicated in hypertension through clinical studies as well as through studying transgenic mice. Importantly, in transgenic mouse studies, the polymorphisms of GRK4 gamma, but not the wild-type GRK4 gamma, increase the blood pressure or lead to salt-sensitive hypertension. These studies strongly suggest that the molecular mechanisms of the wild-type GRK4 gamma are altered by the polymorphisms resulting in increased blood pressure; consequently, GRK4 gamma is a promising target for individualized antihypertensive therapy. However, before pharmacologically targeting a polymorphism of a gene, it is important to understand the molecular mechanisms of the wild-type protein. Once the alterations are biochemically and functionally defined, then the change conferred by the polymorphism(s) can be pharmacologically targeted. For this reason, this project examines the molecular function of GRK4 gamma and its polymorphisms in order to advance toward personalized medicine for hypertension.
Structure and Function of the AT1R
Angiotensin (Ang) II is potent pro-hypertensive hormone. There are multiple clinically available drugs that either prevent Ang II formation (ACE inhibitors and Renin inhibitors) or Ang II from binding to the AT1 receptor (ARBs). However, there are still many mysteries regarding how Ang II signals and why some people are resistant to ARBs. In the laboratory, we are addressing these two mysteries.
There are polymorphisms in the AT1 receptor (AT1R) that prevent the ARBs from binding, and this may be a reason for ARB resistance. Multiple approaches are used to identify and examine AT1R polymorphisms and their effect on AT1R function as well as ARB affinity. One approach is to approach this problem from a population genetics standpoint, which should narrow the list of clinically relevent AT1R polymorphisms. A second approach is to use the opossum AT1R as a model as it does not interact with many ARBs. Working with the opossum AT1R alows for moleculat modeling of the ARB binding pocket and may lead to rational design of novel ARBs. The molecualr modeling experiments are conducted in collaboration with Dr. Lyna Luo. Eventually we hope to create a test to identify patients that are ARB resistant and/or create a drug that will function in ARB resistant patients.
AT1R-mediated signal transduction mechanisms are still not entirely understood. We have previously showed that in renal microvascular smooth muscle cells (RuVSMCs) Ang II signals in a manner that is unique from thoracic aortic vascular smooth muscle cells (TASMCs). This uniqueness includes the pathway(s) leading to phosphorylation of extracellular regulated kinase (ERK) as well as the cellular distribution of phosphorylated ERK. Our interest in this stems from two different areas. First, ERK has been proposed to be involved in the control of blood pressure, and in the renal cells ERK localized to actin filaments. These are the filaments that are involved in smooth muscle cell contraction and increased vascular resistance, which can lead to increased blood pressure. Second, the renal vascular bed has been shown to be the most reactive to Ang II, and it is crucial to the pathogenesis of hypertension; however, historically most studies have been conducted on TASMCs. Since there are differences in how the RuVSMCs respond to Ang II, these different pathways may prove to be novel anti-hypertensive drug targets.
Structure and Function of G alpha s
Large G proteins are large due to a domain called the helical domain. This domain is rather diverse across the different large G proteins and also varies across species. Our interest in the helical domain of G alpha s (Gs) stems from our findings that GRK4 gamma interacts with this area of Gs. From this, we have begun conducting more experiments on the role of the helical domain. This project is closely aligned with the GRK4 project listed above. Additionally, the laboratory is collaborating withDr. Robin Rylaarsdamon McCune-Albright Syndrome that is caused by mutations in Gsthat increases its activity.
Physiological Consequences of beta-adrenergic receptor GRK/beta-arrestin biased agonists
Biased agonism refers to a ligand that activates one portion of a signaling cascade more potently than others. Nebivolol and carvedilol are two clinically used beta-blockers that are GRK/beta-arrestin biased agonists, which is they activate the GRK/beta-arrestin pathway, but not the classical Gs/adenyl cyclase/cAMP pathway. Nebivolol has been shown to have many properties that are unique among other clinically used beta-blockers. We are interested in determining if this is due to its biased agonist properties. On a similar note, many beta-blockers have been shown to reduce the growth of tumors. In collaboration withDr. YingHuang, we are examining beta-blockers, and specifically the biased agonists, in chemoprevention. Ironically, these studies were initiated because we feared that the biased agonist's activation of the epidermal growth factor receptor (EGFR) andextracellularregulated kinase (ERK) would lead to increased tumor growth.
Research Grant
09/07/16 – 08/31/19 NSF - Major Research Instrumentation
PI: Michel Baudry Role: Co-PI
Funding $495,000
Title: MRI: Acquisition of a Confocal Microscope
This grant is a Major Research Instrumentation (MRI) program award that will establish a confocal core facility at WesternU. I am one of the key players in evaluating the bids from the manufactures.
06/14/18 – 05/31/21 NIH 1R15CA227946-01
PI: Ying Huang Role: Co-Investigator
Funding $409,223 Direct Costs: $295,511
Title: Topical Delivery of Non-β-blocking R-carvedilol for Prevention of UV-induced Skin Cancer
This grant aims to develop a topical formulation of R-carvedilol for the prevention of skin cancer.
Awards
2014 Recognized for participating in the APS Professional Development Fellowship
2011 Elected as a Full Member of Sigma Xi, The Scientific Research Society
2007 Elected as a Fellow of the American Heart Association
Organizations
2011-present Sigma Xi
2011-present American Association of Colleges of Pharmacy (AACP)
2001-present American Heart Association (AHA), Council for High Blood Pressure Research
2000-present American Society for Pharmacology and Experimental Therapeutics (ASPET)
2000-present Society for Experimental Biology and Medicine (SEBM)
1998-present American Physiological Society (APS)
Committees
2019 – present Member of the AHA Molecular Signaling Transformational Project Award study section
2013 – 2017 Member of the AHA Vascular BioBP BSc1 Peer Review Committee
2010 – 2011 Member of the AHA Student Undergraduate Research Fellowship Peer Review Committee
Editorial Advisory Boards:
Fall 2018 – 2021 Journal of Pharmacology and Experimental Therapeutics (JPET)
2014 – present Frontiers in Regenerative Pharmacology
2011 – present Frontiers in Vascular Physiology
2008 – 2017 Journal of Pharmacology and Experimental Therapeutics (JPET)
Contribution to Professional Societies
2016 – present Abstract grader for category 5.22, Ligand-Mediated Signaling and Receptor Pharmacology for the AHA Scientific Sessions
2015 – 2016 Member of the ASPET SURF task force
2015 – 2016 Member of the APS/PhysSoc programming committee
2014 – 2016 Member of the APS Joint Programming committee
2014 – 2016 Chair of the APS Translational Physiology Interest Group Programming Committee
2013 – 2015 Abstract grader for category 713, Receptor Pharmacology for the AHA Scientific Sessions
2012 – 2013 Member of the at large nomination committee for Sigma Xi
2009 – 2011 Member of the ASPET Web Advisory Committee
Community Organizations
2016 Judge for the Toxicology Section of the CA State Science Fair
2015 Judge for the Mammalian Biology Section of the CA State Science Fair
2013-2014 Judge for the Pharmacology/Toxicology Section of the CA State Science Fair
2015-present Participated in the ASPET Volunteer day at EB
2009-2013 Participated in the ASPET Volunteer day at EB
2003- 2007 National Library of Medicine guest speaker
I discussed pharmacology with student groups visiting the NLM.
2003 -2004 NIH speakers' bureau member
Publications
A complete list can be foundhere.
Below are some selected publications representative of current work within the laboratory:
Huang KM, Liang S, Yeung S, Oiyemhonlan E, Cleveland KH, Parsa C, Orlando R, Meyskens FL Jr,Andresen BT, Huang Y. Topically applied carvedilol attenuates solar ultraviolet radiation induced skin carcinogenesis. Cancer Prev. Res. 10:598-606, 2017. doi: 10.1158/1940-6207.CAPR-17-0132
Chang A, Yeung S, Thakkar A, Huang KM, Liu M, Kanassatega RS, Parsa C, Orlando R, Jackson EK,Andresen BT, Huang Y. Prevention of skin carcinogenesis by the β-blocker carvedilol. Cancer Prev. Res. 8:27-36, 2015.
Andresen BT. The basis of translational physiology: from molecules to humans, a wide arc of scientific inquiry. Physiology 30:4-5, 2015.
Erickson CE, Gul R, Blessing CP, Nguyen J, Liu T, Pulakat L, BastepeM, Jackson EK, and Andresen BT. The β-blocker Nebivolol is a GRK/β-arrestin Biased Agonist. PLoS ONE 8(8): e71980, 2013.
Nistala R, Pulakat L, Andresen BT, Sinak C, Mandavia C, Thekkumkara T, Speth R, Whaley-Connell A, and Sowers J. Angiotensin Type 1 Receptor Resistance To Blockade In The Opossum Proximal Tubule Cell Due To Variations In The Binding Pocket. Am J Physiol Renal Physiol 304:F1105, 2013.
Andresen BT. A pharmacological primer of biased agonism. Endocr Metab Immune Disord Drug Targets 11:92, 2011.
Andresen BT. Characterization of G protein-coupled receptor kinase 4 and measuring its constitutive activity in vivo. Methods Enzymol. 484:631, 2010.
Escano CS, Keever LB, Gutweiler AA,Andresen BT. Angiotensin II Activates ERK Through a Non-Receptor Tyrosine Kinase Dependent Mechanism in Renal Smooth Muscle Cells: Implications for Blood Pressure Regulation.J Pharmacol Exp Ther.324:34-42, 2008.
Keever LB, Jones JE,Andresen BT. G protein-coupled receptor kinase 4ginteracts with inactive Gas and Ga13.Biochem Biophys Res Commun.367:649-55, 2008