Why IPE?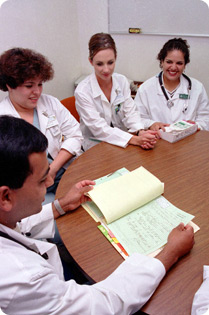 WesternU was the first institution to develop a comprehensive program helping students from nine distinct health professions to learn how to work as a cohesive health care team. Why have we done this? Because:
As national health care organizations and employers emphasize the importance of a team-based approach to health care, it is likely that training as part of an interprofessional health care team will enhance graduates' resumes and increase their employment opportunities.
The growing number of elderly with chronic conditions will make coordinated care even more essential and valued.
The emergence of infectious, zoonotic diseases impacts all health professions.
Patients will receive timely care from the most appropriate health care providers – minimizing cost and maximizing patients' potential for improvement and recovery — thanks to the collaborative care that can be created as the result of interprofessional education.
Our students graduate with a distinctive collaborative training and outlook which will ultimately benefit patients.
Program History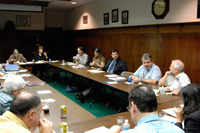 WesternU's IPE program is one of the largest in the country in terms of class size and number of health professional programs participating. Since beginning in 2009, over 5,000 students completed the IPE 5000 series and 4,000 completed the IPE 6000 series. These numbers have grown with the expansion to the COMP Northwest campus and IPE partner institutions in Oregon, and will continue to increase as the curriculum reaches the clinical years. The strategic planning that occurred in early stages largely contributed to the current and future development of the program.