Program Review Overview
Program review is one mechanism by which Western University of Health Sciences routinely evaluates degree and co-curricular programs and associated services to ensure they reflect the standards for quality that are embedded in our mission and values. This evidence-based process engages the faculty, administration, staff, students, and community and professional constituents with the intention facilitating a number of activities and goals to:
assist programs in developing or improving appropriate means for assessing student learning outcomes
better align department, college, and institutional goals and plans
assist in making curricular and other changes to improve program and student learning outcomes
identify potential cross-program collaborations
inform the university's overall decision-making, strategic planning, and budgeting processes
integrate professional and specialized accreditation reviews with the university's oversight of and planning for its programs
conform to WASC standards for accreditation and expectations for a satisfactory program review process
conform to federal guidelines for institutions of higher education
Academic Program Review at a Glance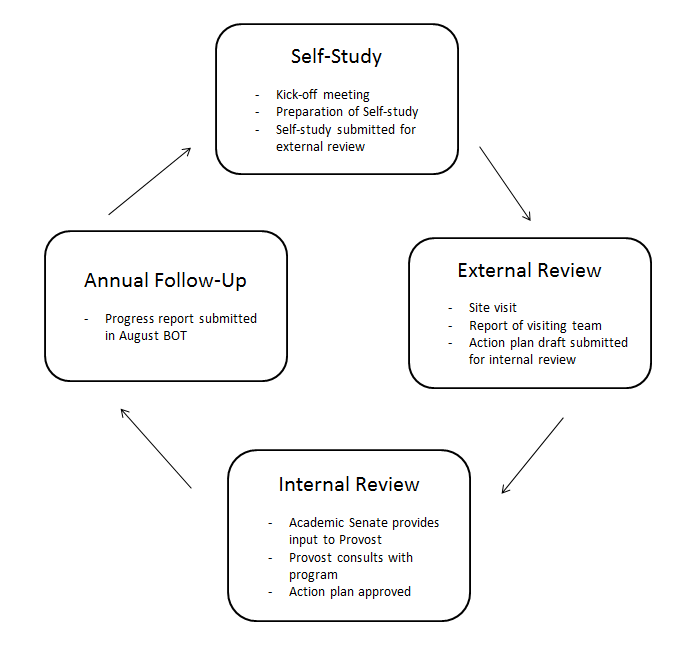 WesternU Program Review Milestones
WesternU's program review process consists of the following six milestones:
Milestone

Activities

1
Planning and Preparation
Kickoff meeting to establish timelines, roles and responsibilities.
2
Research
Standard data and reports from service units. Additional research planned as needed.
3
Self-Study
Self-study report developed. Formative feedback on draft reports. Involvement of cross-section of stakeholders.
4
External Review
External site visit and team report.
5
Internal Review
Visit results reviewed by Academic Affairs. Development of action plan to address goals set by review.
6
Annual Follow-Up
Joint review by program administration and Academic Affairs. Update of action plan recorded.
Co-Curricular Program Review at a Glance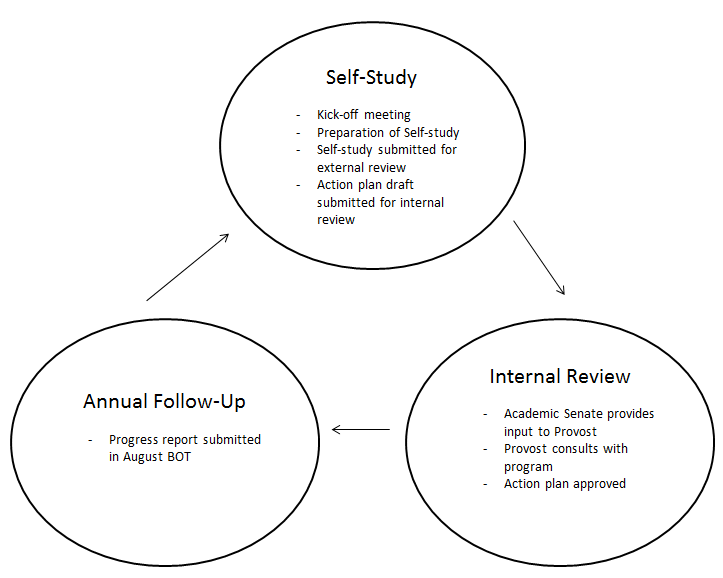 Program Review Schedule