About the IACUC at WesternU
WesternU's Institutional Animal Care and Use Committee (IACUC) was established in accordance with federal law, specifically the Animal Welfare Act, which requires that institutions that receive federal funds for animal research establish an IACUC to ensure the humane use of animals in teaching and research and that any such use of animals is done in compliance with all applicable laws and guidelines.  As part of its duties, the IACUC reviews all proposed uses of animals in teaching or research by University personnel and must approve of the activities before any such activities may begin.  The overriding concern of the IACUC is that the use of animals in teaching or research is justified and is performed in a humane manner with the fewest number of animals that will provide the desired outcome.  The IACUC also conducts semiannual inspections of all animal housing facilities and animal research laboratories under the jurisdiction of the University to ensure that these facilities meet federally mandated standards.
Policies and Procedures
Occupational Health and Safety
Contact information for Reporting Misuse, Mistreatment or Non-Compliance with Animal Regulations
Animal Care Unit Disaster and Emergency Action Plan
Restricted Species Emergency Action Plan
Backup Vet Role
Body Condition Score
Forms
IACUC related forms can be found in the IRBnet Forms/templates library www.irbnet.org under Western University of Health Sciences IACUC – Documents for Researchers. For questions about IACUC forms or IRBNet please contact IACUCOffice@westernu.edu 909-469-5606.
From your IRBnet page: select Forms/Templates tab, then Select the Library "Western University of Health Sciences IACUC Documents for Researchers" from the drop down.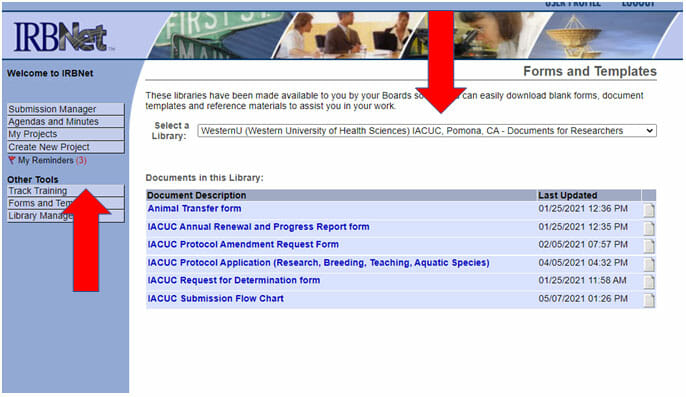 Additional Forms
Helpful Reference Material:
Power Analysis Assistance – three different training links:
Proof of Compliance
Animal Handling Training