Board of Trustees
Fiduciary Governance Priorities
Accreditation – University & Colleges
Financial Solvency– University & Colleges
Mission Management – Education, Research, Service
The WesternU Way – Values, Culture & Morale
WESTERNU MISSION
To produce, in a humanistic tradition, health care professionals and biomedical knowledge that will enhance and extend the quality of life in our communities.
WESTERNU VISION
Transforming the Face of Health.
We envision healthy people and a healthy society.
WESTERNU VALUES
Embody humanism through caring, respect, empathy, trust, and inclusion. Sustain a pioneering culture of bold innovation, courage, and passion. Display a collaborative mindset in how we operate, educate, and serve others. Achieve excellence in all we do.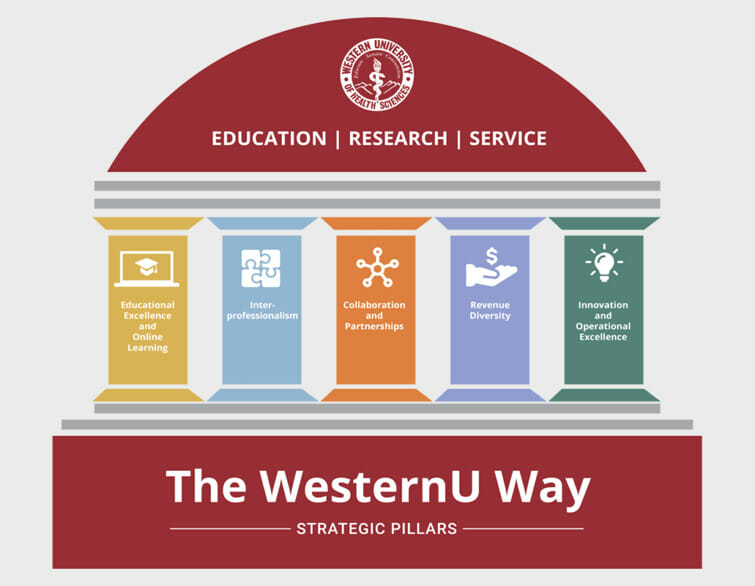 WesternU
SPIRIT
To continue to pioneer as an institution of phenomenal growth, we must build on our foundation in humanistic health sciences – The WesternU Way.

Our caring, respect, empathy, trust, and inclusion has made us innovative, audacious and nimble. This bedrock of values informs all we do, ensuring our work is ever a beacon that reflects compassion as we serve our communities.

The University must strengthen our strategic pillars to elaborate and evolve our mission. Thus across horizons of the next five and ten years, we can select carefully from a wonderful array of Big Opportunities.
Strategic Horizons
Western University of Health Sciences holds a unique place in the firmament of American higher education. Founded on a philosophy of humanistic, compassionate care – and often propelled by little more than optimism, energy and ideas – the University has over a span of 41 years evolved from one small college in a single building, with a handful of students and faculty, into the most comprehensive graduate health sciences university in the United States.
From the fallout of a decade-plus battle by California osteopathic physicians to determine their own fate emerged a small but ambitious medical college – the College of Osteopathic Medicine of the Pacific (COMP) – which sparked to life in September 1977, with a rented office in an abandoned shopping mall in Pomona, California as its home. At the helm of this fledgling enterprise was Philip Pumerantz, PhD, a lifelong educator, onetime university professor and educational consultant recruited from the American Osteopathic Association, where he was Director of Education, to become president of the new college. With the help of his wife, Harriet, the couple's three children, and a small but energetic cadre of California osteopathic physicians, Dr. Pumerantz spent the next year recruiting students, faculty and staff, and remodeling empty storefronts for educational use, so that in September 1978 COMP could welcome its inaugural class – 36 souls in all.
Though the early years included many struggles, COMP grew steadily. Health professions education, physician assistant and physical therapy programs created as COMP expanded eventually formed the School of Allied Health Professions, paving the way for COMP's transition into Western University of Health Sciences in 1996. Allied Health became its own college, and three more colleges – Pharmacy, Veterinary Medicine and Graduate Nursing – established over the next two years signaled WesternU's arrival as an academically and operationally innovative and thriving institution, one unafraid to anticipate and aggressively respond to changes in the health care and health education environments.
Throughout growth and change, the Pumerantzes' sustained emphasis on a caring, familial environment throughout all levels of the institution, an atmosphere grounded in humanism and compassion, attracted legions of future providers who were as interested in mastering the human part of health care as they were its scientific and technical aspects. This special combination – humanism, compassion, innovation and educational excellence – was on bright display when WesternU launched four more colleges (Biomedical Sciences, Dental Medicine, Optometry and Podiatric Medicine) in 2009-10 to help address the constantly growing need for providers across the health care spectrum. Such a robust expansion was seen as audacious by many. But this audacity, this ambition, this drive to be of higher and greater service was tempered by wisdom, experience, a proven track record, and a governing philosophy that all but ensured new WesternU endeavors would meet with the same success – and engender the same personal and professional meaning and value for students, faculty and staff – as their forebears.
Today, as WesternU reflects on more than 40 years of sustained success, it also looks ahead to opportunities present on new horizons. Under the leadership of Daniel R. Wilson, MD, PhD, who succeeded Dr. Pumerantz as President in 2016, the University has embarked on a journey toward ever-greater innovation, educational and societal relevance and currency, and programmatic and operational excellence. As is true in all that we do, the journey is made possible only by ever hewing to our core values of humanism, compassion and caring, with education as our principal and perpetual touchstone.
Though the future remains bright for University core educational programs, current realities specific to WesternU present challenges that could slow our momentum:
Our founders' exceptional vision allowed us to build the most comprehensive graduate health sciences institution in the country. But our next phase of growth will require managerial systems, financial stewardship, new revenue centers and an entire range of efficiencies to vie effectively with our known competitors.
WesternU lacks a memorable culture of tradition for students that unites them beyond graduation, negatively impacting student morale and alumni giving.
There is a growing need to enhance the student experience at WesternU, especially as it pertains to the physical campus environment and amenities.
Maintaining consistent culture and a singular identity across two campuses in different regions is difficult, and is exacerbated by remote lecture technology, centralized (in California) operational leadership, and inconsistent brand messaging.
Infrastructure development has not matched programmatic growth.
Additionally, the University faces the same factors affecting all of higher education and health sciences education: increases in tuition costs and student indebtedness; access and affordability for students who cannot enroll for financial reasons; shifts in health care regulation and delivery that impact the professions our graduates enter; and the need to attract and support high-quality faculty and researchers.
Fortunately, Western University of Health Sciences has much on the positive side of the ledger as it meets these challenges and blazes academic and operational trails for others to follow:
The University remains relatively young and agile, unencumbered by old legacy views of higher education.
We share a clear vision about delivery of an exceptional education and student experience.
Student interest, applications and enrollment continue to grow.
Faculty and staff turnover is low.
Our forward-thinking leadership – especially a new president who embraces innovative ideas and sets inspiring goals – our dedicated deans, and the University management team can rapidly take advantage of new opportunities in technology transfer, online learning, innovation, specialty graduate degrees, international expansion and philanthropy.
Technology companies continue seeking ways to profit in the health care industry through corporate/academic partnerships.
Community partnerships can be expanded where campuses are located.
Intellectual property and technology transfer can grow as revenue sources.
Enhancing and sustaining a Culture of Philanthropy will build the currently small base of benefactors into a more robust cohort over time, resulting in increased revenue.
As the challenges facing our University grow in complexity and number, so too do the strategies and resources WesternU brings to bear in overcoming them and Achieving Aspirations. Our institution will hold ever dear the core values that make it exceptional – humanism, compassion, and most of all excellence in the provision of health sciences education. But the University is not needlessly hidebound by tradition, nor is it sluggish in response to changing conditions. It remains nimble, energetic and enthusiastic as it draws a bright line from its founding mission to new strategic solutions that will address the realities of modern health sciences education and care.
"To Teach, To Heal, Together" has never resonated more than it does today at Western University of Health Sciences.
Strategy Checkpoint 2019
Checkpoint Charlie
WesternU held its third milestone Strategic Performance Group (SPG) checkpoint on Nov. 19, 2019.
Team leaders from each SPG (Financial Performance, Academic Performance, Innovation Performance, Strategic Performance and Brand Performance) gave an update on their group's challenges, accomplishments and path forward.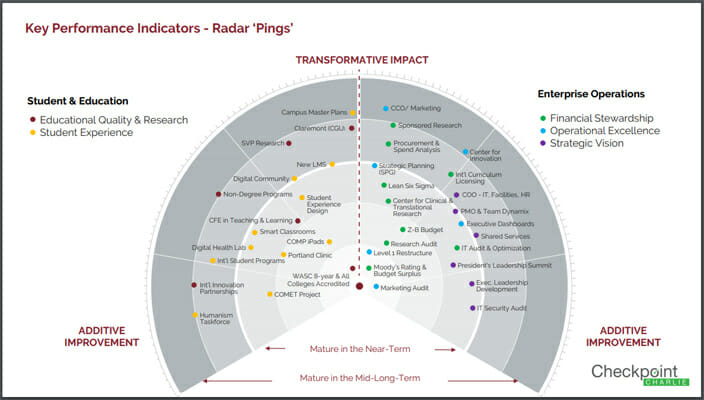 Click image to view the Checkpoint Charlie PowerPoint presentations.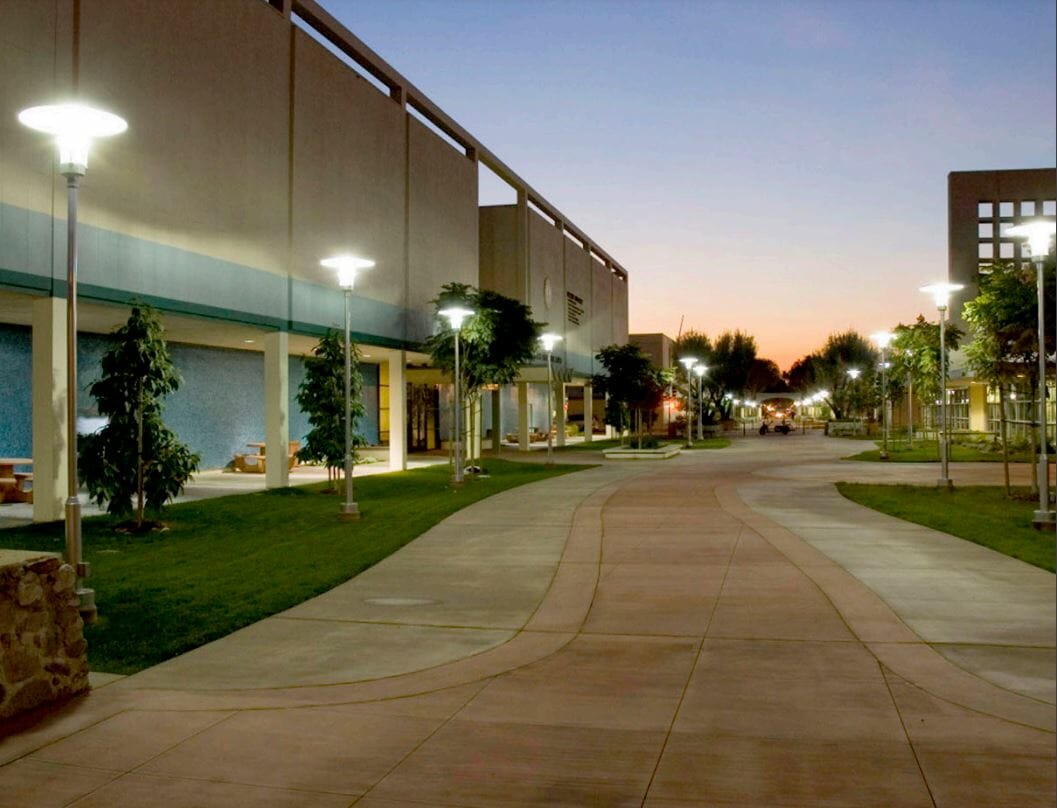 Pomona Campus
Master Plan
This Plan envisions our integrated, vibrant campus as part of our local community collaborating and partnering to better serve as a hub of health sciences education, research and care. The Plan addresses future educational and operational needs while enhancing the personal, familial ambiance that makes WesternU such a welcoming place.