Checkpoint Charlie
WesternU held its third milestone Strategic Performance Group (SPG) checkpoint on Nov. 19, 2019. WesternU President Daniel R. Wilson, MD, PhD, provided Key Performance Indicators (KPIs) as adopted by the Board of Trustees a year ago.
"Change is never easy, but I think this has been extremely productive and I'm impressed with the results," Wilson said. "It's one thing for leadership to conceptualize strategy. It's another thing for a whole organization across its breadth and depth to adopt and really formulate strategy."
Team leaders from each SPG (Financial Performance, Academic Performance, Innovation Performance, Strategic Performance and Brand Performance) gave an update on their group's challenges, accomplishments and path forward.
Click image below to view the Checkpoint Charlie PowerPoint presentations: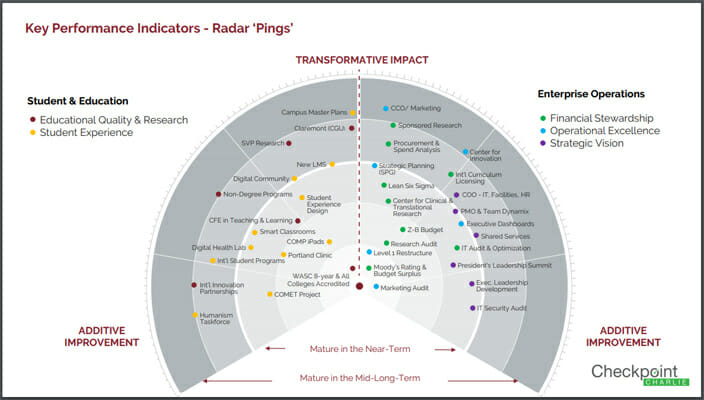 Click here to view the full Checkpoint Charlie video:
https://westernu.zoom.us/recording/play/FuHg3Wbk6DwDEvL0n-lfJAs8gQj-9SGZf_WhkNBCMQJ6SqtpWWwwRlOcC0yB12JP?continueMode=true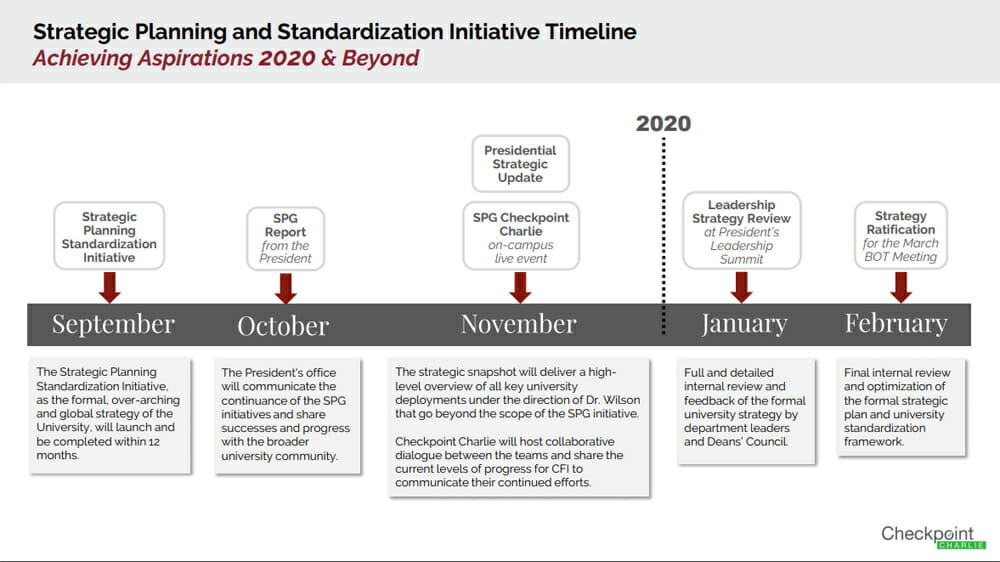 ---
Executive Development Resources

Attendees who desire more training can take advantage of one-on-one and online opportunities for leadership and skills development at WesternU.
Management Consulting
The Center will arrange for one-on-one or team-wide leadership coaching from a Certified Management Consultant and other leadership consultants. Coaching appointments can be made through the Center for Innovation at no cost to the department or college. You can also request a free digital version of the 149-page book "Innovation Leadership."
For Lean Six Sigma consulting or to start a Lean pilot project, please reach out to a Lean Champion or contact the SPG Lean Initiative leaders, Dr. Rob Warren and Rosa Aldama. 
LinkedIn Learning

https://inlearning.westernu.edu
LinkedIn Learning (formerly Lynda.com) offers several learning paths and playlists on management and leadership topics. These cover development of soft skills (personal attributes) and hard skills (proficiency) important for creating positive change in your area.
Transformational Leadership
Women in Leadership
Change Management
Project Management
Managing Teams
Thought Leadership
Lean Six Sigma
---
Previous Updates
Executive Development Workshop and SPG Film Festival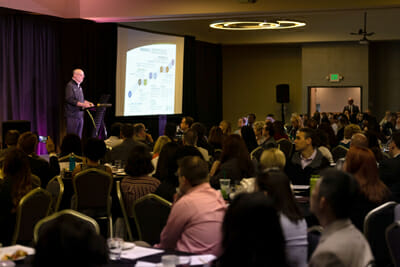 More than 200 WesternU faculty and staff participated in an Executive Development Workshop and the inaugural SPG Film Festival held Thursday, March 28, 2019 at the Doubletree Hotel in Pomona. The purpose of the program was for departments and colleges to collaborate around strategic initiatives, for leaders and managers to gain exposure to management systems that they can apply in their own departments and colleges, and to recognize the work of individuals and their dedication to moving strategy forward.
The Strategic Film Festival was launched to help communicate SPG team goals and objectives in a unique storytelling method. In five individual films shown during the morning session, the teams were able to tell their stories and share enthusiasm for moving the University toward future readiness. The afternoon session was host to a panel discussion of management methodologies that SPG teams are rolling out, including Lean Six Sigma and how it can improve efficiency and financial stewardship. The afternoon discussion also covered the design and deployment of strategy at WesternU.