Student/Employee Health Office (SEHO)
Supporting the physical well-being of all students and employees.
About the Student-Employee Health Office
Student/Employee Health Office (SEHO) Goals
To support the physical well-being of all students and employees.
To work cooperatively with the Colleges to ensure student health clearance requirements are being met.
To establish and maintain employee health records in compliance with local, state, and federal regulations.
The SEHO provides the following services:
Provides orders for select serum blood titers, tuberculosis tests, and immunizations.
Review and signs off on rotations health clearance forms. It will take 10 business days to complete this process.
Monitors employees whose jobs require health screening and surveillance, e.g., employees who work in patient care delivery or in certain types of research.
Coordinates monitoring for bloodborne pathogen exposures.
Provides information on communicable and infectious disease in accordance with the WHO, CDC, State of California, State of Oregon, and local public health offices.
Information will not be released without the expressed consent of the individual except for legal subpoenas and for some communicable diseases, which by law must be reported to the Department of Public Health, e.g. bloodborne pathogen exposure that converts to a positive Hepatitis B.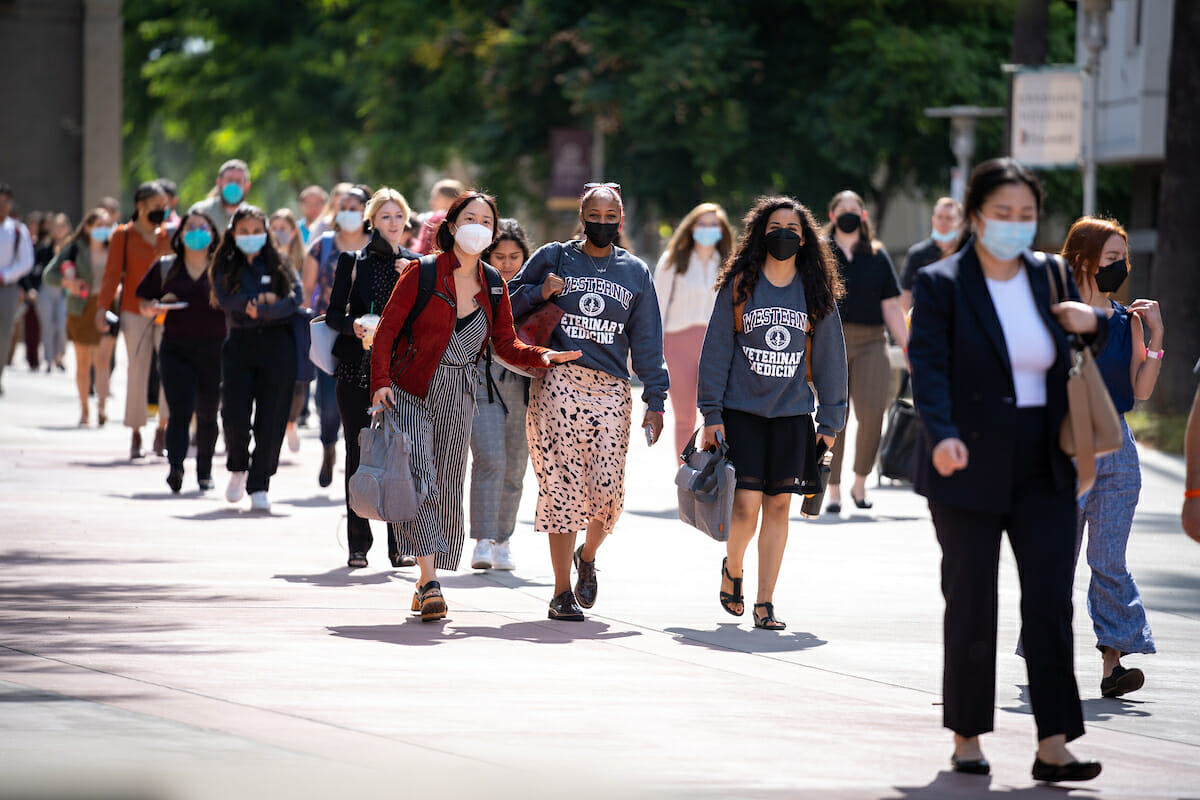 To All New
Incoming Students
The completed health clearance Packet is due no later than 30 days before class registration opens.

Please visit https://www.westernu.edu/registrar/registrar-about/registration-information/ to check your registration dates.

Every document you submit must contain your name and WesternU Student ID number.
It will take at least 10-business days to process your documents and to release the hold on your account.
You should only contact the SEHO if you have not received an email or phone call from us at least 10 business days after you have submitted all of your health clearance documents.
All documents are processed on a first-come-first-served basis.

Return All Completed SEHO Forms To:

Western University of Health Sciences
Student-Employee Health Office (SEHO)
Email to: stu-emphealth@westernu.edu

For questions, call: 909-706-3830

For questions related to registration or your classes, contact the Registrar's Office at registar@westernu.edu
2022-23 Flu Vaccine
Students: The 2022-2023 Influenza Vaccine  is due November 30, 2022. All students must send documentation showing they have received this vaccine to stu-emphealth@westernu.edu or a hold will be placed on their account. If your college has an earlier due date, then you must follow that due date. Please ensure that you have included your college, graduation year, and WesternU ID number on the top of the document.
Employees: The flu vaccine is strongly encouraged, but not required.
The composition of flu vaccines has been updated for the 2022-23 influenza season.
COVID-19 Vaccine and Booster Requirement
WesternU requires all faculty, staff, residents, trainees, and students to be fully vaccinated and up to date as defined by the CDC against COVID-19, subject to limited exemptions, regardless of whether they are on-site, or attending class.
Click here to view the WesternU COVID-19 Vaccination Program Policy.
Please refer to the CDC COVID-19 Vaccine Boosters for information related to eligibility for booster doses.
Already Vaccinated and/or Boosted?
Submit your proof of COVID-19 vaccine and booster card to stu-emphealth@westernu.edu. In the subject line, please write "COVID-19 Vaccine."
If you are a new incoming student, please submit your COVID-19 vaccine and booster record with your health clearance packet documents.
Lost your vaccination or booster card?

For California: You may request a copy from The California Immunization Registry (CAIR2). This is a secure, confidential, statewide computerized immunization information system for California residents.
For Oregon: Follow the instructions on the OHA Immunization Resources page. It may take five days to get your record.
If you are from outside of California or Oregon, contact your local public health department or healthcare provider for information about obtaining your COVID-19 vaccination records.
For information about COVID-19 or what to do if you have been exposed or test positive for COVID-19, please visit the COVID-19 Information page.
Monkeypox Information