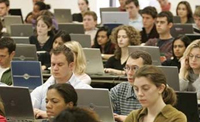 Upon admission to the university, new students are invited to attend an orientation that will familiarize you with the University Resources and computing technologies available to you. This orientation will introduce students to the campus network, the Blackboard online course management system, the Banner Information System, and software applications required in university programs. New students are also required to complete the Campus Policies tutorials in our University Online Resource Center, available on Blackboard. To access this course, you'll need to log into the Blackboard system using your WesternU username and password.
Essential information covered in the computing technologies orientation is available in the Support area here as well as on the Technical Support website at techsupport.westernu.edu.
Computer Requirements for Specific Programs
So we can better serve you, please make sure that your computer meets the minimum specifications required by your College.
Laptop Requirements

College of Health Sciences
College of Dental Medicine
College of Graduate Nursing
College of Osteopathic Medicine (& Northwest)
College of Optometry
College of Pharmacy
College of Podiatric Medicine
College of Veterinary Medicine
Graduate College of Biomedical Sciences
---
Getting Started
The following tutorials will help you quickly learn how to access the information systems critical to your success as a WesternU student, and safeguard your computer against loss of important data. For additional information and resources, go to our Student Techsupport site.
Additional Information
E-mail / Office 365
Student Printing
Student Portal
Blackboard
If you are new to Blackboard, you will also find some useful information on our Blackboard Support page.
If you need additional assistance with computing resources, please see our Support menu.