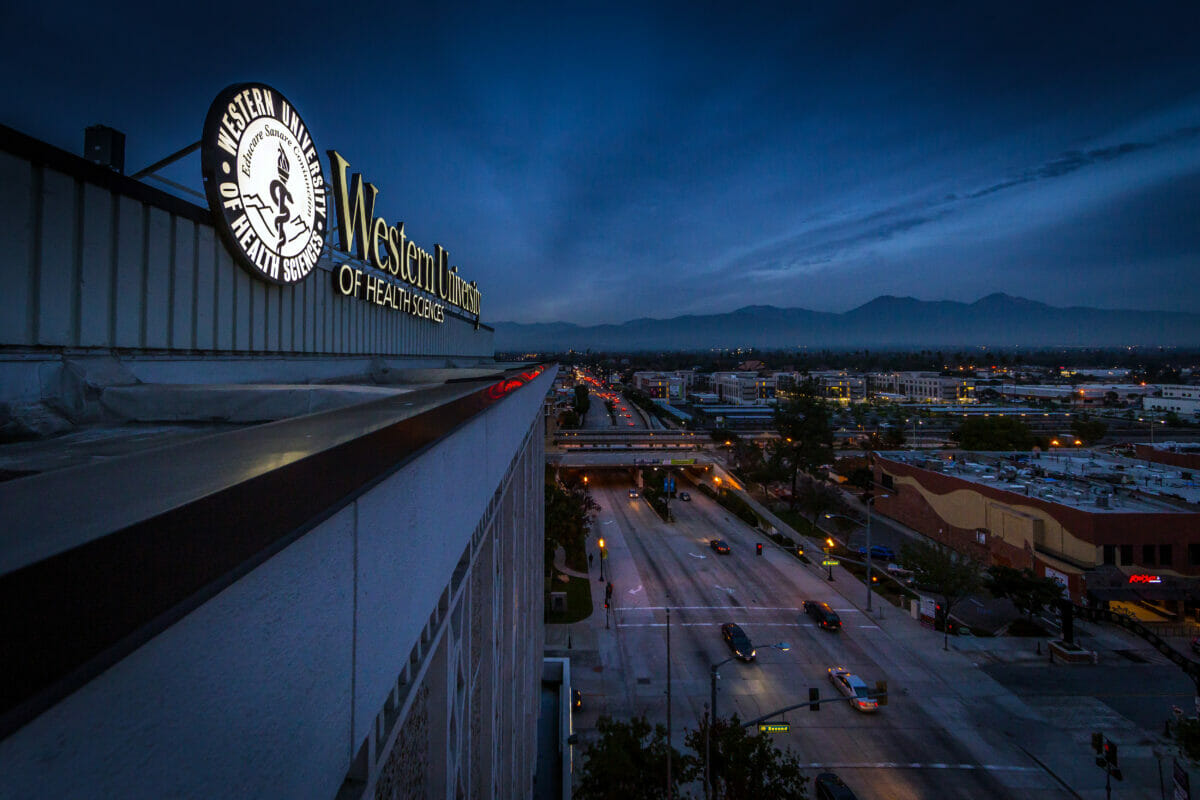 Annual
Survey
The IT Department conducts an annual survey to evaluate and improve our services. To view the results of our latest surveys, please select one of the following links:
The following are just some of the IT services provided to the university community. For more information, please visit support.westernu.edu or contact the IT Help Desk at (909) 469-5432 (extension 5432 if on campus).
Student Services Self-Service (requires login)
Student records.

Through the

Self-Service system

, IT maintains the database which supports academic records for all WesternU students. This program allows students to view grades and transcripts, review tuition fees and payments, and update their contact information.

Online registration. Students can also use the Self-Service system to register for courses and view related fees. For more information, see the Student Services Menu of Self-Service (requires login)

Financial aid services. Through Self-Service, students can apply for financial aid and check the status of their financial aid applications. They can also review the status of any loans obtained to finance their WesternU education. For more information, see the Student Services Menu of Self-Service (requires login)

Housing services. IT maintains a searchable database of available rental properties and individuals seeking roommates in the Pomona and Lebanon area. A roommate request form is also available. For more information, see the Student Services Menu of Self-Service (requires login)

Case Logs and Clinical Rotations. For selected programs, IT also provides online tools for managing case logs and selecting clinical rotation sites. For more information, see the Student Services Menu of Self-Service (requires login)
Computer and Campus Printing Support
Laptop and computer configuration, troubleshooting, and repair. IT's Help Desk provides technical assistance to students, staff, and faculty by phone or email request (see the contact information at the top of this page). Support is available between 7:30 am and 5:30 pm Monday – Friday. An answering service is available to receive technical support calls after business hours and on weekends. Note that only server or system related emergencies will be responded to during non-business hours; all other calls will receive a reply or be scheduled for the next business day.
Printer support. IT maintains high speed, high volume black and white and color printers in the student commons, the library and select classrooms for use by university students and employees. Instructions for using these printers can be accessed from the Campus Printers Support section on the Applications page.
Infrastructure Maintenance
Network installations and upgrades. As new buildings are constructed and educational programs are added, IT Infrastructure staff oversees the installation, upgrade and maintenance of new network and telecommunications equipment to accommodate expanding information management needs.

Network performance management. Our network administrators continually monitor the performance of the university network to ensure that bandwidth is optimized for the benefit of all university personnel and students.

Software upgrades.

Our monthly maintenance window is used to perform maintenance on the university servers. During that time key services must be temporarily interrupted so we can delete unwanted files, install new software, and adjust network performance to meet changing needs. For more information, see

Maintenance Schedule

.

Data backup and storage. All data files on network servers are updated nightly. In addition, IT has established contingency measures to protect against the loss of critical data in the event of accidental deletion or a natural disaster. For more information, contact Technical Support.

Spam Firewall. Our Spam Firewall uses a variety of technologies to detect and filter spam and viruses for all WesternU email accounts.

Wireless system. Our Infrastructure staff also maintains the university's wireless network, which is available throughout campus, including spots along the Esplanade.
Classroom Support
Audiovisual installations, upgrades, and maintenance. Our Audiovisual Technology Services (ATech) staff oversees the installation of new and improved audiovisual equipment in the lecture halls and classrooms. They also conduct routine maintenance to ensure the podiums, screens, and projectors in each classroom are in good working order, and repair or replace old or defective equipment as the need arises. Requests for classrooms support should be directed to Technical Support.
Classroom podium training and support. The ATech staff provides new and continuing faculty with instruction in the use of the classroom podiums, which control the audiovisual equipment used in lecture presentations. ATech also trains and works with students in each college (Student AV Representatives) to provide technical support for classroom presenters. To schedule training, contact Technical Support.
Remote AV equipment checkout. Faculty, staff, and students can also check out selected audiovisual equipment for remote University-sponsored presentations, recording events, and other University uses. Reservations can be made by contacting contact Technical Support or submitted through the Multimedia Request form available on the university Intranet (available on campus only).' to Remote AV equipment checkout. Faculty, staff, and students can also check out selected audiovisual equipment for academic events, remote University-sponsored presentations, recording events, and other University uses. Reservations can be requested for available equipment through Support.westernu.edu
Orientation and Training
New student orientation.

All units of IT participate in the orientation of new students during Orientation Week, and on an as-needed basis thereafter. During these orientations, students are introduced to the technologies they will be using during their stay here, and how to find assistance when they need it. For more information, see our

New Students

page for more information.

New faculty/staff training.

All newly hired employees receive an orientation to WesternU and the information technologies we use at WesternU. Depending on their role, new hires may receive additional training in Banner or other systems that they are required to use in their job. To request training in these, or any other software, please fill out an

IT Training Request

. To view all software available at WesternU, visit the

IT Ecosystem

. (available when connected to the University network)

Ongoing staff development. WesternU faculty and staff may also take advantage of any of the numerous technology workshops IT conducts. For more information, see the Faculty and Staff Training Registration Site. WesternU's IT Training Department offers software training for all WesternU Employees. Visit the IT Training SharePoint site for the most up-to-date technology classes, training information, and articles.
Educational Technology
Lecture Capture. WesternU uses a lecture capture system to record lecture presentations in the classroom and to make the resulting content available for student review.

Audience Response System (ARS). Several colleges use an audience response system to add interactivity to their curriculum. The web-based ARS is used to capture and display real-time student feedback as well as deploy knowledge checks through features like live polling, quizzes and synchronous discussions.

Desktop Screencast Recording. WesternU offers software to WesternU faculty who want to create screencast and video content of pre-recorded curriculum content, tutorials and other course materials to augment their in-¬class instruction and lecture recordings.

Videoconferencing. ATech provides support for 2-way live video conferencing systems between specially-equipped classrooms on the Pomona and Lebanon campuses. In addition, Atech provides training and support for cloud-based video conferencing solutions, which allow faculty to conduct remote lectures or meetings through their computer, tablet or phone.

Virtual Classrooms. Several colleges use software to create virtual classroom environments in which students and faculty can discuss topics, post and access course materials, create learning groups, and collaborate on shared notes and projects.