Western University of Health Sciences (WesternU) welcomes international students and their families to our diverse university community.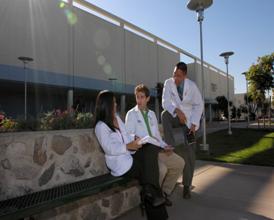 International Student Services (ISS) is responsible for providing support and assistance in immigration advising, maintaining immigration status, maintaining information and documents on foreign students and their dependants in the Student and exchange Visitor Information System (SEVIS), staying current with rules and regulations and interpreting and applying the rules and regulations set forth by the Department of Homeland Security.
Our mission is to support international students in their goal to become a compassionate and skillful health care professional. ISS maintains a high standard of professional and ethical conduct and provides a welcoming environment which recognizes and values cultural differences.
Whether you are a prospective, new or current student I hope you will find our website helpful. Let me know if I can provide you with further assistance. I am located in the University Student Services Building, Admissions Office.
Daniell Mendoza
Principal Designated School Official
909.469.5541
dwitsoe@westernu.edu
Academic Programs
ISS does not require a separate application or fee for international students. All information regarding international students is included in each of the program's on-line application. 
Coursework completed outside the U.S., must be evaluated for U.S. course equivalency from one of the following services:
World Education Services (WES)                    Josef Silny & Associates (JS&A)
P.O. Box 5087, Bowling Green Station            7101 SW 102 Avenue
New York, NY 10274-5087                              Miami, FL 33173
(212) 966-6311                                                (305) 273-1616
All foreign transcripts must be evaluated course-by-course with letter grades, pass/fail, or credit/no credit, and must specific which courses are considered undergraduate, graduate and professional. Select the program link you are interested in for more information and program requirements.
Osteopathic Medicine (DO) – Pomona Campus
A Resource for Applicants with non-US Citizenship
This document contains a brief general overview of government regulations and other applicable information relating to visas, residency guidelines and International licensure requirements, and is current as of January 2019.  This document does not serve as individualized career or legal advice, as immigration requirements, Accreditation Council for Graduate Medical Education (ACGME) residency hospitals systems, licensing, and certifying agencies change periodically. Consequently, it is the responsibility of each individual student to contact the appropriate agencies and systems in order to obtain the most up-to-date information regarding the immigration or other pertinent requirements related to his or her specific circumstances.
Pre-Doctoral Years
Pre-clerkship Years:
You must continuously maintain your F-1 visa status.
We encourage all International Students to meet with the COMP Office of Career and Professional Development in their first year of school to begin to better understand your long term goals.
Clerkship Years:
You must continuously maintain your F-1 visa status, and during your senior year, it is your responsibility to contact the Director for International Student Relations to secure an F-1 OPT visa to cover your first postgraduate residency year.
If you wish to schedule clerkship elective rotations at facilities that have residency programs in countries outside the US, this requires approval from three individual entities (1) a host facility, (2) the Department of Clinical Education, and (3) a sponsoring in-country medical school (if required). Obtaining such approval can take 6 months or more; if you are interested in these opportunities begin making arrangements early.
Post-Doctoral Years
Applying for Residency Outside the US:
Each country, and Canadian province, has unique requirements regarding the acceptance and training of osteopathic medical residents within their jurisdictions. It is the responsibility of the student to examine, understand, and satisfy those requirements.
You can begin the process of understanding these requirements now by exploring regulations posted on country websites.
Applying for Residency in the United States
The F-1 OPT visa covers your first postgraduate residency year. Prior to the second year of your residency training, you must obtain a visa which will allow you to continue working legally in the United States. Among the visas that may be available to you, two of the most commonly applied for include: the J-1 visa and the H-1B visa.  Regardless of which is obtained, it is your personal responsibility to remain in legal immigration status throughout your residency training while in the United States.
The J-1 visa requires the successful completion of Steps 1 & 2 of the USMLE prior to application.
Every residency program handles the visa status on non-citizen resident candidates with its own unique procedures. Due to these important differences, you must contact the medical education office at the residency program for the most up-to-date information for that hospital system.
Not every residency will want to take the responsibility to sponsor a J-1 or H1B visa resident. For this reason, your opportunity to match/place into a residency will be limited and there is significant risk that you will not be able to complete your postgraduate residency training requirements and never be able to practice medicine.
Practicing-Physician Years
If you complete residency in the United States and wish to return to your home country to practice, you should contact your home country early. Each country has differing regulations regarding licensure of DO physicians and specialty practice rights.
Office of Career and Professional Development
WesternU/College of Osteopathic Medicine of the Pacific
CompPomonaCareer@westernu.edu
This does not serve as legal advice.  It is the responsibility of each individual student that is impacted by this information to contact the appropriate agencies, systems or attorneys to obtain counsel or advice regarding his or her specific circumstances.
Pharmacy-International (PharmD)