Western University of Health Sciences (WesternU) welcomes international students and their families to our diverse university community.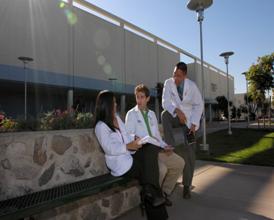 International Student Services (ISS) is responsible for providing support and assistance in immigration advising, maintaining immigration status, maintaining information and documents on foreign students and their dependants in the Student and exchange Visitor Information System (SEVIS), staying current with rules and regulations and interpreting and applying the rules and regulations set forth by the Department of Homeland Security.
Our mission is to support international students in their goal to become a compassionate and skillful health care professional. ISS maintains a high standard of professional and ethical conduct and provides a welcoming environment which recognizes and values cultural differences.
Whether you are a prospective, new or current student I hope you will find our website helpful. Let me know if I can provide you with further assistance. I am located in the University Student Services Building, Admissions Office.
Kathy Ford
Director of International Student Services
909.469.5542
kford@westernu.edu
Academic Programs
ISS does not require a separate application or fee for international students. All information regarding international students is included in each of the program's on-line application. 
Coursework completed outside the U.S., must be evaluated for U.S. course equivalency from one of the following services:
World Education Services (WES)                    Josef Silny & Associates (JS&A)
P.O. Box 5087, Bowling Green Station            7101 SW 102 Avenue
New York, NY 10274-5087                              Miami, FL 33173
(212) 966-6311                                                (305) 273-1616
All foreign transcripts must be evaluated course-by-course with letter grades, pass/fail, or credit/no credit, and must specific which courses are considered undergraduate, graduate and professional. Select the program link you are interested in for more information and program requirements.
Osteopathic Medicine (DO) – Pomona Campus
International students need to be aware that obtaining a residency program in the United States has been difficult for some graduates.  Many hospitals do not wish to accept the legal responsibility of sponsoring physicians for their graduate medical education programs.
It is strongly recommended that you begin researching graduate medical education programs as early as possible to ensure that your hospitals of interest will sponsor you for their graduate medical education programs.  You should begin the contact early and continue to dialogue with them throughout your medical education.
Osteopathic Med-Northwest (DO) – applications will only be accepted from individuals who are citizens of the US or who are permanent residents.
Pharmacy-International (PharmD)