The College of Optometry offers an innovative Doctor of Optometry program that emphasizes optometric rehabilitation including neuro-optometry, vision therapy, low vision rehabilitation, and care for individuals with developmental disabilities.  
Curriculum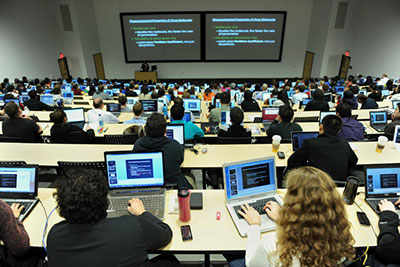 Our optometry curriculum is a four-year, full-time program leading to the Doctor of Optometry (OD) degree.
The curriculum emphasizes direct hands-on patient care in every semester beginning in the first year and continuing through full-time clinical rotations in the fourth year.  Throughout the first three years, students also receive lectures, case presentations, and preclinical laboratories. The 4th and final year of the curriculum consists of full-time patient care as students spend the entire year at externship sites located throughout the U.S. and abroad.  Learn more about our externship program.
Key goal of the curriculum:
Support and encourage collaboration among various health professions
The distinctive themes of the curriculum include:
Early entry into patient care
Interprofessional education in collaboration with other health disciplines
Emphasis on neuro-optometry and rehabilitation
Instructional Methods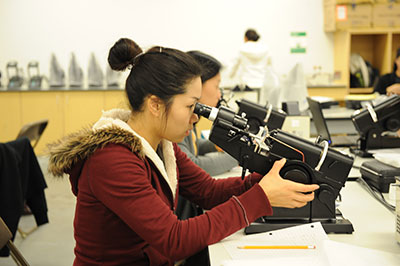 A number of instructional methods are used to support optimal learning.
1st year through 3rd year of the curriculum include hands-on clinical education, lectures, laboratories, pre-clinical experiences, small group learning, and service-learning.  A variety of pedagogical techniques are used including case-based learning, development of critical thinking techniques, and fostering of clinical thought processes.
In the 1st year of the curriculum, optometry students are enrolled in several courses with the medical, dental, and podiatry students, including:
Interprofessional case-based seminar (IPE)
The Molecular and Cellular Basis of Medicine
Introduction to Disease, Immunity & Therapeutics
Neuroscience and Psychiatry in the course Neuro-function and Behavior
Interprofessional Service Learning
The service-learning curriculum incorporates the design, implementation, and evaluation of interprofessional community-based projects such as outreach to elementary schools and senior citizen's groups.
The WesternU College of Optometry has incorporated into its mission a special emphasis on neuro-optometry. To set the foundation for a deeper understanding of neurological processes and pathology, students from the optometry program take part in the medical school's Neuroscience System course. In addition to preparing students for full-scope optometric practice, the optometric curriculum contains a series of courses dedicated to the specialized discipline of neuro-optometric rehabilitation.
Clinical programs have been developed to include hands-on training in neuro-optometric patient care and community-based opportunities for neuro-optometry, such as in rehabilitation hospitals. 
Because WesternU graduates are expected to practice in all states and regions, they will be prepared for the fullest scope of practice in the U.S. by the mastering of advanced diagnostic techniques and cutting-edge clinical skills.
---