The Campus Security Department offers a variety of services to the main campus.

LiveSafe App
WesternU has collaborated with the LiveSafe mobile app to provide our campus community with a powerful tool that will help keep our campuses safe.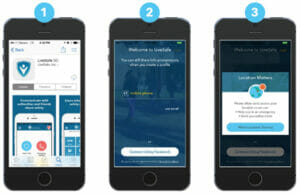 Download "LifeSafe" for free from Google Play or the App Store.
Register with your mobile phone number and fill out your profile. Verify your account.
Select "WesternU" for the Pomona, CA campus or "WesternU – Lebanon" for the Lebanon, OR campus.
For more information regarding LiveSafe, please visit https://www.westernu.edu/students/livesafe/
Student Safety Escort
The Student Safety Escort program is for any student, staff, faculty or visitors who are concerned about their safety. Escorts are provided by foot. Safety Escorts can be requested by calling (909) 706-3000 or dial 3000 from any campus phone, or through the "LiveSafe" Smartphone app. or ask any security officer.
Nixle
The Pomona Police Department provides free electronic alerts for accurate, important, and time sensitive information via text, e-mail, and web. Get neighborhood-level public safety and health alerts and other relevant community information by visiting https://nixle.com/pomona-police-department/ for more information.
Bicycle Program
The bicycle registration program is a free service provided to the community that allows you to register your bicycle with the National Bicycle Registry. Upon registering your bicycle, you will receive a unique tamper resistant sticker to place on your bicycle, which may deter theft and increase possibility of recovery. https://www.nationalbikeregistry.com/
Filing a Security Incident Report
Any incidents or problems are reported on an "Incident Report" and are submitted to the Campus Security Office. In order to file an Incident report you must contact Campus Security at (909) 706-3000 or via email at security@westernu.edu. Once the report has been created it will be forwarded to our office for review. Please keep in mind that a "Security Incident Report" is separate from the internal Incident Report.
If you would like to file a Police Report with the Pomona Police Department, please call (909) 622-1241 to speak to a Police Dispatcher and request an Officer to respond.
Requesting Security for Events
To request Security for an Event, please send an email to safety@westernu.edu.
In the email, please include the following information:
Name
Event
Date
Time
Location
Hours needed
Number of Attendees
FOAPAL
If you have scheduled your event through Resource Scheduler, please complete the request for Security in the "Security" tab.