Community Health Education – Focus on Outreach, Programs and Leadership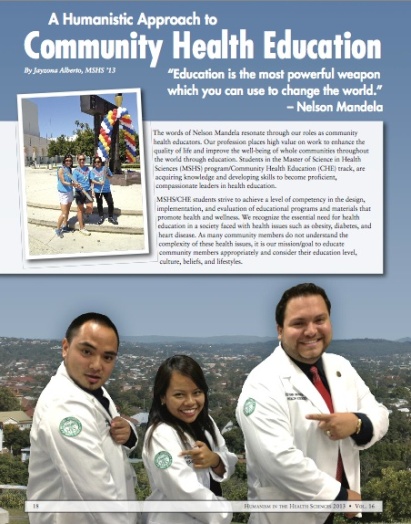 Community Health Education is the art and science of affecting health and wellness behavior at the community level.  It is a critical need Public Health Profession.  Health education is a process that enables individuals, families, groups, organizations and communities, to play active roles in achieving and sustaining health. Effective Community Health Education is planned with input from representatives of priority populations, and is influenced by the nature of the health problem and the setting. Here are some commonly asked questions about the Community Health Education track.
 
Where do Community Health Educators work?
Community Health educators work in a variety of settings, including:
Local and State Health Departments.
Universities and Health Centers.
Hospitals and Medical Centers.
Corporate Wellness Programs.
Federal Health Agencies, such as the Centers for Disease Control.
Secondary Schools.
Insurance Companies.
Non-profit agencies with health related missions
What kind of student enrolls in the Community Health Education track?
CHE students care about people and want to make a difference in their communities. They excel in creativity, teaching, mobilizing others, and establishing long-range plans to combat public health and medical issues. CHE students may have a strong desire to affect the health of a specific population, or engage in work that centers on a particular societal problem or concern. Areas include environmental health, health promotion, disease prevention, and special problems within specific populations.
What do Community Health Educators do?
Community Health Educators are a vital component of the Public Health system. Working in 7 key areas of responsibility, Community Health Educators:
assess needs of the community for health concerns;
plan health education strategies, interventions and programs;
implement the plan or program(s);
evaluate the effectiveness of the program(s);
administer strategies, interventions and programs;
serve as a health education resource, and;
communicate and advocate for health and health education.
Community Health Educators often publish health education materials, information papers, and create grant proposals. Many teach health in public and private schools. The majority of Community Health Educators plan health promotion interventions for specific communities and populations.
What kind of education do Community Health Educators have?
Community Health Educators must earn a bachelor's or master's degree in health education. Studies cover public health research, health education theory and practice, social policy, health issues in different populations, community diagnosis, planning, management and evaluation techniques.
How are Community Health Educators certified?
The nationally recognized certification for health educators is the CHES designation. CHES stands for Certified Health Education Specialist. It is earned by examination and is maintained through ongoing continuing education. Learn more about the C.H.E.S. and MCHES certification at the National Commission for Health Credentialing website.  Many Community Health Educators are part of the Society for Public Health Education (SOPHE) and or the American Public Health Association (APHA).
---
Community Health Education (CHE) Track
HSCI 5011 Community Healthy Principles, Policy, and Advocacy
HSCI 5013 Epidemiology and Population Health
HSCI 5014 Community Health Education
HSCI 5015 Community Needs Assessment
HSCI 5017 Program Planning
HSCI 5018 Competencies for Community Health Educators
HSCI 5019 Program Implementation
HSCI 5020 Grant Proposal Writing
HSCI 5106 Applied Statistics
HSCI 5108 Instructional Media
HSCI 5130 Foundations of the U.S. Health Care System
HSCI 5206 Research and Program Evaluation Methods
HSCI 5998 Thesis/Special Project I
HSCI 5999 Thesis/Special Project II
Important dates
Application deadline: Ongoing
Fall term: Aug 17 – Dec 11, 2020
Spring term: Jan 4 – Apr 23, 2021
Summer term: Apr 26 – June 25, 2021
Tuition: $650/credit hr
---
Important Links
General Application Information
---
Contact Us
Department of Health Sciences
E-Mail: MSHS Department
Western University of Health Sciences
Department of Health Sciences
450 East Second Street
Pomona, CA 91766
909.469.5300 (office)
909.469.5407 (fax)
---
Stay Connected