Study Room Policy and Reservations
Do you need a space to study with your classmates? Visit the PLC to use one of the twelve study rooms.
Reservation Periods: You can reserve a room up to 24 hours in advance for 30 minutes to 4 hours.
The reservation must start and end during the 24-hour window.
Example: It is 8:00 am on Monday and you want to reserve a room from 7:00am-11:00am on Tuesday. This reservation will not go through on Monday at 8:00am. You will need to wait until Monday at 11:00am to reserve a room the next day that will end at 11:00am.
At the end of your first reservation, you can reserve up to an additional 4 hours.
Occupancy: Most rooms accommodate up to 4 – 5 people. Study Room 100 accommodates up to 12 people.
Late Arrivals: The reservation will be held for 15 minutes. After 15 minutes, the reservation will be released.
Whiteboards: Study rooms 302, 303, 311, 312, 313, and 315 contain mobile whiteboards. Whiteboard markers are available at the 1st floor Library Services desk.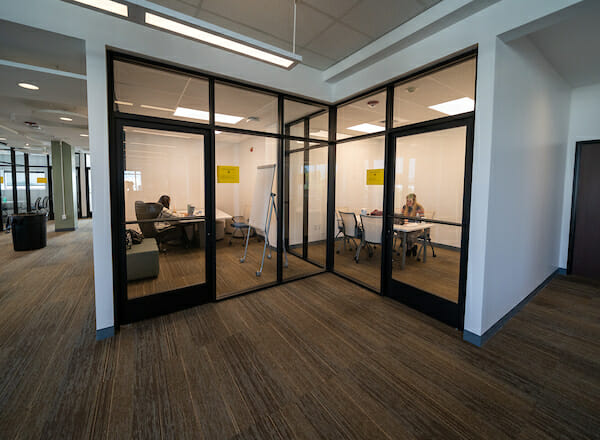 Using
the Study Rooms
When reserving a room, you will need to agree to the terms of service.
How to Reserve a Study Room
Make a reservation: online, visit the library services desk, or call the library at 909-469-5323
Reserving online:

Log into Booked.
On the scheduling page, select an available time slot for 30 minutes to 4 hours.
In the reservation window, enter the number of students and agree to the terms of service.
Select "Save".
If your notifications are set up, you will receive a confirmation email.

Check-in at the library services desk
Let us know you arrived. Otherwise, your reservation will be canceled after 15 minutes.
Check-out at the library services desk.
Let us know if you need to leave early. We will adjust your reservation to free it up for the next person.
How to Cancel a Study Room
If you no longer need a study room, cancel it on Booked or contact us at circ@westernu.edu or 909-469-5323.
Canceling on Booked:
Open your reservation.
The "Editing Reservation" window will open.

From desktop/laptop: Select "More" to open the menu.
From mobile: Select the icon with the 3 vertical dots.

Select "Delete".
The "Delete" window will open. Select "Delete" to confirm.
A confirmation message will appear. Select "Close".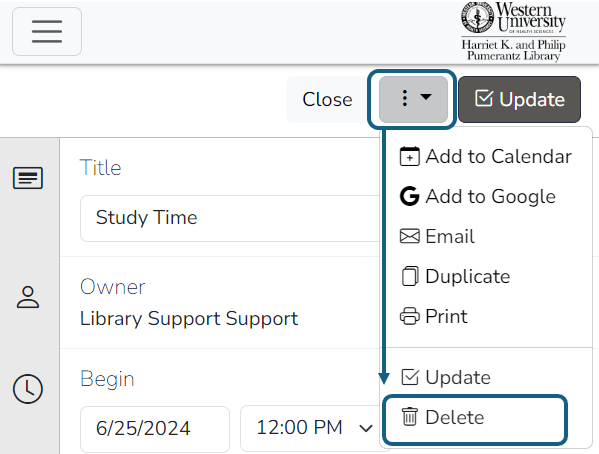 How can I set my notification preferences?
By default, all options are set to "Send me an email". To modify notifications:
Log in to Booked.
From the top of the page, open the "My Account" menu.
Select "Notification Preferences".
Modify the selections and select "Update".