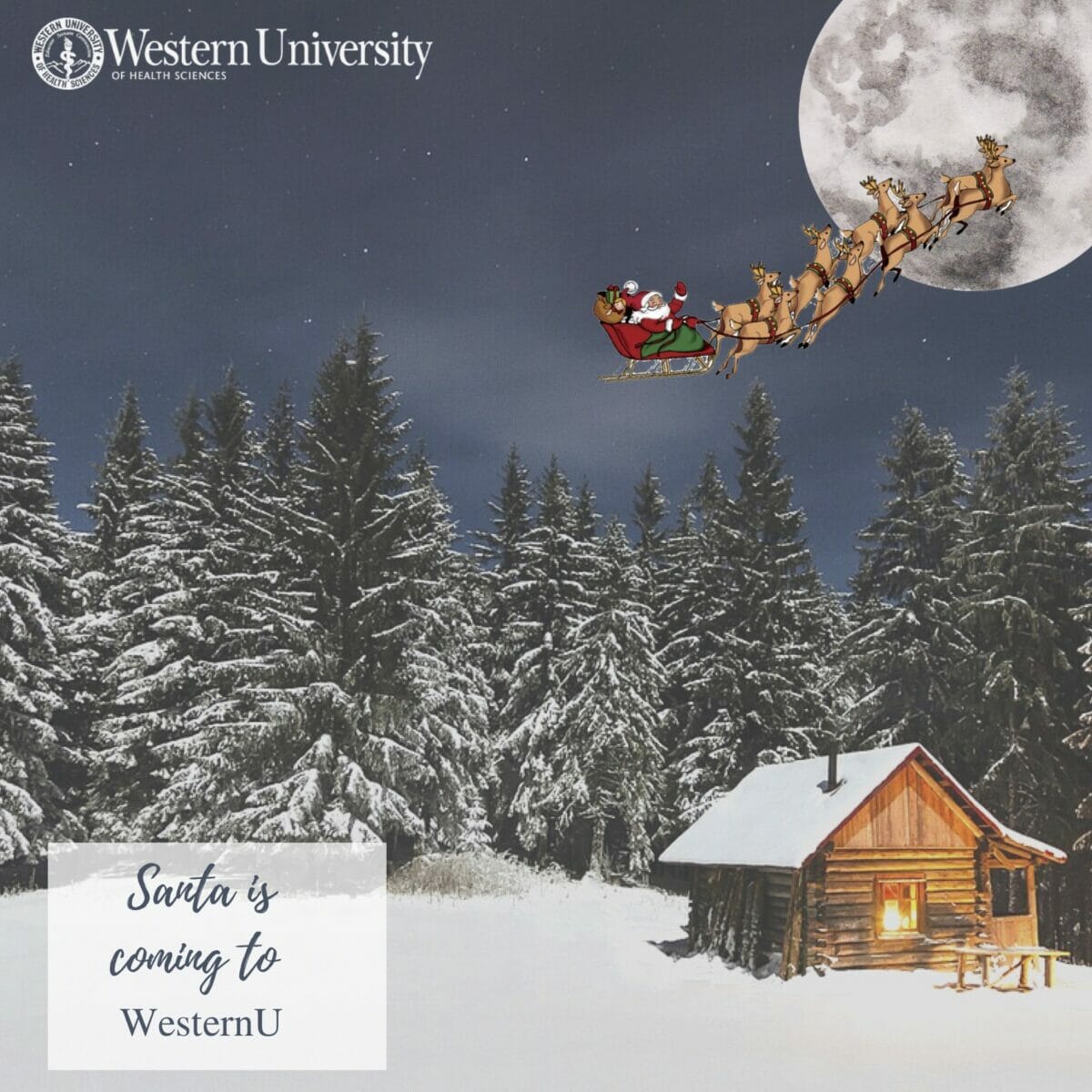 Please see the list of children sponsored by Santa's Workshop below.  Keep in mind, the social worker meets with the family to build the list and we ask them to keep the items reasonably priced. We must ensure that every child is sponsored so please only sign up if you are able to purchase and deliver a gift by the deadline mentioned below. 
How it will work this year:
Review the list below to see which child you would like to sponsor. 
Pro-tip 1: You can sort the list by age, gender, and if a child has already been sponsored.
Pro-tip 2: Note the "Gift" number assigned to the name – you'll need it!
Pro-tip 3: Gift items on the list are a suggestion, if you have questions feel free to reach out to USA for help with ideas. 
To confirm your sponsorship please:
Join us during our office hours on Zoom (M-F/12:00-1:00p.m. PST) -or-
Chat with us on the Santa's Workshop Team site -or-
E-mail: studentaffairs@westernu.edu 
Once confirmed you'll receive an e-mail with all of the details.
Please DELIVER/MAIL your WRAPPED (

gift bags preferred

) and LABELED gift(s) to the University by Tuesday, November 22, 2022. 
Instructions provided in your confirmation e-mail. 
The list below will be periodically updated as children are being sponsored:
| # | CHILDS NAME | AGE | Male/Female | GIFT IDEA | Sponsored |
| --- | --- | --- | --- | --- | --- |
| 1 | Ivonne C | 10 | F | Braclet/jewelry making kit | Sponsored |
| 2 | Jose L | 15 | M | Skateboard and Helmet | Sponsored |
| 3 | Jacqueline L | 5 | F | Disney Dolls | Sponsored |
| 4 | Charleen L | 10 | F | Arts and Craft Set | Sponsored |
| 5 | Charlette L | 8 | F | Braclet/jewelry making kit | Sponsored |
| 6 | Nova L | 8 | F | LOL Dolls/Barbies | Sponsored |
| 7 | Olivia L | 6 | F | Disney or LOL Dolls | Sponsored |
| 8 | Esmeralda P | 1 | F | Musical Books | Sponsored |
| 9 | Angelie Q | 8 | F | Baribies /LOL Dolls | Sponsored |
| 10 | Ashly R | 12 | F | Purse, watch, Yougurtland gift card | Sponsored |
| 11 | Baby G | 0 | F | Sensory developmental toys | Sponsored |
| 12 | Davida S | 16 | F | Bath & Body Works Set | Sponsored |
| 13 | Aneth S | 15 | F | Bath & Body Works Set | Sponsored |
| 14 | Israel T | 12 | M | Skateboard and Helmet | Sponsored |
| 15 | Nathan T | 5 | M | Sonic or Monster Trucks | Sponsored |
| 16 | Esperanza V | 3 | F | Disney Princess Dolls | Sponsored |
| 17 | Naithan E | 4 | M | Hotwheels Cars Track | Sponsored |
| 18 | Adam G | 7 | M | Sonic Toys | Sponsored |
| 19 | Johnny H | 1 | M | Developmental Toy: Activity Cube | Sponsored |
| 20 | Eileen H | 14 | F | Bath & Body Works Set | Sponsored |
| 21 | Leilani H | 8 | F | Barbies/Jewelry Making Set/Journal | Sponsored |
| 22 | Otilio H | 16 | M | Target Gift Card/Axe | Sponsored |
| 23 | Romeo I | 10 | M | Game Stop Gift Card | Sponsored |
| 24 | Natalie L | 18 | F | Bath & Body Works Set/ Purse | Sponsored |
| 25 | Carmella M | 17 | F | Make Up Set/ Purse | Sponsored |
| 26 | Pablo M | 12 | M | Wallet/ Beenie/Target Gift Card | Sponsored |
| 27 | Paulina M | 15 | F | Bath & Body Works/Fast Food Gift Card | Sponsored |
| 28 | Matthew P | 15 | M | Wallet/ Beenie/In n Out Gift Card | Sponsored |
| 29 | Hayden T | 8 | M | Game Stop Gift Card/ Beenie | Sponsored |
| 30 | Jaime T | 5 | M | Super Hero Action Figures | Sponsored |
| 31 | Aiden A | 7 | M | Lego Set | Sponsored |
| 32 | Desmond A | 9 | M | Skateboard and Helmet | Sponsored |
| 33 | Jazlyn A | 2 | F | Disney Princess Dolls | Sponsored |
| 34 | Keira A | 8 | F | Bracle/Jewelry making kit | Sponsored |
| 35 | Nevaeh C | 0 | F | Developmental Toy: Activity Cube | Sponsored |
| 36 | AnthonyRay G | 1 | M | Sensory developmental toys | Sponsored |
| 37 | Angel L | 15 | F | Purse/ Make-up Set/Target Gift Card | Sponsored |
| 38 | Penelope R | 7 | F | LOL Dolls/Barbie set | Sponsored |
| 39 | John R | 3 | M | Large Lego Set | Sponsored |
| 40 | Lilo R | 6 | F | Remote control car | Sponsored |
| 41 | Tivian R | 7 | F | Kids Microphone/Justice Gift Card | Sponsored |
| 42 | Oliver S | 2 | M | Activity Learning Cube/Cars | Sponsored |
| 43 | Andrew S | 13 | M | Earphones/Game Stop Gift Card | Sponsored |
| 44 | Angelina S | 16 | F | Taget Gift Card/ Purse | Sponsored |
| 45 | Ayden S | 10 | M | Scooter with helmet/Game Stop Gift Card | Sponsored |
| 46 | Aileena W | 6 | F | Lol Dolls/Barbies/Pajamas size 7/8 | Sponsored |
| 47 | Ashley A | 5 | F | Disney Princess Dresses | Sponsored |
| 48 | Jacob A | 12 | M | Target Gift Card/Beenie/ Wallet Set | Sponsored |
| 49 | Eddie C | 7 | M | Remote control car/Sonic Toys | Sponsored |
| 50 | Sylvia C | 5 | F | Magnetic Tile Toys/Hotwheels track | Sponsored |
| 51 | Alvaro Q | 14 | M | Target Gift Card/Watch/ Wallet Set | Sponsored |
| 52 | Claudia R | 8 | F | Braclet making kit/Justice Gift Card | Sponsored |
| 53 | Leila R | 5 | F | Disney Princess Dolls | Sponsored |
| 54 | Ezli R | 12 | F | Justice Gift Card/backpack/purse | Sponsored |
| 55 | Izel R | 15 | F | Bath & Body Works Set/target Gift Card | Sponsored |
| 56 | Mia R | 10 | F | Jwelry/Braclet making kit/Justice Gift Card | Sponsored |
| 57 | Isaiah R | 7 | M | Sonic Toys/Scooter w/helmet | Sponsored |
| 58 | Maria S | 0 | F | Tummy Time Baby Activity | Sponsored |
| 59 | Adrian S | 11 | M | Game Stop gift card/Beenie | Sponsored |
| 60 | Isaak S | 12 | M | Earphones/Game Stop Gift Card | Sponsored |
| 61 | Logaan S | 9 | M | Skateboard and Helmet | Sponsored |
| 62 | Titus S | 6 | M | Hot Wheel track with Cars | Sponsored |
| 63 | Layla B | 3 | F | Disney Princes Dolls | Sponsored |
| 64 | Jade B | 10 | F | Arts and Craft Set/Target Gift Card | Sponsored |
| 65 | Angel G | 2 | F | Musical Toy/Disney Toys | Sponsored |
| 66 | Jacob G | 15 | M | Target Gift Card/Cologne/ Wallet | Sponsored |
| 67 | Krish G | 8 | M | Gamer Stop Gift Card | Sponsored |
| 68 | Nathan G | 17 | M | Cologne/ Taget Gift Card/Axe Set | Sponsored |
| 69 | Piya G | 9 | F | Jewelry/Braclet making kit | Sponsored |
| 70 | Destinee G | 13 | F | Justice Gift Card/backpack/purse | Sponsored |
| 71 | Llayla G | 9 | F | Justice Gift Card/backpack/purse | Sponsored |
| 72 | Gabriel G | 14 | M | Target Gift Card/Headphones | Sponsored |
| 73 | Mason H | 8 | M | Scooter with helmet/Game Stop Gift Card | Sponsored |
| 74 | Sammy H | 3 | F | Princess Dolls/Learning Books | Sponsored |
| 75 | Liliana P | 3 | F | Disney Dolls/LeapFrog Learning toy | Sponsored |
| 76 | Nikko P | 5 | M | Hot Wheel Track with Cars | Sponsored |
| 77 | Bradley R | 14 | M | Target Gift Card/ Axe Set/Earphones | Sponsored |
| 78 | Dylan R | 16 | M | Taget Gift Card/ Wallet | Sponsored |
| 79 | Deon A | 1 | M | Developmental Toy: Activity Cube | Sponsored |
| 80 | Brooklyn A | 8 | F | Justice Gift Card/backpack/purse | Sponsored |
| 81 | Charity A | 2 | F | Disney Princess Doll/Musical Books | Sponsored |
| 82 | Sophia B | 7 | F | Barbies/Jewelry Making Set/Journal | Sponsored |
| 83 | Carly G | 17 | F | Bath & Body Works Set/target Gift Card | Sponsored |
| 84 | Gwendolyn G | 9 | F | Jewelry/Braclet making kit/ Justice Gift Card | Sponsored |
| 85 | Ariana G | 5 | F | Disney Princess Dresses | Sponsored |
| 86 | Seth I | 16 | M | Taget Gift Card/Wallet/Gift Card | Sponsored |
| 87 | Alexis M | 11 | F | Justice Gift Card/backpack/purse | Sponsored |
| 88 | Ali M | 7 | M | Sonic toys/Monster Trucks/Hotwheels | Sponsored |
| 89 | Nour M | 7 | F | Barbies/Jewelry Making Set/Journal | Sponsored |
| 90 | Ariyah R | 3 | F | Disney Princes Dolls | Sponsored |
| 91 | Alissa T | 11 | F | Justice Gift Card/Braclet making kit | Sponsored |
| 92 | Isaiah T | 12 | M | target Gift card/Wallet/ Beenie | Sponsored |
| 93 | Jeremiah T | 16 | M | Target Gift Card/Cologne/ Wallet Set | Sponsored |
| 94 | Jasper V | 3 | M | Dinosaur Set | Sponsored |
| 95 | Arianna B | 9 | F | Arts and Craft Set | Sponsored |
| 96 | Melanie B | 7 | F | Lol Dolls/Barbie set | Sponsored |
| 97 | Mallory C | 0 | F | Developmental Toy: Activity Cube | Sponsored |
| 98 | Natalie E | 17 | F | Make Up Set/ Purse/Target Gift card | Sponsored |
| 99 | Adriel G | 11 | M | Game Stop Gift Card/ Beenie/Headphones | Sponsored |
| 100 | Y'shua G | 16 | M | Bath & Body Works Set/ Purse | Sponsored |
| 101 | Katherine G | 14 | F | Make up Set/ Target Gift Card | Sponsored |
| 102 | Harlie K | 12 | F | Justice Gift Card/backpack/purse | Sponsored |
| 103 | Sawyer K | 15 | M | Target Gift Card/Beenie/Headphones | Sponsored |
| 104 | Ceasar M | 11 | M | Movie tickets | Sponsored |
| 105 | Christopher M | 17 | M | Movie tickets | Sponsored |
| 106 | Nikolai O | 8 | M | Lego Set/Game Stop Gift Card | Sponsored |
| 107 | Damian P | 3 | M | Toy Story Toys | Sponsored |
| 108 | Ariella R | 3 | F | Disney Princess Dolls | Sponsored |
| 109 | William W | 13 | M | Game Stop Gift Card/Beenie | Sponsored |
| 110 | Conrad W | 7 | M | Sonic Toys/Legos | Sponsored |
| 111 | Abigail A | 15 | F | Make up Set/Backpack purse/gift card | Sponsored |
| 112 | Izabella D | 9 | F | Barbies/Jewelry making kit/Board Games | Sponsored |
| 113 | Benny E | 4 | M | Disney toys- Cars | Sponsored |
| 114 | Dallas H | 3 | F | Disney Princess Dolls | Sponsored |
| 115 | Aliya J | 7 | F | Lol Dolls/Barbies/Pajamas size 8/10 | Sponsored |
| 116 | Nicholas N | 10 | M | Game Stop Gift Card | Sponsored |
| 117 | Skylie P | 14 | F | Make-up set | Sponsored |
| 118 | Noah S | 0 | M | Educational toy/baby blanket/baby clothes | Sponsored |
| 119 | Mary T | 2 | F | Baby doll with stroller | Sponsored |
| 120 | Evelyn V | 3 | F | Disney Princess Dresses | Sponsored |
| 121 | Mason V | 6 | M | Sonic Toys/Legos | Sponsored |
| 122 | Zander V | 5 | M | Sonic Toys/Legos | Sponsored |
| 123 | Jose V | 12 | M | Game Stop Gift Card/Earphones | Sponsored |
| 124 | Lamar W | 13 | M | Movie tickets | Sponsored |
| 125 | Levi W | 13 | M | Movie tickets | Sponsored |
| 126 | Tyron W | 13 | M | Movie tickets | Sponsored |
| 127 | Melinda Z | 17 | F | Target Gif Card/Backpack purse/gift card | Sponsored |
| 128 | Denise A | 8 | F | LOL Dolls/Barbie set | Sponsored |
| 129 | Anastasia B | 1 | F | Educational toy/baby blanket/baby clothes | Sponsored |
| 130 | Joshua D | 7 | M | Sonic toys/Monster trucks | Sponsored |
| 131 | Adrian E | 2 | M | Action figures/Sonic toy | Sponsored |
| 132 | Estrella E | 4 | F | Disney Princess Dresses | Sponsored |
| 133 | Luna E | 7 | F | Lol Dolls/Barbie set | Sponsored |
| 134 | Maximo E | 10 | M | Movie tickets | Sponsored |
| 135 | Ocean E | 5 | M | Remote control car/legos | Sponsored |
| 136 | Sunshine E | 12 | F | Movie tickets/Jewelry making kit | Sponsored |
| 137 | Aziel H | 1 | M | Educational toy/baby blanket/baby clothes | Sponsored |
| 138 | Kaleb N | 11 | M | Movie tickets | Sponsored |
| 139 | Jahiyrah P | 3 | F | Disney Dress up set | Sponsored |
| 140 | Ruthmarie P | 2 | F | Disney Princess Dolls | Sponsored |
| 141 | Timyzse P | 4 | F | Disney Princess Dolls | Sponsored |
| 142 | Joseph R | 1 | M | Educational toy/baby blanket/ clothes | Sponsored |
| 143 | Camila S | 16 | F | Bath & Body Works Set/ Purse | Sponsored |
| 144 | Sofia S | 10 | F | Movie Tickets | Sponsored |
| 145 | Serenity V | 6 | F | Lol Dolls/Barbie set | Sponsored |
| 146 | Dorian A | 2 | M | Disney toys/pajamas size 3 | Sponsored |
| 147 | Alina C | 4 | F | Baby doll with stroller | Sponsored |
| 148 | Ezekiel C | 1 | M | Educational toy/blanket/clothes size 24 month | Sponsored |
| 149 | Amelia E | 6 | F | Princess Dolls-Ecanto | Sponsored |
| 150 | Charlotte E | 3 | F | Princess Dolls-Ecanto | Sponsored |
| 151 | Aolanis G | 2 | F | baby Doll with stroller | Sponsored |
| 152 | Evann L | 15 | M | Target Gift Card/Wallet/ Beenie | Sponsored |
| 153 | Gianna L | 13 | F | Target Gift Card/Backpack/purse | Sponsored |
| 154 | Alberto M | 10 | M | Backpack - Movie Tickets | Sponsored |
| 155 | Hennessess N | 6 | F | LOL Dolls/barbie Set | Sponsored |
| 156 | Maryjane P | 9 | F | Nail polish set/Movie Tickets | Sponsored |
| 157 | Dafael S | 4 | M | Sonic Toys/Monster trucks | Sponsored |
| 158 | Dimond W | 4 | F | Barbie doll set | Sponsored |
| 159 | Ezekyel B | 04 | M | Sonic toys/Monster trucks | Sponsored |
| 160 | Elijah C | 06 | M | Hotwheels set/Legos Set | Sponsored |
| 161 | Caralinda E | 03 | F | Disney Princess Dolls-Frozen | Sponsored |
| 162 | Jacob E | 04 | M | Disney Toys- Movie Cars | Sponsored |
| 163 | Valerie F | 05 | F | Disner dress up clothes-size 7/8 | Sponsored |
| 164 | William H | 07 | M | Super Mario Brothers Toys | Sponsored |
| 165 | Aubrey M | 03 | F | Princess dolls- Frozen 2 | Sponsored |
| 166 | Jasmine M | 04 | F | Princess dolls-Cinderella | Sponsored |
| 167 | Hailie M | 03 | F | Princess dolls-Snow white | Sponsored |
| 168 | Jesus R | 03 | M | Dinosaur Set | Sponsored |
| 169 | Angel S | 05 | M | Batman Remote control car | Sponsored |
| 170 | Vanessa T | 05 | F | Disney Dress up clothes size 7/8 | Sponsored |
| 171 | Guillermo T | 06 | M | Dinosaur Set | Sponsored |
| 172 | Paola T | 04 | F | Leap Frog Learning Ser | Sponsored |
| 173 | Alize T | 03 | F | Leap Frog Learning Ser | Sponsored |
| 174 | Aaron V | 04 | M | Hotwheels set/Monster trucks | Sponsored |
| 175 | Saul V | 03 | M | Super Hero Remote Control Car | Sponsored |
| 176 | Juliana A | 10 | F | Nail polish kit/purse/Justice Gift Card | Sponsored |
| 177 | Nathaniel A | 8 | M | Lego set/Movie Tickets | Sponsored |
| 178 | Rudy B | 2 | M | Super Hero Remote Control Car | Sponsored |
| 179 | Karla D | 14 | F | Backpack purse/Target gift card | Sponsored |
| 180 | Marco D | 17 | M | Target Gift Card /Axe gift set/wallet | Sponsored |
| 181 | Edna F | 3 | F | Disney Princess dolls- Frozen 2 | Sponsored |
| 182 | Jacob G | 3 | M | Batman remote control car/Monster trucks | Sponsored |
| 183 | Angel I | 4 | M | Batman Remote Control Car | Sponsored |
| 184 | Noah G | 1 | M | Activity Learning cube | Sponsored |
| 185 | Aubrey J | 0 | F | Light up toy/blankets/leap frog toy | Sponsored |
| 186 | Danny L | 6 | M | Action figures/Sonic toy | Sponsored |
| 187 | Joey L | 3 | M | Hotwheels set/Monster trucks | Sponsored |
| 188 | Aurora M | 5 | F | Barbie doll set | Sponsored |
| 189 | Monserath M | 6 | F | Barbie doll set | Sponsored |
| 190 | Baby Boy Nadler | 1 | M | Light up Ride on toy | Sponsored |
| 191 | Adrian P | 7 | M | Super Mario Brothers Toys | Sponsored |
| 192 | Adrianna P | 7 | F | LOL Dolls/Barbie Set | Sponsored |
| 193 | Fernando P | 8 | M | Gamet Stop Gift Card/Target Gift Card | Sponsored |
| 194 | Izabella P | 9 | F | Nail polish kit/purse | Sponsored |
| 195 | Nevaeh P | 4 | F | Disney Dress Up- Minie Mouse | Sponsored |
| 196 | Zeus P | 6 | M | Sonic Toys/Lego Set | Sponsored |
| 197 | Aaliyah S | 1 | F | Leap Frog Educational toy | Sponsored |
| 198 | Ryan A | 9 | M | Game Stop Gift card/baclpack | Sponsored |
| 199 | Nicholas A | 8 | M | Game Stop Gift Card/Backpack | Sponsored |
| 200 | Ivan F | 3 | M | Dinosaur Set | Sponsored |
| 201 | Nalani F | 5 | F | Disney Princess dolls-Belle | Sponsored |
| 202 | Anthony H | 0 | M | Leap Frog Light up toy | Sponsored |
| 203 | Samuel H | 13 | M | Game Stop Gift Card/Wallet/ Beenie | Sponsored |
| 204 | Victoria M | 7 | F | Barbies/ Braclet making kit | Sponsored |
| 205 | Princess M | 7 | F | LOL Dolls/Jewelry making kit | Sponsored |
| 206 | Liam N | 1 | M | Leap Frog Educational toy | Sponsored |
| 207 | Faith P | 5 | F | Barbie doll srt | Sponsored |
| 208 | Lilliana P | 1 | F | Developmental Activity cube | Sponsored |
| 209 | Ayden S | 9 | M | Game stop gift card/Lego Set | Sponsored |
| 210 | Ariana C | 8 | F | LOL Dolls/Braclet making kit | Sponsored |
| 211 | Jay C | 9 | M | Movie Tickets/Arts and Craft Set | Sponsored |
| 212 | Louie C | 5 | M | Action figures/Sonic toy | Sponsored |
| 213 | Memarie C | 10 | F | Movie Tickets/Nail polish set | Sponsored |
| 214 | Riley D | 7 | F | Barbie set | Sponsored |
| 215 | Erick E | 5 | M | Super Hero Remote ControlCar | Sponsored |
| 216 | Maryespe E | 5 | F | Barbie dolls | Sponsored |
| 217 | Nickluis E | 7 | M | Action figures/Sonic toy | Sponsored |
| 218 | Ruby H | 2 | F | Baby doll with stroller | Sponsored |
| 219 | Alexia H | 14 | F | Bath & Body Works Set/ Purse | Sponsored |
| 220 | Khalid H | 13 | M | Wallet/ Beenie | Sponsored |
| 221 | Selena P | 5 | F | Arts and Craft Set | Sponsored |
| 222 | Sophia P | 9 | F | Arts and Craft Set | Sponsored |
| 223 | Jacob R | 15 | M | Movie tickets/Axe Set/beenie | Sponsored |
| 224 | Josie R | 12 | F | Movie tickets/Nail Polish Set | Sponsored |
| 225 | Ah'Niyah S | 11 | F | MovieTickets/Nail polish kit/purse | Sponsored |
| 226 | Aries T | 17 | M | Target Gift Card/ Axe gift set/wallet | Sponsored |
| 227 | Benjamin A | 4 | M | Sonic toys/Monster trucks | Sponsored |
| 228 | Christopher D | 16 | M | Target Gift Card/Watch gift set | Sponsored |
| 229 | Mark G | 16 | M | Target Gift Card/Watch gift set | Sponsored |
| 230 | Azar'rion L | 5 | M | Super Hero Remote Control Car | Sponsored |
| 231 | Tony-Zyairre L | 6 | M | Super Hero Remote control car | Sponsored |
| 232 | Rebekah A | 11 | F | Movie tickets/Braclet making kit | Sponsored |
| 233 | Madonna P | 4 | F | Disney Princess Dresses | Sponsored |
| 234 | Charleigh S | 7 | F | LOL Dolls/Barbie Set | Sponsored |
| 235 | Ezra S | 1 | M | Leap Frog Educational toy | Sponsored |
| 236 | Jacob S | 6 | M | Action figures/Sonic toy | Sponsored |
| 237 | Kyle S | 8 | M | Action figures/Sonic toy | Sponsored |
| 238 | Ezekial W | 3 | M | Dinosaur Set | Sponsored |
| 239 | Jaeden A | 3 | M | Dinosaur Set | Sponsored |
| 240 | Skylah F | 2 | F | Baby doll with stroller | Sponsored |
| 241 | Timothy L | 3 | M | Dinosaur Set | Sponsored |
| 242 | Ace G | 4 | M | Remote Conrol Car | Sponsored |
| 243 | Arabella G | 7 | F | Disney Princess dolls-Cinderella | Sponsored |
| 244 | Christopher G | 15 | M | Movie Tickets/Wallet/ Beenie | Sponsored |
| 245 | Daniel G | 13 | M | Target Gift Card/Wallet/ Beenie | Sponsored |
| 246 | King G | 2 | M | Leap Frog Educational toy | Sponsored |
| 247 | Lucky G | 0 | M | Light up toy/blankets/leap frog toy | Sponsored |
| 248 | Roman G | 5 | M | Super Mario Brothers Toys | Sponsored |
| 249 | Maya H | 4 | F | Disney Princess dolls-Belle | Sponsored |
| 250 | Victor H | 3 | M | Sonic Toys/Monster trucks | Sponsored |
| 251 | Brian L | 7 | M | Super Mario Brothers Toys | Sponsored |
| 252 | Keyon L | 10 | M | Movie Tickets | Sponsored |
| 253 | Sebastian R | 4 | M | Dinosaur Set | Sponsored |