WesternU's Recommended Housing Option for Students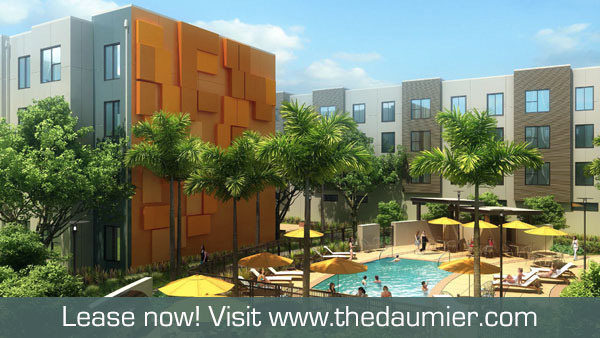 The Daumier, located on the campus at Western University of Health Sciences, is not just any apartment near campus. It is owned by a non-profit and has been designed specifically with you in mind.
We are located across the Esplanade from the Health Education Center and every resident has dedicated parking. Your commute to campus is grabbing a complimentary coffee in the morning and walking out the front door.
Focus on your studies with the impressive amenities*, all-inclusive pricing, and a friendly staff ready to help you achieve a successful, professional lifestyle, all in a secure environment.
The Daumier's dedication to the WesternU community and convenience to campus make your housing decision easy. Check out The Daumier at www.thedaumier.com or call us at (909) 315-5415.
Study Hard. Live Well. Live Conveniently. Live Here.
*Please refer to the Daumier website for amenity details.
Search Other Housing Options

Find a Roommate | YouPortal

Advertise Your Property

List of Local Apartments

We've compiled a list of local apartment complexes to aid you in your search. If you are relocating from a long distance, we suggest you secure housing at least two weeks before the first day of orientation.

---

Visit the You Portal

We also have housing options in Pomona and the surrounding area from upperclassmen, local apartment complex owners and community members posted to our secure rentals database.

How to Find Available Rentals:

Log in to the YouPortal
Find "Housing Resources" menu/portlet
Select "Available Rentals"
Use your WesternU credentials to log into BanWeb
Select "Housing Menu"
Select "Available Rentals"

We are pleased to offer a secure, online listing of students seeking a roommate.

How to Find Available Roommates:

Log in to the YouPortal
Find the "Student Services" tab
Locate the "Housing Resources" portlet
Click "Find a Roommate"
Complete a "Roommate Request Form"

*Important*

The first time you log on you will be required to complete a roommate request form. You must complete this form and University Student Affairs must approve your posting before you can view information on other students who are looking for a roommate. You will be notified by email when your information has been posted (usually within 1-2 working days). You may then return to view the list of other students who are searching for a roommate.

In an effort to keep the database up-to-date, we kindly request that you remove your name from the database after you find your roommate.

To list your property in the WesternU database, you understand and agree to the following:

The listing is:

Free
Available to WesternU only
Subject to approval
Subject to removal at WesternU's discretion

Additionally, you must:

Remove the ad once rented
Provide at least one reference
Save the confirmation e-mail so you can renew or delete your listing

Do you agree to the terms as stated above?

Need to modify your advertisement: housing@westernu.edu | (909) 469-5340