Western University of Health Sciences College of Veterinary Medicine is pleased to offer our inaugural veterinary summer enrichment camp as a fully virtual weeklong experience.
This detailed and engaging summer camp is for high school students (currently in 10th, 11th or 12th grade) who have a serious interest in joining the veterinary medicine profession. The five-day virtual camp will allow participants to explore the possibilities of veterinary medicine as a career and map out pathways to successfully apply to and finance their veterinary education. Participants will work with current veterinary student mentors and attend virtual training sessions hosted by college faculty and veterinary technicians. Virtual sessions throughout the week will include lectures on various topics but also have plenty of at-home lab activities and experiences.
ACTIVITIES
Some of the activities and presentations during the week may include:
Admissions, financial aid and how to get in and pay for vet school.
The diversity of careers in the veterinary industry beyond being a doctor.
Introduction to veterinary research.
Pet nutrition and first aid at home.
Farm animals, food safety and how veterinarians protect human health.
Introductions to animal anatomy, pathology, and radiology.
Sessions on equine medicine, zoo/wildlife, and exotic animals.
Veterinary surgery and suturing lab including laparoscopic surgery.
Service dogs, therapy pets and their impact on human health.
And more…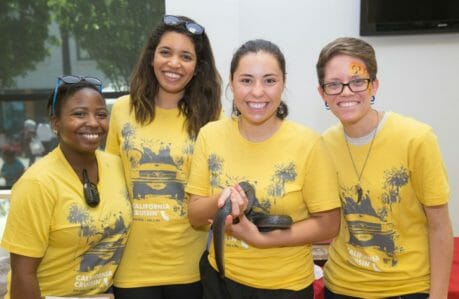 SELECTION PROCESS
All applicants, regardless of the need for scholarship, must apply here first.
Cost for the week is $450 per camper (Full and partial scholarships are available for those with financial need with a separate scholarship application). Cost includes camp T-shirt and covers all costs of weeklong presentations and package of materials that will be sent to each participant prior to the start of camp. Payment not be required until the student is selected to join the camp. Camp participants will be selected in a competitive process that includes reviewing their full application, high school report card (students should show a strong aptitude in science and STEM subjects) and short essay on why they would like to join the veterinary profession. 
Please use the button below to access the application. All application periods will close on June 6, 2021. Applicants will be notified of the status of their applications by June 10, 2021.
SCHOLARSHIP
If you have used the link above to apply for Camp, but require financial assistance for this program, WesternU College of Veterinary Medicine has partnered with Zoetis to help. Use the link below to apply for scholarship. All application periods will close on May 21, 2021. Applicants will be notified of the status of their applications by May 28, 2021.
CANCELLATION POLICY
All cancellation requests must be submitted via email. Please send your request to vetsummercamp@westernu.edu.
Cancellation request received at least 4 weeks prior to the start date of the program: Full refund.
Cancellation request received less than 4 weeks prior but at least 2 weeks prior to the program start date: Refund of 50%.
Cancellation request received less than 2 weeks prior to the program start date or "no show": No refund.
If you have any questions, please direct them to our program staff at vetsummercamp@westernu.edu.