Preparing For Your Interview
Congratulations on making it to the next step in the admissions process! By now you should have received an electronic confirmation of your interview day and time – should you have any questions or need to change your appointment, please contact your Admissions Counselor and she'll be happy to assist you.
Please carefully review the information below to get a sense of what to expect on the day, tips on how to prepare, directions and parking information as well as some additional resources. We look forward to getting to know you better at the interview!
Your WesternU Support Team
About The Interview & Interviewers
To help ease the stress of the interview, we want to give you a brief overview of what to expect for the day (see sample schedule) and specifically share with you the structure and composition of the interview team. While on campus you will hear from faculty and administration about the curriculum, admissions process, and student services as well as chat with students over lunch and take a tour of the campus. You will receive a separate invitation to view a financial aid webinar.
You can expect to be interviewed by a team of two, comprised of faculty, administrators and/or clinicians. The interview will serve as an opportunity for you to demonstrate qualities that could not be fully assessed by your application alone. The interviewers wish to learn more about you and to determine your compatibility with our program.
During the 25-30 minute interview your interviewers will ask a series of general and behavioral-based questions (which require you to draw from personal experience to formulate your answers).
Check-In
A photo ID will be required at the time you check in for your interview. Please report to the lobby of the Health Education Center (HEC), see map below. We encourage you to arrive to campus 15 minutes before your scheduled check-in time so that you have ample time to park and walk to the Health Education Center.
Identity Verification Policy
Proper identification of individuals allows WesternU to provide a safe and secure campus environment. In addition, the United States Federal Higher Education Opportunity Act (HEOA), Public Law 110-315, requires that University confirm that a person enrolling in the University is the person who is completing the enrollment form, and that the student taking an examination is the student who participates in, completes, and receives credit for the course.
It is the policy of Western University of Health Sciences that applicants to the University are required to provide a government issued ID when checking in for an Admissions interview. Applicants who are unable to provide an acceptable form of identification may reschedule their interview if space is available. For more information on acceptable forms of identification and the University's Identity Verification policy, please visit: /registrar/records-forms/update-your-personal-info/.
Preparing For Your Interview Day
Here are a few things to keep in mind as you prepare for your time with us:
Review the Interview Booklet
Make sure your best business professional attire is ready to wear
Review the admissions pages
Have a few questions ready for the interviewers in case they ask
Print directions and plan to arrive early
Bring a pen and notepad in case you need to take notes
Get a good nights' sleep so your body and mind are refreshed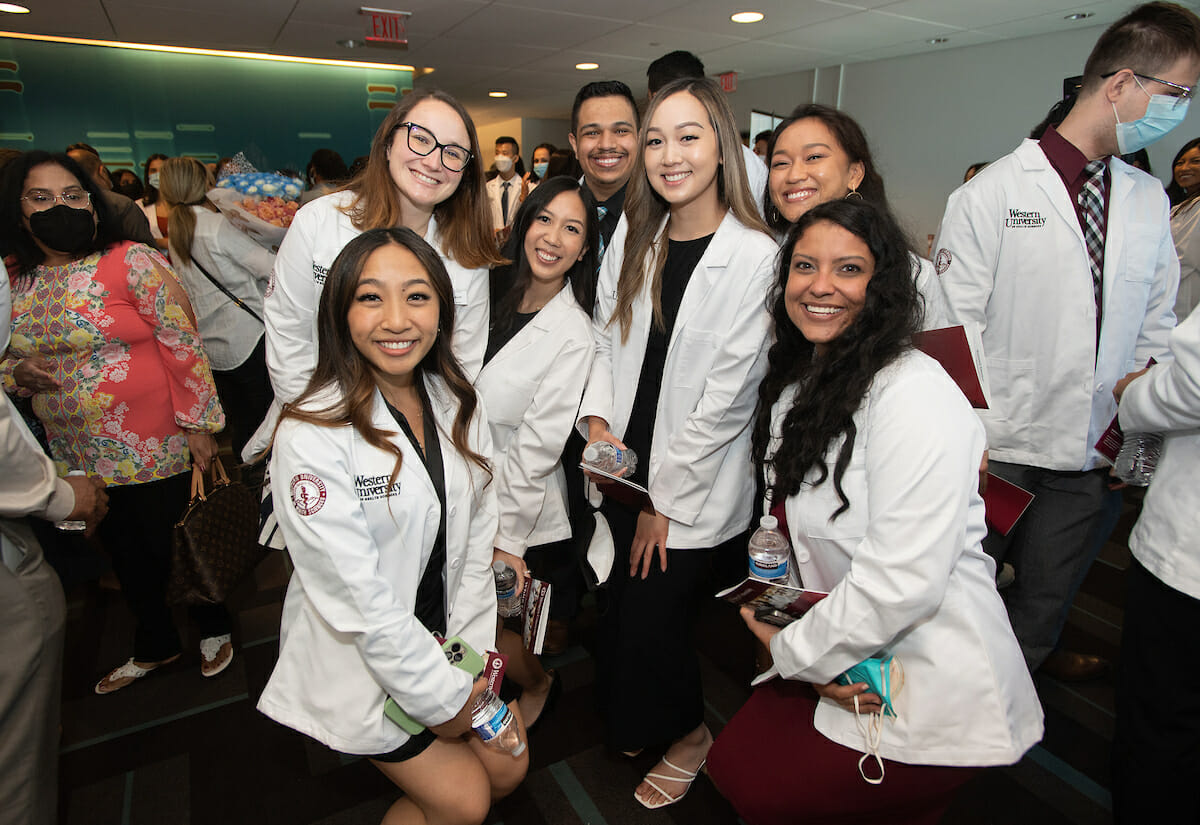 Open video modal
Financial Aid
On-Demand Webinar
The Office of Financial Aid has designed an online presentation specifically for WesternU interviewees. The following presentation is a good first-step in addressing your financial aid questions at WesternU.

If you have any questions please contact us at:
800-346-1610
Airports & Hotels
When scheduling flights, we recommend flying in and out of Ontario International Airport (ONT), which is approximately 10 miles east of our campus. Additional options include Santa Ana/John Wayne Airport (SNA), which is approximately 30 miles south of our campus or Los Angeles International Airport (LAX) which is approximately 40 miles west of campus. If you're an out of town guest, you may also wish to reference some conveniently located hotels.
Directions & Parking
All guest parking on campus is public metered parking, and spaces are available in Daily Permit Lot 12 (located at First and Gibbs St.)
Instructions for Public Metered Parking: (7:00 A.M. to 7:00 P.M. and Weekends)
There are payment machines located in Paid Permit Lots at First Street & Gibbs Street and Third Street & Gibbs Street. When parking you must note the space number and enter it in the machine.
Enter the number of hours you expect to park there (plan for six hours).
The machine will give you your cost and ask for payment. It accepts coins, bills, Visa and MasterCard
You will receive a receipt but it is not necessary to put it in your vehicle.