Funding Sources for Faculty and Students
Funding Sources for Students
Student Research Funding Application
COMP students can apply for research funding support to present at scientific conferences up to $1500 per year. Students or Faculty with COMP Student Co-authors may apply for publication support for up to $500 (included in the $1500 total). Eligible costs for reimbursement include conference registration fee, travel, accommodation and poster printing. Decision for funding publication fees are based on a variety of factors including: impact factor, predatory journals, and direct role of student in project and authorship rank. After the application is submitted your WesternU Mentor will need to review and approve prior to being considered for funding by the committee.
Summer Student Research Fellowship Criteria
Federal Work Study Program WesternU is part of the Federal Work Study program which allows qualified students to work no more than 20 hours per week on campus to assist in financing their education. Types of jobs include administrative assistants, tutors, notetakers, security escorts and research assistants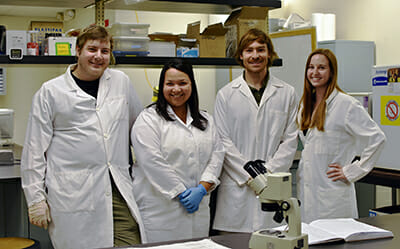 Intramural
Grant Opportunities
(Summer Student Fellowship Program)
This is a competitive fellowship program. Students interested in this fellowship should submit a research proposal.