The College of Pharmacy Office of Continuing Education is dedicated to preparing pharmacists and pharmacy technicians to serve and lead through lifelong learning by providing quality continuing professional education designed to enhance professional competence, critical thinking, active learning, and skills development. Our primary target audiences are our alumni, preceptors and those pharmacists and technicians within our professional community.
For any questions or concerns, please contact Renee Cook at: rcook@westernu.edu or 909-706-3826.   
APhA Pharmacist & Patient-Centered Diabetes Care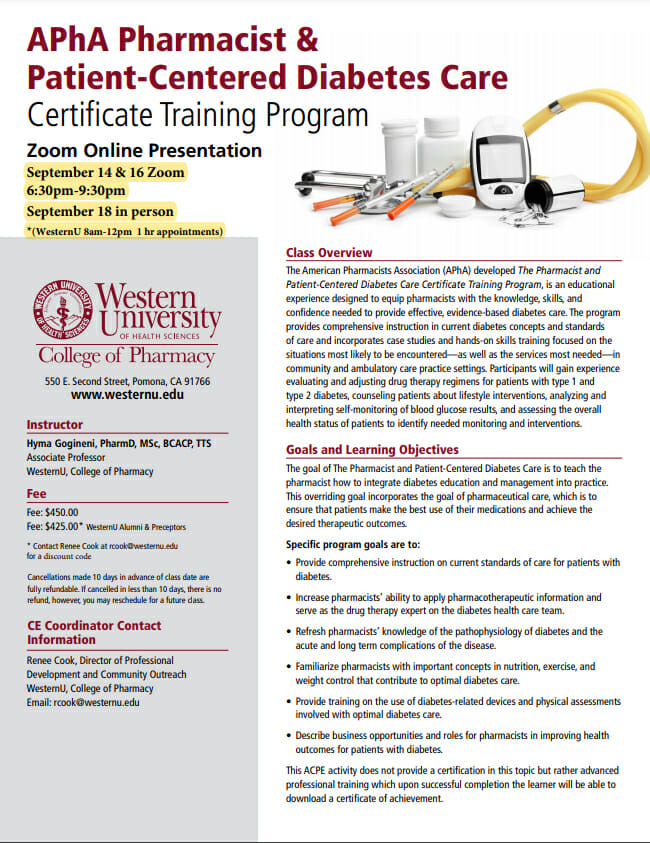 September 14 & 16 at 6:30-9:30 p.m.
Zoom
September 18 at 8 a.m.-12:00 p.m.
in 1 hour appointments at WesternU
– 2.3 CEU's or 23 Contact Hours
The American Pharmacists Association (APhA) developed The Pharmacist and Patient-Centered Diabetes Care Certificate Training Program, is an educational experience designed to equip pharmacists with the knowledge, skills, and confidence needed to provide effective, evidence-based diabetes care. The program provides comprehensive instruction in current diabetes concepts and standards of care and incorporates case studies and hands-on skills training focused on the situations most likely to be encountered—as well as the services most needed—in community and ambulatory care practice settings. Participants will gain experience evaluating and adjusting drug therapy regimens for patients with type 1 and type 2 diabetes, counseling patients about lifestyle interventions, analyzing and interpreting self-monitoring of blood glucose results, and assessing the overall health status of patients to identify needed monitoring and interventions. Click here for more information.
American Pharmacists Association's Pharmacy-based Immunization Delivery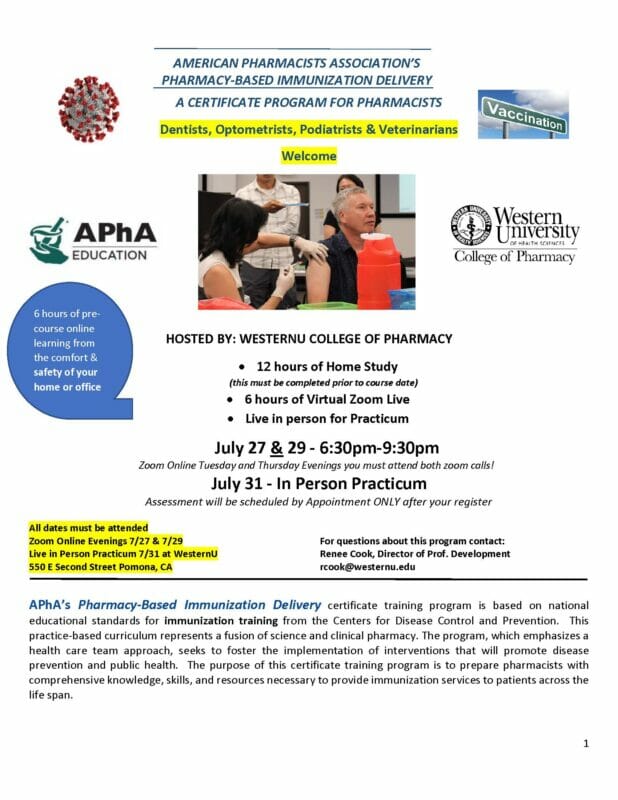 July 27 & 29, 2021 at 6:30 pm – 9:30 pm
Zoom Online Tuesday and Thursday Evenings you must attend both zoom calls!
July 31, 2021
In Person Practicum
– 12 hours Home Study
– 6 Hours Virtual Zoom Live
– 2 Hours In Person Practicum
(Dentists, Optometrists, Podiatrists & Veterinarians Welcome)
APhA's Pharmacy-Based Immunization Delivery certificate training program is based on national educational standards for immunization training from the Centers for Disease Control and Prevention. This practice-based curriculum represents a fusion of science and clinical pharmacy. The program, which emphasizes a health care team approach, seeks to foster the implementation of interventions that will promote disease prevention and public health. The purpose of this certificate training program is to prepare pharmacists with comprehensive knowledge, skills, and resources necessary to provide immunization services to patients across the life span.
Register
Physical Assessment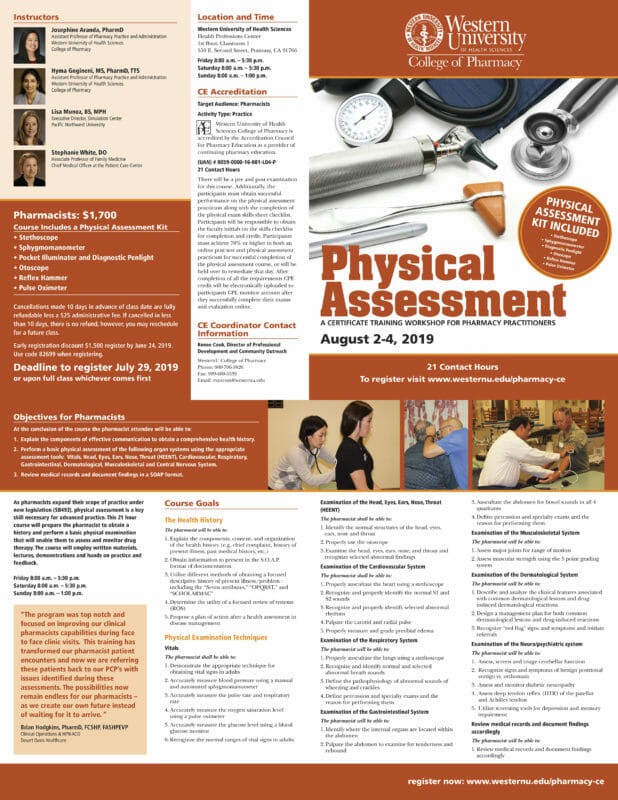 Rescheduled – Date Coming Soon
WesternU, Health Professions Center, 1st floor, Classroom 1, 550 E. Second Street, Pomona, CA 91766
2.1 CEU's or 21 Contact Hours
As pharmacists expand their scope of practice under new legislation (SB493), physical assessment is a key skill necessary for advanced practice. This 21 hour course will prepare the pharmacist to obtain a history and perform a basic physical examination that will enable them to assess and monitor drug therapy. The course will employ written materials, lectures, demonstrations and hands on practice and feedback.
"As a practicing in-patient hospital pharmacist, the more information I know about the patient, the better. The Physical Assessment Course at WesternU provided me with the necessary tools needed to understand the H&P in-depth and teaches pharmacists how to become knowledgeable of the different Physical Assessment skills utilized in healthcare to ensure correct assessment and monitoring of drug therapy. The Advance Practice Pharmacist will need to know how a Physical Assessment is done, which will help any pharmacist in any field."
Dennis Andrew Ancheta, PharmD, BCPS, CGP
"I want to take a moment to thank the team from WesternU, College of Pharmacy for training our ambulatory care pharmacists in the much needed skills of comprehensive physical assessment. The program was top notch and focused on improving our clinical pharmacists capabilities during face-to-face clinic visits. We are now more strategically positioned for our ever-expanding population health management model that seeks to amplify the hard work of our primary care physicians by managing the challenging and time-consuming multiple chronic diseases between those critical primary care doctor visits. This is effective team-based care and our outcomes in diabetes, CODP, CHF, CAD, hepatitis C are impressive and helped our medical group achieve a five star rating from the IHA – one of only 6 medical groups in California to obtain this honor. The training has transformed our pharmacist patient encounters and now we are referring these patients back to our PCP's with issues identified during these assessments. The possibilities now remain endless for our pharmacists – as we create our own future instead of waiting for it to arrive."
Brian Hodgkins, PharmD, FCSHP, FASHPEVP
Clinical Operations & HPN ACO
Desert Oasis Healthcare
Contemporary Compounding Intensive CE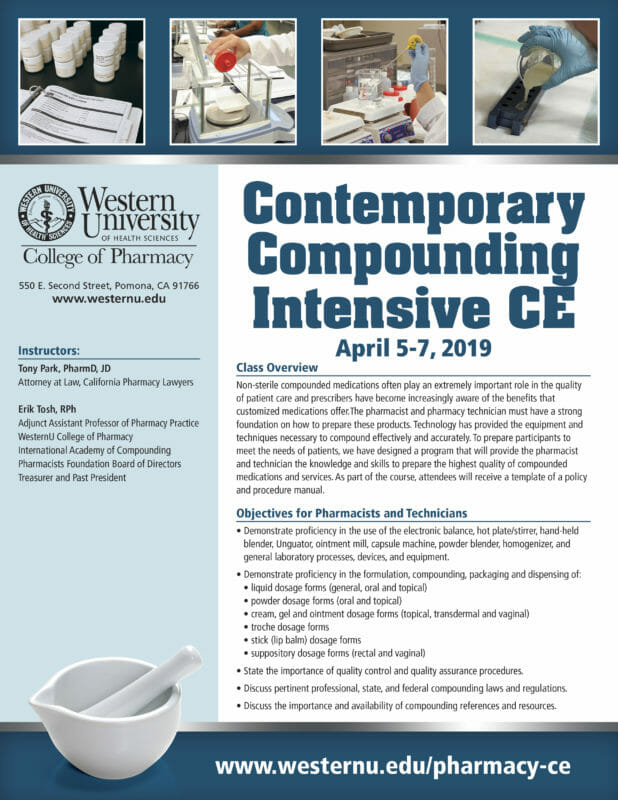 Rescheduled – Dates Coming Soon
2.0 CEU's or 20 Contact Hours
Non-sterile compounded medications often play an extremely important role in the quality of patient care and prescribers have become increasingly aware of the benefits that customized medications offer. The pharmacist and pharmacy technician must have a strong foundation on how to prepare these products. Technology has provided the equipment and techniques necessary to compound effectively and accurately. To prepare participants to meet the needs of patients, we have designed a program that will provide the pharmacist and technician the knowledge and skills to prepare the highest quality of compounded medications and services. As part of the course, attendees will receive a template of a policy and procedure manual.
Compounding Sterile Products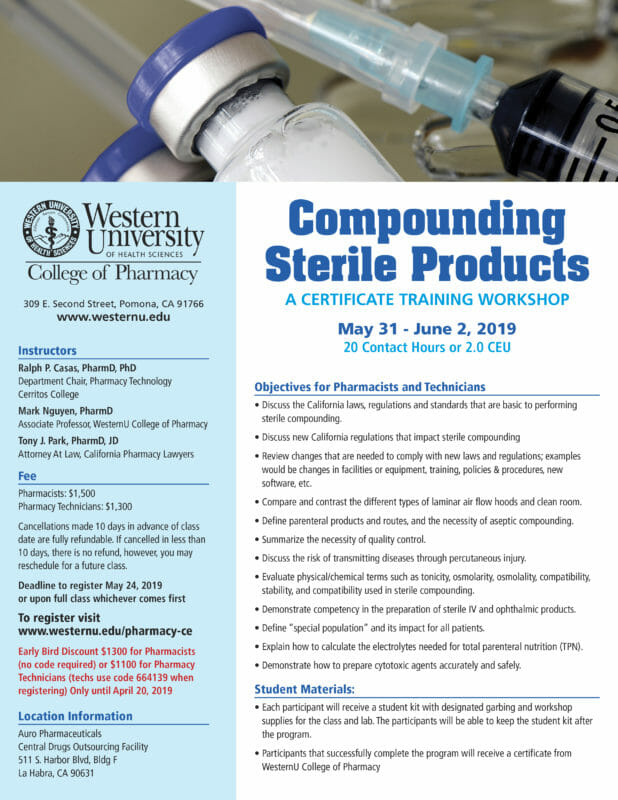 Rescheduled – Dates Coming Soon
2.0 CEU's or 20 Contact Hours
Health-system pharmacists and technicians need more training in sterile compounding as the California State Board of Pharmacy is now requiring special licenses for sterile compounding pharmacies with stricter requirements for education and training of staff.  This course provides sterile compounding lectures, demonstrations and hands on practice as well as the applicable training in the standards, regulations and laws.