WesternU College of Pharmacy is transitioning to an innovative, accelerated 3.5-year program length for our fully accredited program leading to the Doctor of Pharmacy (PharmD) degree. In our 3.5-year program, you will graduate, take the licensure board exams, and have opportunities to obtain full-time employment six months earlier than students in other pharmacy programs—all while keeping your summer breaks. Contact us to learn more.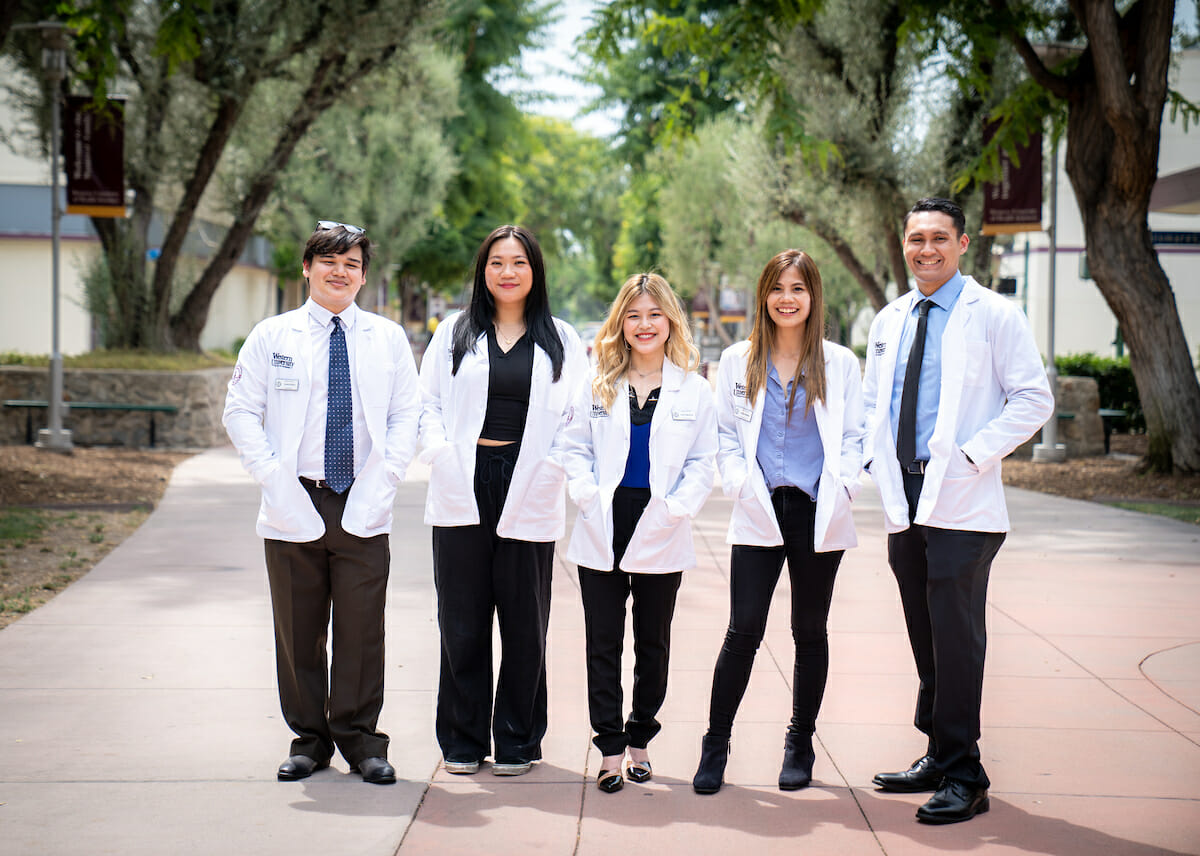 Doctor of
Pharmacy
The College of Pharmacy offers an outstanding cutting-edge curriculum, state-of-the-art classrooms, and interprofessional education experiences where you work side by side with other health care professionals as part of a team. You can engage in research with faculty. You'll gain valuable hands-on experience with the latest equipment, technologies, and techniques and form caring relationships with patients in our experiential learning opportunities.
Learn More
International Students
Western University of Health Sciences (WesternU) welcomes international students and their families to our diverse university community.
International Student Services (ISS) is responsible for providing support and assistance in immigration advising, maintaining immigration status, maintaining information and documents on foreign students and their dependents in the Student and exchange Visitor Information System (SEVIS), staying current with rules and regulations and interpreting and applying the rules and regulations set forth by the Department of Homeland Security.
Veterans Benefits
Western University of Health Sciences has approval from the U.S. Department of Veterans Affairs to certify students eligible to receive VA educational benefits. The School Certifying Officials that are located on the Pomona, California campus assist all students who receive VA educational benefits. We cannot assist you with determining your eligibility for benefits.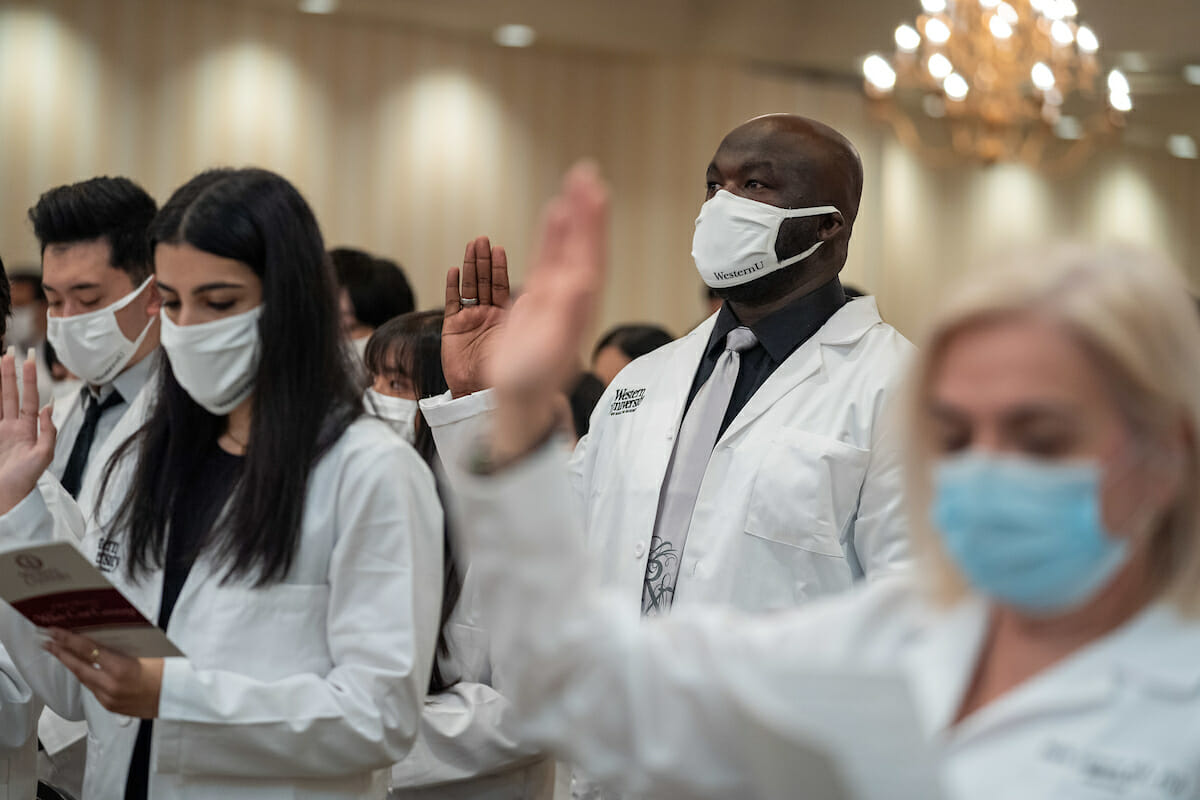 What sets us apart
An innovative block-system curriculum we pioneered that allows you to master one subject before moving on to the next. The curriculum is taught by nationally and internationally acclaimed faculty with advanced training in a wide range of specialties. Outstanding clinical opportunities in the second half of your training prepare you to be practice-ready.
---
Upcoming Events
Tuesday, December 5 at 5:00 PM Pacific Standard Time

Good Afternoon BUSD Health Careers Guests!We are excited to welcome you to our event taking place next Tuesday December 5th! One MINOR change is that we are moving the event NEXT DOOR and it is now in the Lone Hill Middle School Gymnasium due to the San Dimas gym requiring urgent maintenance.Thankfully, it is truly just the parking lot right next door- and everything will be ran exactly the same.Below is the updated address:Lone Hill Middle School700 S Lone Hill AveSan Dimas, CA 91773 As a reminder, the timeline for the evening is below: Arrival: You may arrive from 5:15-5:30pm. Dinner will be provided for all guests from 5:15pm-6:00pm. Come hungry! **Parking is available in the main lot, as well as street parking on Lone Hill Ave. Students will be there waiting for you to escort you in to the gym and your designated table. Event: 6:00pm-7:30pmDepart: 7:30pm Please let me know if you have any questions! Thank you for your understanding and we will see you Tuesday!Have a wonderful weekend,Vanessa TilfordCTE CoordinatorBonita Unified School District115 W. Allen AveSan Dimas , CA 91773Office: 909-971-8200 ext 5319Work Cell: 909-788-7988From: Tilford, VanessaSent: Thursday, November 30, 2023 4:35 PMTo: 'crexach@mtsac.edu' <crexach@mtsac.edu>Subject: Confirmation and Details for BUSD Health Careers Fair Tuesday December 5th!Good Afternoon!We are excited to confirm your RSVP for the BUSD Health Careers Fair, taking place at San Dimas High School on Tuesday, December 5th, from 6:00 pm to 7:30 pm. Your participation is greatly appreciated, and we look forward to having you!Please review the following details to ensure a smooth and enjoyable experience: Arrival Time: We kindly request your arrival no later than 5:30 p.m. to allow time for setup. Upon arrival, you will be provided with a 6-foot table and chairs corresponding to the number of guests you previously noted in your RSVP. Additionally, a tablecloth will be supplied if you indicated a need. This will be an INDOOR Event **Dinner will be provided for all registered guests starting at 5:15 p.m. until the event starts at 6:00 pm.San Dimas High School Address:800 W Covina BlvdSan Dimas, CA 91773 Parking: You may park in the main student parking lot on Covina Blvd. This lot has Solar Panels covering it and it is open parking.Upon arrival at the main front gates, students will guide you to the reserved tables located in the Gymnasium. Event Objective: The primary focus of this event is to introduce students to various career opportunities that they may not be familiar with, broadening their understanding of potential career paths. Event Atmosphere: The event will maintain a casual and informative ambiance, aimed at both parents and high school students. We emphasize the importance of knowing that success in a career can be achieved via multiple paths, whether through a traditional 4-year college or alternative routes. Your contribution to showcasing your career industry and the opportunities within is invaluable to our event's success. Should you have any further inquiries or need to update your RSVP status, please do not hesitate to reach out. I can be reached via email or text/call at 909-788-7988Thank you once again for your participation and we look forward to having you as our guest on December 5th!Warm regards, VanessaVanessa TilfordCTE CoordinatorBonita Unified School District115 W. Allen AveSan Dimas , CA 91773Office: 909-971-8200 ext 5319Work Cell: 909-788-7988

Saturday, March 2 at 8:30 AM Pacific Standard Time

Get to know WesternU, our programs, and our community. Choose your program of interest and join us on our Pomona, California campus to: – Hear directly from our president and faculty members about program curriculum and highlights – Explore our classrooms, labs, hands-on learning spaces, and more – Connect with current students and learn about their experiences – Participate in hands-on, interactive workshops – Learn about navigating the admissions process and preparing to meet our application requirements – Gain insights into setting yourself up for admissions success