Mission of the College of Veterinary Medicine
The Mission of WesternU-CVM is to educate veterinary professionals and advance knowledge to address the contemporary needs of society.
Goals of College of Veterinary Medicine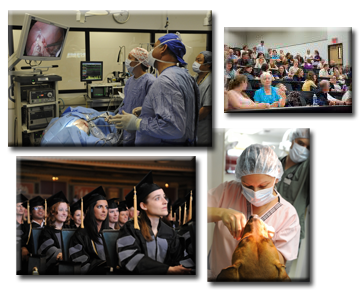 The primary goal of the College of Veterinary Medicine at Western University of Health Sciences (WesternU-CVM) is the creation of an innovative, accredited, four-year professional curriculum leading to the DVM degree. Graduates will be prepared to enter employment as entry level veterinarians in the private, public, or corporate sector, or to proceed into postgraduate training programs.
The second goal of the College is advancement of collaborative, clinically based veterinary research.
The third goal of the College is the recruitment and retention of a diverse and interactive student body, faculty and staff within a university environment in which multiple health professions flourish and interact in instructional and research missions. In WesternUs culture of different disciplines, in which all are connected to a care philosophy, there is a unity of differences that enriches each profession.
The fourth goal of the College is the provision of cost-effective education by maximizing the use of contemporary educational technology and utilization of shared resources among existing educational programs (private and public) and cooperative agreements with the private sector animal health care. delivery system.