1. Commitment to student-centered learning:
Problem Based Learning (PBL) in the first two years (sixty-four weeks) requires small student-group collaboration. Each group works together for eight-weeks.
Correlative seminars and laboratories take place at Western University and California Polytechnic University, Pomona (equine, food animal), and various private workplace sites.
Technology tools are used for access to veterinary knowledge resources with emphasis on accessing most recent and credible sources of information.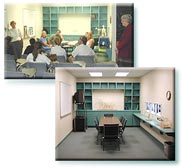 Problem Based Learning (PBL) divides students into small groups supervised by a faculty facilitator. Information is discovered and assimilated by the students in the context of a real problem or case, thus improving retention and allowing for individual learning styles. Cooperation versus competition is the norm. Faculty-scheduled or student-requested seminars and laboratories augment the PBL sessions where appropriate.
.
This commitment is designed to teach students to learn independently as professionals, to find and critically evaluate information, to enhance student cooperative learning, and to provide the impetus for life-long professional development.
---
2. Strategic Partnerships: In the curriculum we establish excellence in student clinical education through strategic partnerships with the private veterinary sector so that much of the education is hosted in the workplace.
First and second year students care for 1) contract clients and patients in the companion animal wellness centers, 2) animals in pet animal care settings such as ambulatory care (VACS) or humane shelter settings (stray animal triage, vaccination clinics, behavior seminars, etc.) and 3) patients in selected private equine, farm-animal and exotic/wildlife animal facilities.
Third year students (in teams of three) rotate in faculty-approved regional veterinary practices or institutions with three or more veterinarians. Students experience and interact part-time with practitioners/ staff/ clients/ patients and work part-time on-site addressing learning objectives set by Western University faculty course leaders.
Fourth year students individually rotate through faculty-approved sites in regional, national, or international specialty practices, veterinary teaching hospitals, or public and private institutions determined in part by students' career goals and mobility. All participate in core medicine and surgical rotations with specific faculty oversight and evaluation.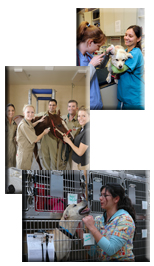 Technical proficiency in veterinary medicine mandates that students interact with all animals and master the techniques necessary for safe medicine. Our curriculum will allow students the opportunity to experience a wide variety of species, veterinary settings and technical applications. Our students will move through the curriculum only after demonstrating appropriate mastery of mandatory clinical skills.
.
This commitment is designed to maximize the learning experience in veterinary clinical practice or other careers and to graduate work-ready veterinarians capable of functioning independently.
---
3. Commitment to a Reverence For Life philosophy in the veterinary medicine curriculum:
Willed-body program supplies all specimens for cadaver-based curricular activities.
Veterinary Issues Seminar Course include ethics issues pertaining to reverence for life.
Anesthesia and surgical training begins in years 1 and 2 including experiences with inanimate and dynamic models, and cadavers.
Live animal technical training occurs in years 1-4 in low student-to-instructor ratio settings primarily using animals requiring correction of naturally occurring diseases or elective sterilization.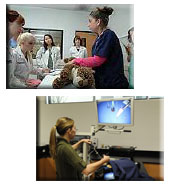 "The ethics of reverence for life prompts us to keep each other alert to what troubles us and to speak and act dauntlessly together in discharging the responsibilities that we feel. It keeps us watching together for opportunities to bring some sort of help to animals in recompense for the great misery that men inflict upon them, and thus for a moment to escape from the incomprehensible horror of existence."
– Albert Schweitzer in

Kultur
.
This commitment is designed to enhance a reverence for life and for all animals, and not limit such reverence to owned or valued animals. This founding principle of the college is aligned with the humanistic tradition at Western University of Health Sciences.