Dean's Advisory Council Mission
The College of Pharmacy's  Dean's Advisory Council mission is to assist the College in building a strong presence in the world of pharmacy, to increase the College's national and international visibility for quality research, education and service, and to serve as College ambassadors.
The Council will realize its mission by:
Providing advice to the Dean in the area of long-range forecasting and identification of opportunities for the College.
Assisting the Dean in identifying and cultivating potential major gift donors.
Advisory Council Structure
The Council is composed of 16 to 20 members, representing a broad cross-section of the pharmacy, business and educational communities.
The full Advisory Council will meet two times per year, once in the spring and once in the fall. Subcommittees will convene individually throughout the year, as needed, to address action items resulting from the semi-annual meetings.
Council Member Selection
The Dean will consider nominations for new Council members from current members and from the College of Pharmacy faculty.
Criteria for Council membership include:
A willingness and ability to work actively on the College of Pharmacy's behalf.
A broad awareness of the pharmacy community and the issues it faces.
A commitment to active participation and attendance at all meetings.
A clear understanding of the Council's mission and a commitment to assisting the College in raising financial support.
Council members will serve on rotating two-year terms with an option for renewal at the discretion of the Dean.
Dean's Advisory Council Members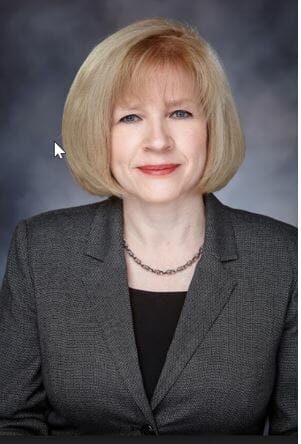 Rebecca Cupp, RPh
Vice President, National Pharmacy Controls for Kaiser Permanente
Rebecca is currently Vice President, National Pharmacy Controls for Kaiser Permanente. She joined Kaiser Permanente in January, 2018 as Executive Director, Pharmacy Quality and Medication Safety for National Pharmacy Services. She retired as Vice President/Merchandiser of Pharmacy for Ralphs Pharmacies, a division of The Kroger Co, in 2017.
Rebecca is a graduate of the University of Washington, School of Pharmacy. After graduation, she spent four years on active duty as an Air Force officer before joining Kroger in 1983, as well as another seven years in the Air Force Reserves. She is also a 2008 graduate of the USC Food Industry Management Program and Babson College's Strategic Planning Executive Management Program in 2013 at the College of William and Mary in Williamsburg, VA.
Rebecca is very active in state and national pharmacy organizations and also served as the APhA appointee to the American Society of Health Systems Pharmacists Commission on Credentialing from 2010-2013. She also served on the Board of Trustees for California Pharmacists Association (CPhA), among many other roles.
In her continuing efforts to promote the advancement of the pharmacy profession, Rebecca was certified as a trainer in Medication Therapy Management and Immunizations, as well as gaining certificates in Smoking Cessation, Asthma, and Osteoporosis Management. In addition to serving on the Western University of Health Science College of Pharmacy Deans' Advisory Council, she has also served on the University of the Pacific, University of California – San Diego, and Ketchum's School of Pharmacy Deans' Leadership Advisory Councils. Rebecca received the Innovative Practice Award from California's Right Care Initiative, and was named one of Progressive Grocer's Top Women.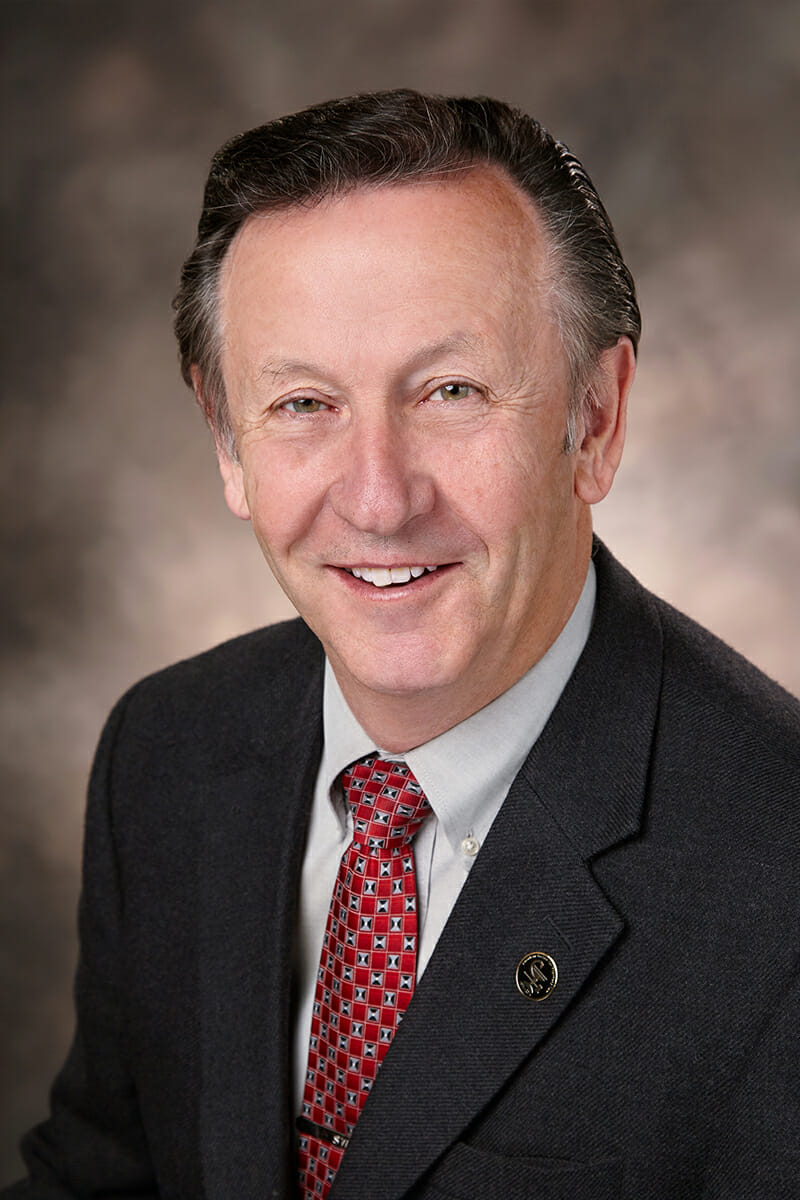 Steven W. Gray, PharmD, JD
Pharmacy Consultant and Educator for Pharmacy Law
Dr. Steven Gray has over 45 years of pharmacy experience, including military, hospital, community, pharmacy wholesale and warehousing operations, pharmacy compliance and pharmacy managed care. He obtained a Doctor of Pharmacy degree from the University of Southern California and a JD degree from Northrop University School of Law.
He has been teaching pharmacy law and ethics at the University of California, San Diego for more than six years. He is a Past President of the American Society for Pharmacy Law. He served on the Boards of Directors of the California Pharmacist Association's (CPhA), Pharmacy Foundation of California and CPhA's for-profit subsidiaries' PBM, the Pharmaceutical Care Network and its Premier Pharmacists Networks. After serving as CPhA's Speaker of its House of Delegates, in 2004, Dr. Gray served as president and Chair of the CPhA's Board of Trustees. In 2006 years on its Board of Directors, he became President of the national association for managed care pharmacists, the Academy of Managed Care Pharmacy, and served on the national Joint Commission of Pharmacy Practitioners (JCPP) with the Presidents of APhA, ASHP, NCPA, and other national pharmacy leaders. Between 2012 and 2014 he served as President-elect, President and Chair of the Board, respectively, for the California Society of Health-System Pharmacists. Steve retired in 2018 from being the National Pharmacy Professional Affairs Leader for Kaiser Permanente.
He currently is also teaching Pharmacy Law and Ethics at two more California Schools of Pharmacy and is self-employed as a Pharmacy Consultant and Educator for Pharmacy Law. He is a member of several professional associations including AMCP, APhA, ASHP, CPhA, CSHP, and the CA State Bar.

Brian Hodgkins, PharmD, FCSHP, FASHP
Executive Vice-President, Heritage California Accountable Care Organization, Coachella Valley and Clinical Operations for Desert Oasis Healthcare
Dr. Brian Hodgkins spent 20 years in hospital based leadership positions before coming to HPN. He received his doctorate from the University of Southern California and completed his residency training at Kaiser Foundation Hospitals, Los Angeles. Dr. Hodgkins is an innovative clinician, educator and advocate for healthcare access issues and has a practice interest in population based health management. He holds faculty appointments at USC, Loma Linda and University of the Pacific.
Dr. Hodgkins has spent his professional career as a volunteer for his state affiliate California Society of Health-System Pharmacists as well as the American Society of Health-System Pharmacists. He served as Presidential Officer of CSHP twice. Brian recently chaired the Council on Pharmacy Practice for ASHP, where they developed new professional policy on pharmacy's role in ACO's. Dr. Hodgkins has been an invited speaker for over 200 programs nationally, covering topics on a multitude of issues from patient safety, pain management, chronic disease management and health care reform.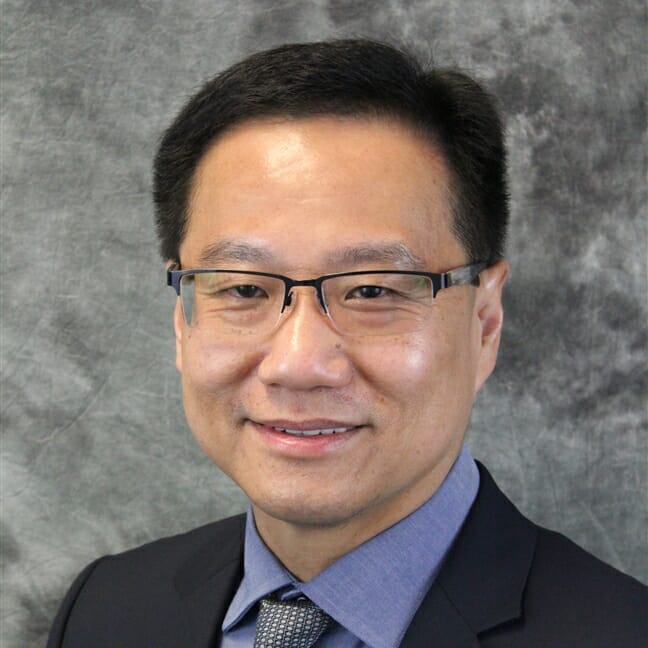 Paul Huynh, PharmD
Healthcare Supervisor, Pharmacy and Retail Operations
Walgreens
Dr. Paul Huynh is a health care supervisor for Walgreens. With over 23 years of experience at Walgreens, he has held positions of pharmacist, pharmacy manager, pharmacy human relations specialist, and district pharmacy supervisor.
In his current leadership role of area healthcare supervisor, Dr. Huynh is part of a team that provides support for district managers and drives health care programs and initiatives in the Southern California market.
Dr. Huynh received his BA in Economics from the University of California, Irvine in 1993 and his Doctor of Pharmacy degree from Creighton University in 1997.
Walgreens operates as the second-largest pharmacy store chain in the United States behind CVS Health. It specializes in filling prescriptions, health and wellness products and health information.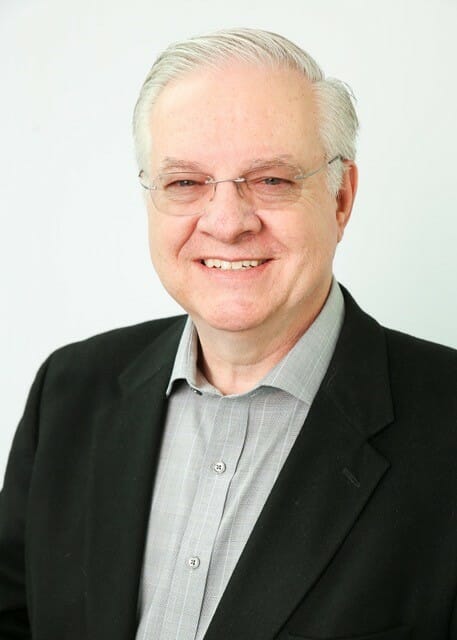 John D. Jones, RPh, JD, FAMCP
President and CEO of JDJ-RPhJD Consulting, Inc.
John Jones is an expert on managed care pharmacy practice, law, regulation and policy. He served as the Senior Vice President of Professional Practice and Pharmacy Policy at OptumRx, a UnitedHealth Group Company, in Irvine, California. He helped OptumRx grow to 65 million covered lives and become the third largest pharmacy benefits management company in the nation during his 23 years of service.
John is licensed as both a pharmacist and an attorney. He has broad experience with over forty years of pharmacy practice ranging from chain and independent community pharmacy to hospital, home infusion and managed care pharmacy. He has applied his legal skills in the fields of managed healthcare legislative policy and regulation, health insurance, healthcare contracting, and interstate regulatory compliance for prescription mail service and pharmacy benefit management companies. He has advocated on health policy issues before state boards of pharmacy, state legislatures and health insurance regulatory bodies as well as Congressional committees. He served on the California Board of Pharmacy for eight years, two of those years as its president.
John teaches Pharmacy Law and Ethics and Introduction to Health Care Systems and Policy at the University of California at San Diego Skaggs School of Pharmacy and is entering his 13th year of instruction. He also has taught Pharmacy Law and Ethics at Chapman University School of Pharmacy and Marshall B. Ketchum School of Pharmacy. He has lectured at numerous pharmacy schools regarding policy, legal and regulatory issues.
John serves on the Board of Directors of URAC and was its chairman from 2012-2014. URAC is a non-profit organization which accredits over 600 healthcare companies for quality nationwide via its 24 accreditation programs across the healthcare continuum. It currently has 6 industry leading pharmacy accreditation products. He also serves on the Board of Directors for JustMedicine, a national non-profit organization establishing quality and continuous supply standards for generic drug manufacturing.
John has a long involvement with the Academy of Managed Care Pharmacy (AMCP) where he chaired numerous committees, served on its Board of Directors, as its Treasurer and its President. He holds a fellowship with AMCP. He has also led multiple committees for the Pharmaceutical Care Management Association (PCMA), the national trade association for Pharmacy Benefit Managers.
John is a native of Idaho and graduated from Idaho State University with a Bachelor of Science in Pharmacy. He earned his law degree from the University of San Francisco.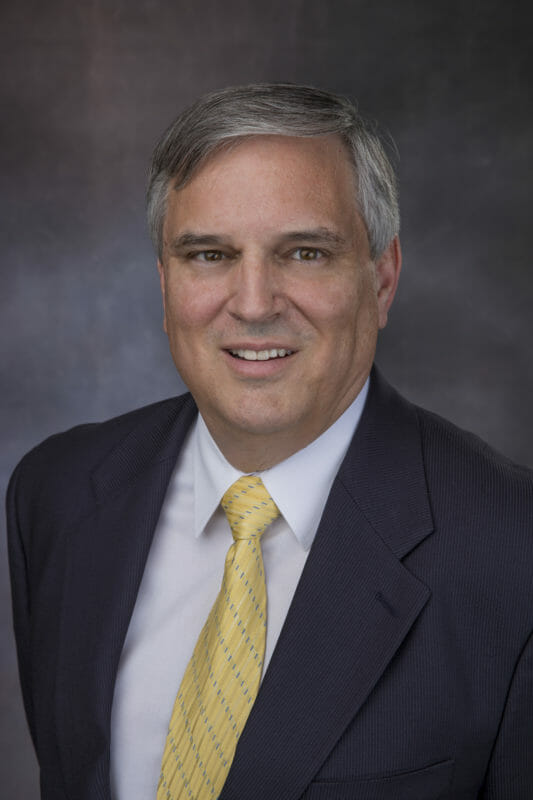 David A. Kvancz, MS, RPh, FASHP
Senior Vice President, Strategic Client Relationships, Visante
David A. Kvancz is a strategic pharmacy leader and senior health care executive. He currently serves as Senior Vice President, Strategic Client Relationships for Visante, a health care consulting company focused exclusively on medication use and system optimization. David also founded and serves as Principal Consultant, Valore Healthcare Consulting, LLC. Previously, David served as Vice President, National Pharmacy Programs and Services, for Kaiser Permanente (KP), in Downey, California; as the Director of Pharmacy and Chief Pharmacy Officer for the Cleveland Clinic Health System from 1997 thru 2010; as the Associate Director of Clinical Pharmacy Services at the University of Texas Medical Branch at Galveston from 1994-1997; and as the Assistant Director of Pharmacy at Tucson Medical Center from 1982-1994.
David has served in leadership positions of local, state and national health system pharmacy organizations including chair of the Practice Managers Section of the American Society of Health-System Pharmacists (ASHP) and President of the Arizona Society of Health-System Pharmacy (AzSHP). He has held adjunct and associate faculty positions at several colleges of pharmacy and currently serves on the Dean's Advisory Councils at the Albany College of Pharmacy and Health Sciences, and Western University of Health Sciences College of Pharmacy. He has served on numerous pharmaceutical industry and pharmacy technology advisory boards and provided legal case review as an expert witness. David has published several articles, delivered numerous presentations at local, state and national meetings and been a participant at several invitational conferences. David has received several awards over his career including The Ohio State University's College of Pharmacy Clifton J. Latiolais Award and the Northeastern University School of Pharmacy's John W. Webb Award for his significant contributions to and excellence in institutional pharmacy practice.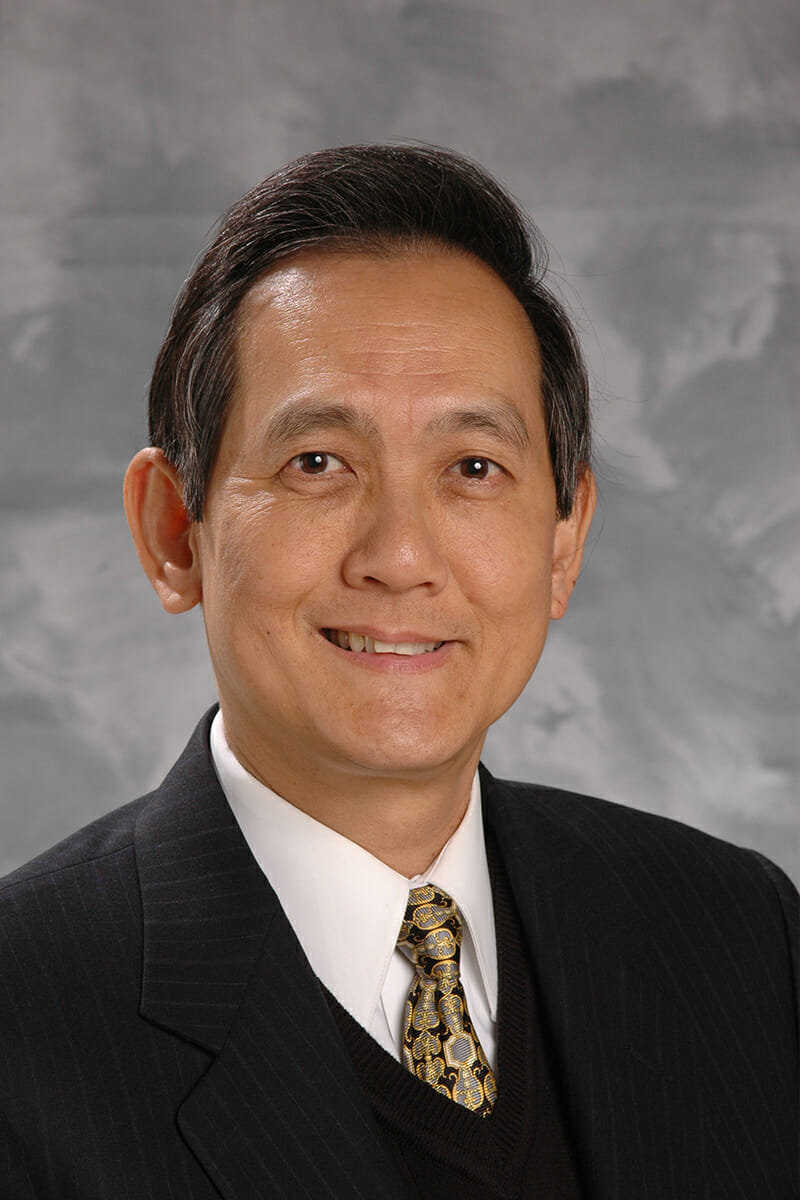 Victor Law, RPh
Owner, Pharmacist, Alpha Medical Pharmacy, Alhambra, CA
In addition to serving as the president of Alpha Medical Pharmacy Inc., Victor is also the founding CEO/President of Alpha plus Network Inc- a pharmacy IPA with over 130 retail pharmacies in the network. He served eight years on the California State Board of Pharmacy and he served as the president in 2018. He was the Chairman of the governing Board for Garfield Medical Center from 2008 to 2010 and served as the Vice Chair for the San Gabriel Valley Medical Center Governing Board in 2011. Prior to that, he served four years on the California State Board of Behavioral Science and was the president in 2009. Professionally, Victor was the Pharmacist of the Year for the California Pharmacists Association in 2017, as he had previously served four years as the president for the San Gabriel Valley chapter.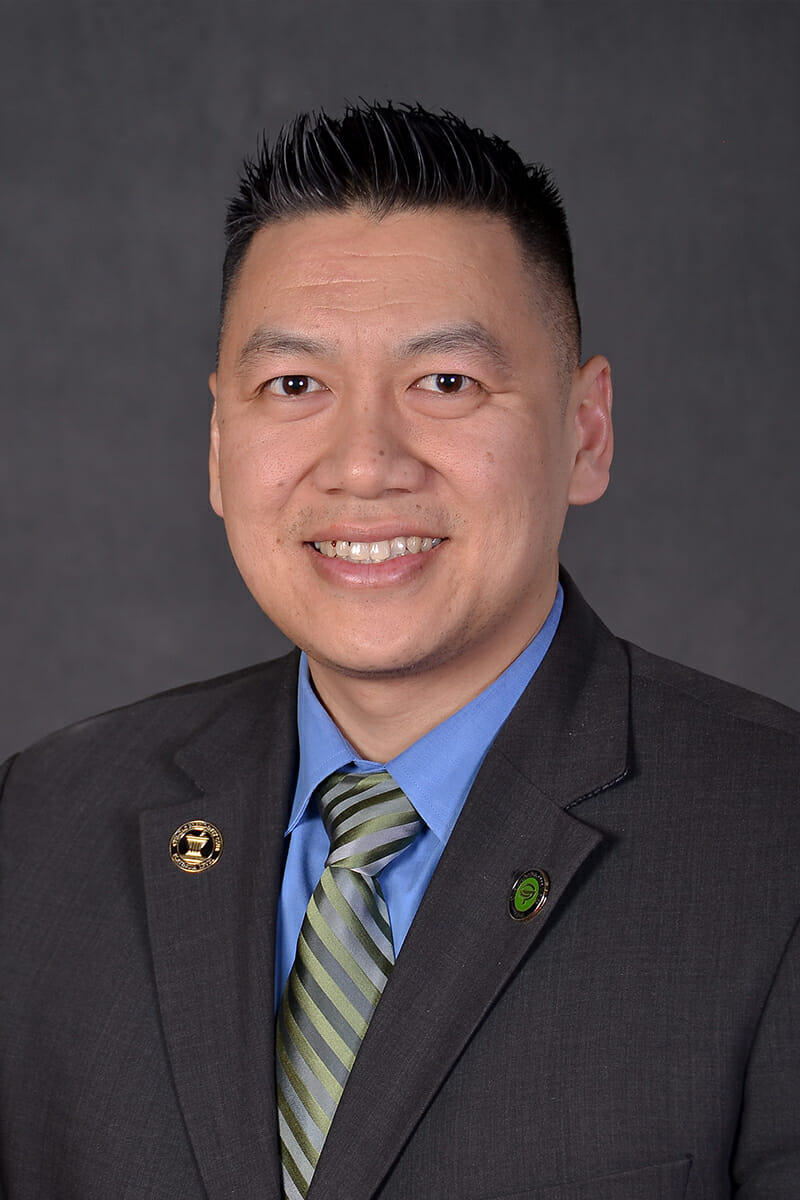 Vinson C. Lee, PharmD, MS, FCPhA, FAMCP
Vice President, Market Access & HEOR, The Kinetix Group
Dr. Vinson Lee is currently Vice President, Market Access & HEOR at The Kinetix Group, an insights-powered healthcare strategy and life science agency with industry-leading expertise in health systems and market access. Dr. Lee has over 15 years of experience in managed care pharmacy, the pharmaceutical industry, and academia. He has held various commercial market access, medical affairs, and HEOR leadership roles within the pharmaceutical industry. His experience includes developing and implementing market access strategies and services, directing value-based contract negotiations, and presenting key clinical and pharmacoeconomic data to formulary decision makers and health systems to ensure brand access.
Dr. Lee has a well-established network of payer opinion leaders and is actively involved within the pharmacy profession and associations, currently serving as a Director for the Academy of Managed Care Pharmacy (AMCP) and adjunct assistant professor of pharmacy at the University of Southern California (USC) School of Pharmacy. He also serves on the USC School of Pharmacy Board of Councilors, Western University of Health Sciences College of Pharmacy Dean's Advisory Council, Thomas J. Long School of Pharmacy & Health Sciences, University of the Pacific Continuing Education Advisory Board, and Keck Graduate Institute School of Pharmacy Practitioner Network Council. Vinson is also a past President of the California Pharmacists Association (CPhA).
Vinson holds a Doctor of Pharmacy degree from USC School of Pharmacy, Master of Science degree in Cell & Neurobiology from the Keck School of Medicine at USC, and Bachelor of Science in Biology from the University of California, Riverside.
Ariane An Natale's career has spanned almost 30 years in clinical practice, academia, and medical affairs in the biotechnology and pharmaceutical industry.  She received her Doctor of Pharmacy at the University of the Pacific in 1992 and completed a post-doctoral residency at the Veterans Affairs Medical Center in Los Angeles and UCLA.  Ariane started her career at the Veterans Affairs Medical Center in Loma Linda with responsibilities that included establishing and overseeing the pharmacy post-doc residency program, hospital formularies and paving the way in clinical pharmacy practice.  As a founding faculty member at the Pharmacy School at Western University of Health Sciences, she contributed to curriculum development and played a key role in clinical faculty recruitments.
Ariane Natale, Pharm.D.
Medical Director, Scientific Partnerships, US Medical Affairs
Ariane transitioned from academia and clinical practice to the pharmaceutical industry when she joined Amgen as a Medical Science Liaison in 2001. During her 13-year tenure there, she developed strong scientific relationships with academic thought leaders in oncology.  Those relationships served as a solid base for a much expanded role as an Executive MSL, then a Medical Director of Scientific Partnerships at AstraZeneca over the past 7 years.  A command of the scientific landscape and a strong business acumen allowed her to solidify peer-to-peer relationships with Department Chairs, Cancer Center Directors and Chief Medical Officers at key academic institutions in the US.  Utilizing her broad knowledge of the oncology and her account management skills, Ariane has been able to merge the unique strengths of key medical centers with AstraZeneca scientific priorities and resources to create unique academic-industry research alliances and partnerships. Her main objective is to accelerate the access of scientific innovation to patients through such partnerships.
Ariane has participated in the clinical development, launch and life-cycle management of over 20 oncology products. She is passionate about people development and has trained and mentored many colleagues over the years.  She has received numerous awards and recognitions for her work.
Ariane enjoys spending time with her family which includes her husband, Ron, adult children – Ryan, Michael, Nathan and Lauren and a Portuguese Water Dog puppy, Baci.  In her downtime, Ariane can be found exploring the majestic beauty of the Oregon Coast, cooking, and enjoying fine wine with family and a small circle of friends.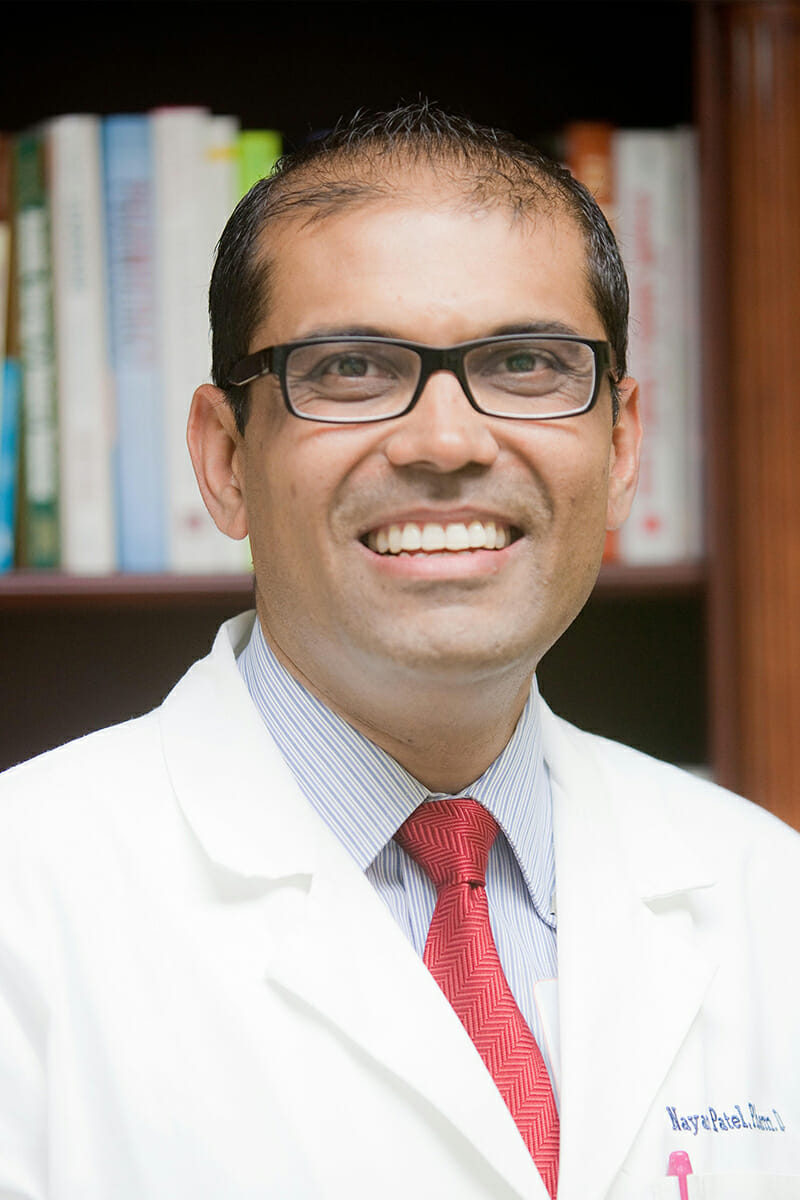 Nayan Patel, PharmD
President/CEO of Central Drugs Compounding Pharmacy and Auro Pharmaceuticals, Inc, La Habra, CA
Dr. Nayan Patel graduated from USC School of Pharmacy in 1996. Over the last 22 years, he has built multiple sterile and non-sterile compounding labs, including 503B outsourcing facility from the ground up. He has 20 years of clinical experience specializing in non-sterile compounding and sterile compounding. He lectures and consults nationally and internationally on Hormone Replacement Therapy, IV Nutrition and setting up sterile and non-sterile compounding pharmacy.
Dr. Patel has worked closely with the USC School of Pharmacy in designing their compounding lab and he currently teaches students the regulations governing sterile compounding. He continues to speak at national pharmacy conferences on compounding and he has helped many pharmacists in starting compounding within their pharmacy.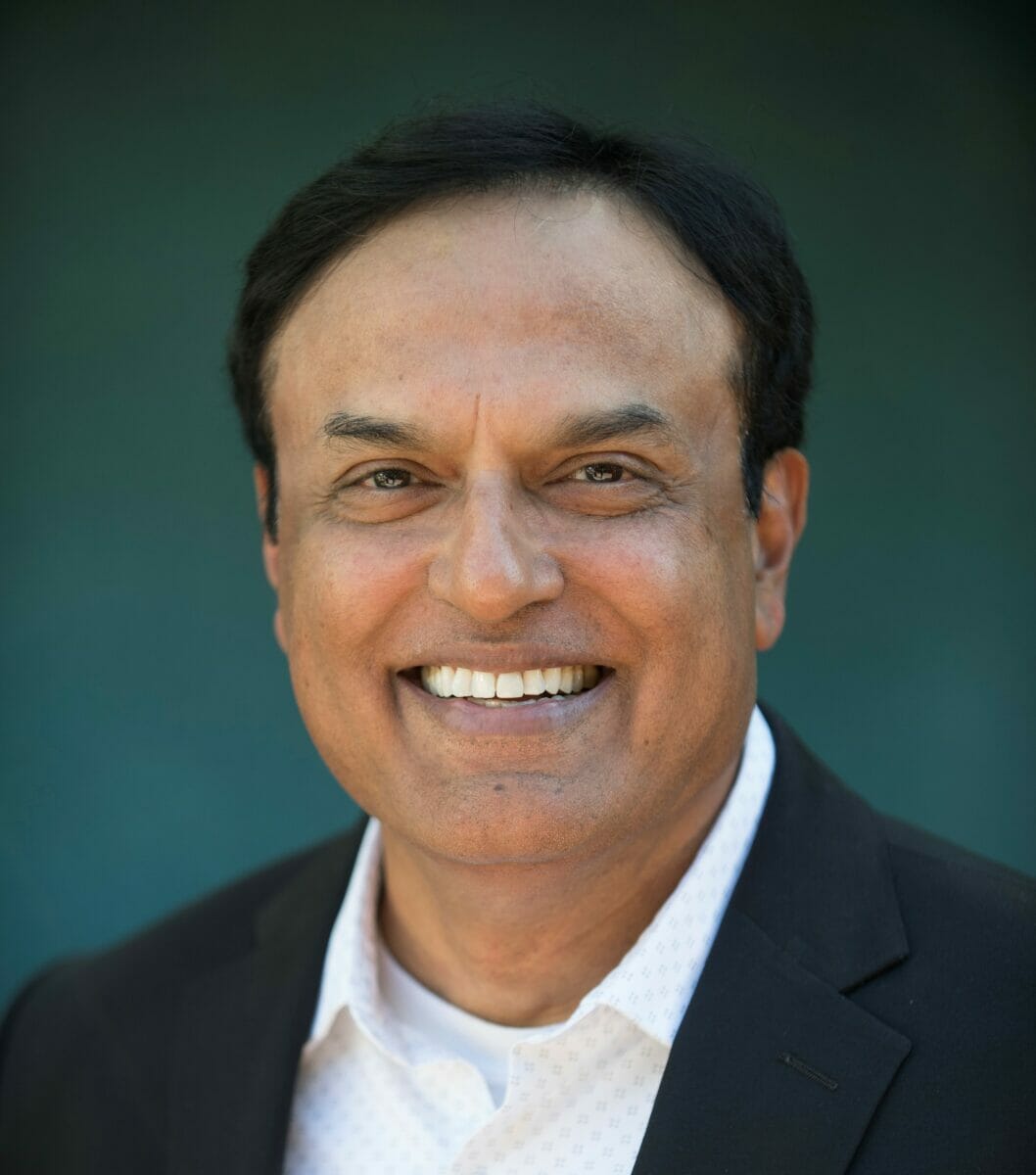 Sunil Prabhu, BPharm, PhD
Dean, Professor of Pharmacy Practice and Administration, College of Pharmacy, Western University of Health Sciences, Pomona, CA
Dr. Sunil Prabhu became the fourth Dean of the College of Pharmacy on July 1, 2021. He joined WesternU in 1996 as an assistant professor and a founding faculty member during the College's inaugural year. He has held several leadership positions within the College, most recently serving as Executive Associate Dean. Dr. Prabhu's research interests include formulation development of novel drug delivery systems, application of nanotechnology for controlled release system design, cancer chemoprevention, and targeted therapy.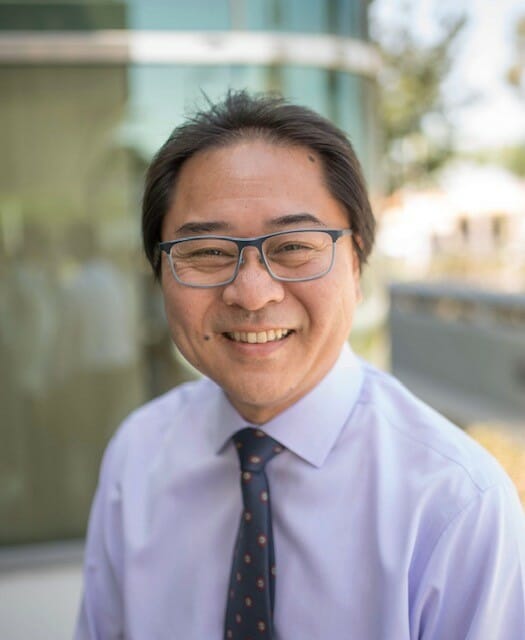 John Sie, PharmD
Clinical Operations Manager and PGY1 Residency Program Director, Kaiser Permanente, Downey, CA
Dr. John Sie graduated from the USC School of Pharmacy in 1985. Over the last 30 years, he built his career from various facets of pharmacy practice which include inpatient, ambulatory care, and management. He was instrumental in establishing many clinical pharmacy programs in the early years of Ambulatory Care. He continues to build justifications to expand the role of the clinical pharmacist and to add value to patient care in the realms of chronic disease management and cost-effective drug utilization. His vision is to advance the ambulatory clinical practice where pharmacists are an integral and invaluable part of the heath care team.
Dr. Sie is currently the Clinical Operations Manager and PGY1 residency program director for the Kaiser Permanente (KP) – Downey Medical Center. It is his passion and dedication to the profession that has allowed him to step into these roles so that he can continue to precept and mentor residents. To this date, he has successfully mentored over 60 residents in the last 30 years.
Dr. Sie also serves on various committees within Kaiser Permanente and is a member of the KP-SCAL residency project review committee. He is a member of both the CSHP and ASHP professional organizations.
During John's spare time, he enjoys trying new foods at fun restaurants, searching for his next Yelp foodie destination, and spending time with family and friends.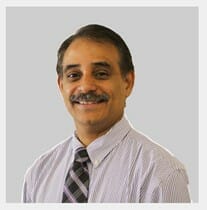 Ramesh Upadhyayula
Director, Pharmacy Services, Desert Hospital Ambulatory Health and Outpatient Pharmacy
Dr. Ramesh Upadhyayula provides comprehensive and compassionate care, dedicated to improving the quality of life for terminally ill cancer patients. His focus is palliative care with an emphasis on pain management. His approach is to be very accessible to my patients, helping to reduce anxiety and improve outcomes.
In his role as director and CEO of pharmacy at Desert Hospital Outpatient Pharmacy (DHOP), Ramesh Upadhyayula helps manage operations and regulatory compliance for DHOP, Best Outcomes Clinic Pharmacy, Raincross Pharmacy, and Parkview Pharmacy. He collaborates with clinics and healthcare providers to deliver comprehensive patient care. Ramesh leads his team of pharmacists to comply with all industry standards and state regulations. Additionally, he inspires and drives clinical innovation and strongly advocates for ways we can move the profession forward.
Ramesh brings over 33 years of experience in pharmacy practice, having both inpatient and outpatient pharmacy experience. As CEO for multiple pharmacies, Ramesh negotiates contracts, promotes business growth, improves operational efficiency, and oversees outcome driven care.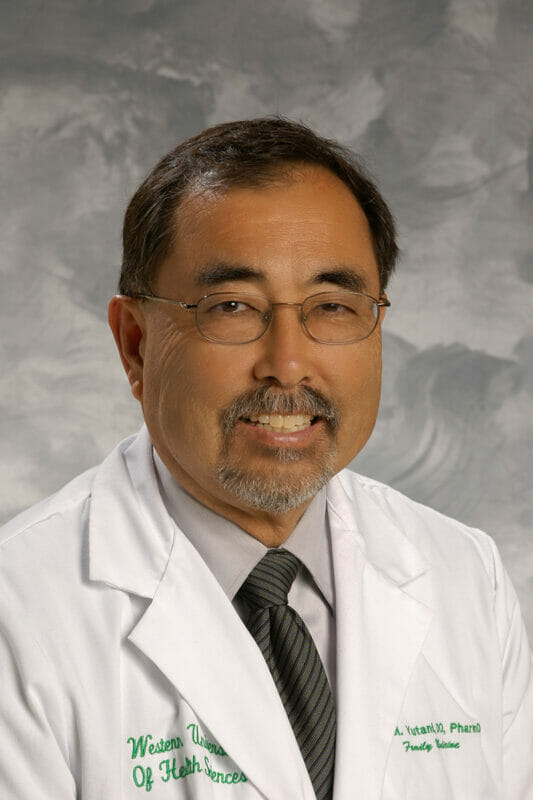 Ray M. Yutani, DO, MS, PharmD, FACOFP
Associate Professor of Family Medicine, Patient Care Center, Western University of Health Sciences, Pomona, CA
Dr. Ray Yutani is an Assistant Professor of Family Medicine at Western University of Health Sciences College of Osteopathic Medicine of the Pacific. He is a staff physician at WesternU Health Pomona, where he is a primary care provider and mentors third and fourth-year medical students in their clinical rotation. He received his DO degree from WesternU and his family medicine residency training at the Downey Regional Medical Center in Downey, California.
Dr. Yutani previously served as a Family Medicine physician with Kaiser Permanente until his retirement. Earlier in his career he was a staff pharmacist with Kaiser Permanente after receiving his PharmD degree from the University of Southern California. He also received an MS in Experimental Pathology from USC. He returned to WesternU after retiring from Kaiser to train future physicians the clinical perspectives of medicine – not only its practical aspects but its pathophysiology.
Dr. Yutani has had extensive experience in hospital medicine as a rotating hospitalist and overnight hospital physician while at Kaiser. He has continued to contribute to the practice of pharmacy as a member of the Dean's Advisory Council at WesternU/College of Pharmacy. His personal interests are in sports (tennis) and music (mandolin and guitar).
For more information contact: