Remembering those who have touched our hearts…
The death of a pet is a significant event for everyone involved. The void created by such a loss stimulates memories of fulfillment, trust, respect, joy and friendship that developed over a lifetime of companionship.
We understand that these are difficult times. Many choose to seek opportunities to enhance the meaning of their loss by memorializing such an important relationship.
This is why the Pet Memorial Program (PMP) was developed. The PMP provides an opportunity for guardians and friends to support the education of the next generation of compassionate, skilled veterinary healers while memorializing the relationship that existed with cherished pets.
When a gift is made, a personalized card is sent to the pet owner acknowledging their loss and informing them of the financial contribution made in memory of their pet. Pet owners are invited to submit a photo and story that is posted to our digital memorial wall that they can share with family and friends.
Please feel free to contact the Pet Memorial Program via email petmemorial@westernu.edu, or call 909-706-3762 with any questions, remarks, concerns.
Payments may also be made by phone: 909-706-3762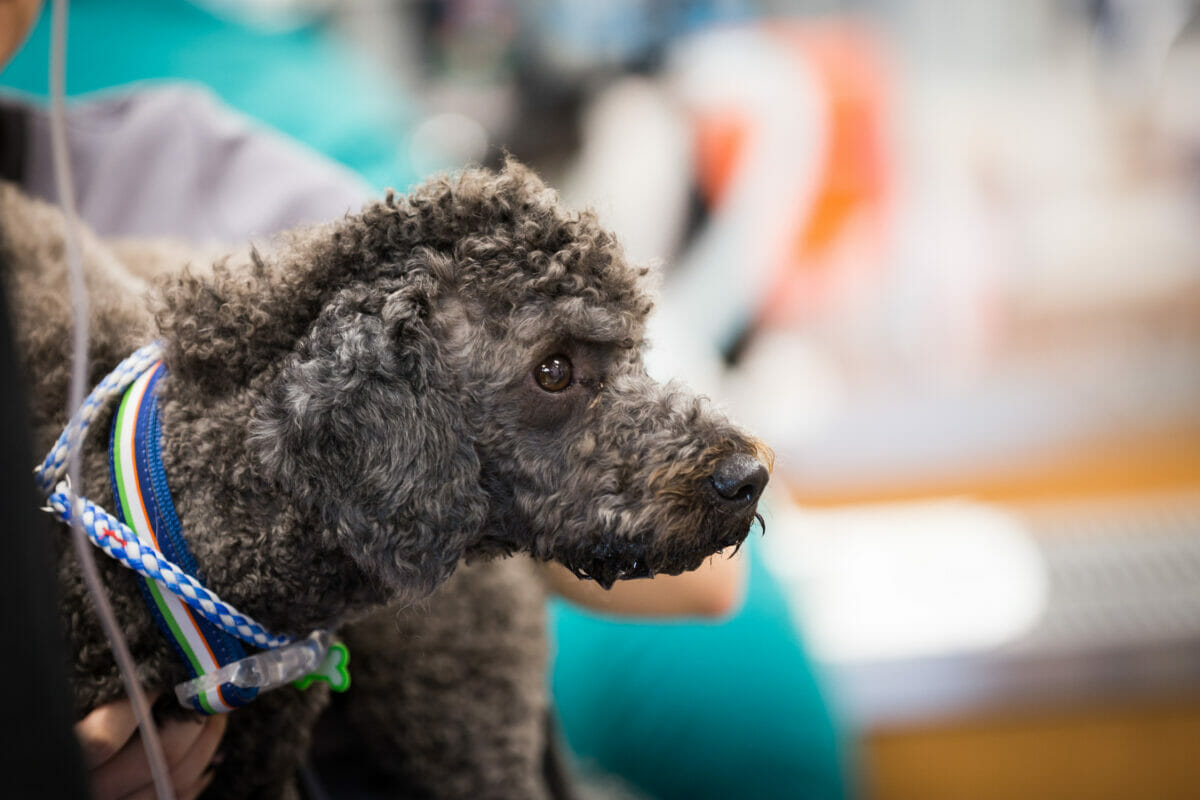 Make a Pet
Memorial Gift
Gifts to the Pet Memorial Program help support the education and training of student veterinarians who will be the leaders in research and treatments that extend the length and quality of life for our future companions.

Thank you for your support of the Pet Memorial Program at WesternU. Countless students, faculty and animal friends will benefit from gifts like yours.

See some of our beloved Pet Memorials below.
Abby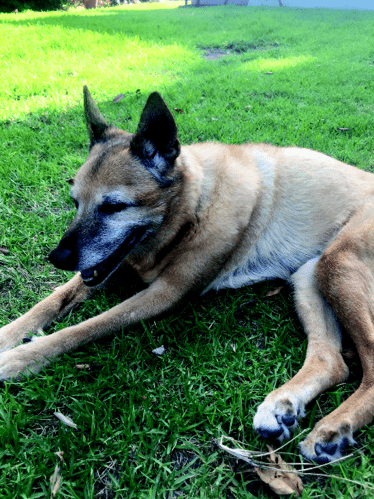 Loved by Judy Levitow
I'm so pleased to be able to share with Western University Vet students something about my dog Abby's life. While I'm glad that her body will be useful in death, I am very happy to tell you a bit about how wonderful she was in life.
I found Abby at a local ASPCA. She was my first dog as an adult and I was so excited but nervous about caring for her. My husband and I finally had a house with a backyard. She came to the ASPCA with her two brothers, just 8 weeks old, so I had to wait to take her home. All we knew was that she was a Shepard mix.
She was always happy, energetic, and loved to run and play—just the perfect dog. She was very smart and became well trained. We went on many hikes and on the back trails, she was often off-leash, trained by voice command. She loved all people and dogs and she even loved my neighbors kids so much sometimes she would jump the fence in our yard to go visit them. A trainer and new fence helped with that.
When Abby was about 5, we got a second dog, Lilah— because I dreaded the thought of losing her so much.
My husband died of cancer when she was 9 years old. So the two dogs have been my comfort and joy these past years. Abby always followed me from room to room — even when I went to the bathroom or showered. When she stopped eating and drinking at age 16, I had to put her down. I will always miss her very much—to me, she was simply incomparable.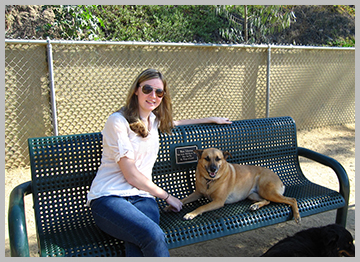 Abby with my stepdaughter Bridget, a memorial bench for my husband.
Betty Church Wagner
Loved by Betty's dads: Christopher Church and Sidney Wagner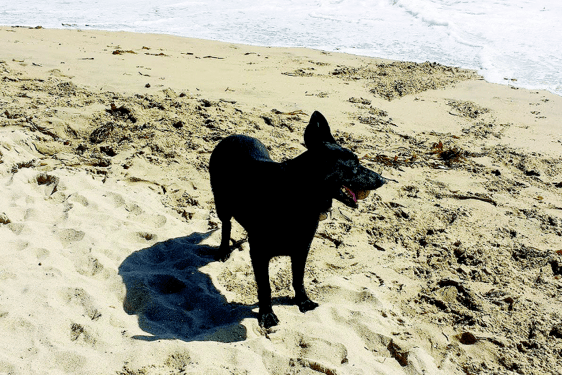 Betty Church-Wagner was a loyal friend and fierce defender of our family. When she came to live with us in 2009, she soon realized there were serious security lapses in our home, and she quickly created her own job as head of security. Friends were welcomed in with curiosity and happiness, but passersby were warned off with loud barking, and despite coming to the front door six times a week, the post-office letter carrier never managed to cause any mayhem on Betty's watch.
We don't know much about Betty's life before she was about a year old, when she was found wandering the streets of Los Angeles, but when she came home that first day and discovered that yes, that bowl of food was all for her, she took a few bites and then ran back to her new human family, smothering us with face-licks of gratitude. Each time we returned home after that, whether we'd been gone for two hours or two weeks, we were greeted with unbridled joy and excitement.
On her daily walk, Betty was always on patrol, sniffing out discarded people food to snack on, sampling the foliage for palatability, confronting neighborhood dogs, and more than once wisely stepping away when a cat decided to stand its ground with her. At the beach she was more concerned about herding her humans, circling around us in a figure-8 pattern as we strolled, than she was about jumping in the surf.
Never has there been a smarter, kinder, and more loyal companion than Betty Church-Wagner, and our hearts are broken at losing her. It is a consolation that she might help ease the suffering of other animals through participating in the WAVE program.
Cami
Loved by Gary Gugelchuk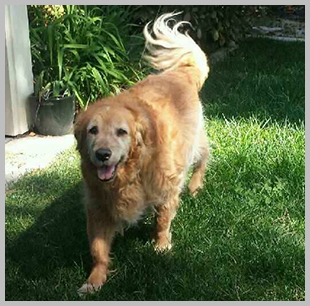 Cami took possession of me, and the front passenger seat of my car, as an eight week old pup, and defended the latter from anyone who had the foolish thought to displace her from there. She worked hard to keep the back yard free of all enemies, both foreign (raccoons, squirrels, coyotes) and domestic (the neighbor's cat), but more than met her match when she took a pee while straddling an electric fence around the koi pond. Cami and I however quickly worked out an accommodation regarding whose end of the couch was whose…[er] most of the time, that is.
Cami became the first patient of the Hill's Wellness Center, when she needed her first rabies booster and Professor Boynton needed to conduct a test run of the clinic. From that point on, she patiently endured the pokings and proddings of many veterinary students. And she offered her last lesson as part of the WAVE program.
For twenty minutes, every morning for nearly 14 years, we took our walk together. At first, the pace and distances covered were broad, then more and more restricted as age and arthritis took their unrelenting toll, until that last day when her body whimpered, "no more." Of all the material vestiges left behind, I am unable to bring myself to part with her collar and leash – fond remembrances.
Cosmo
Loved by the Brodsky – Sergel Family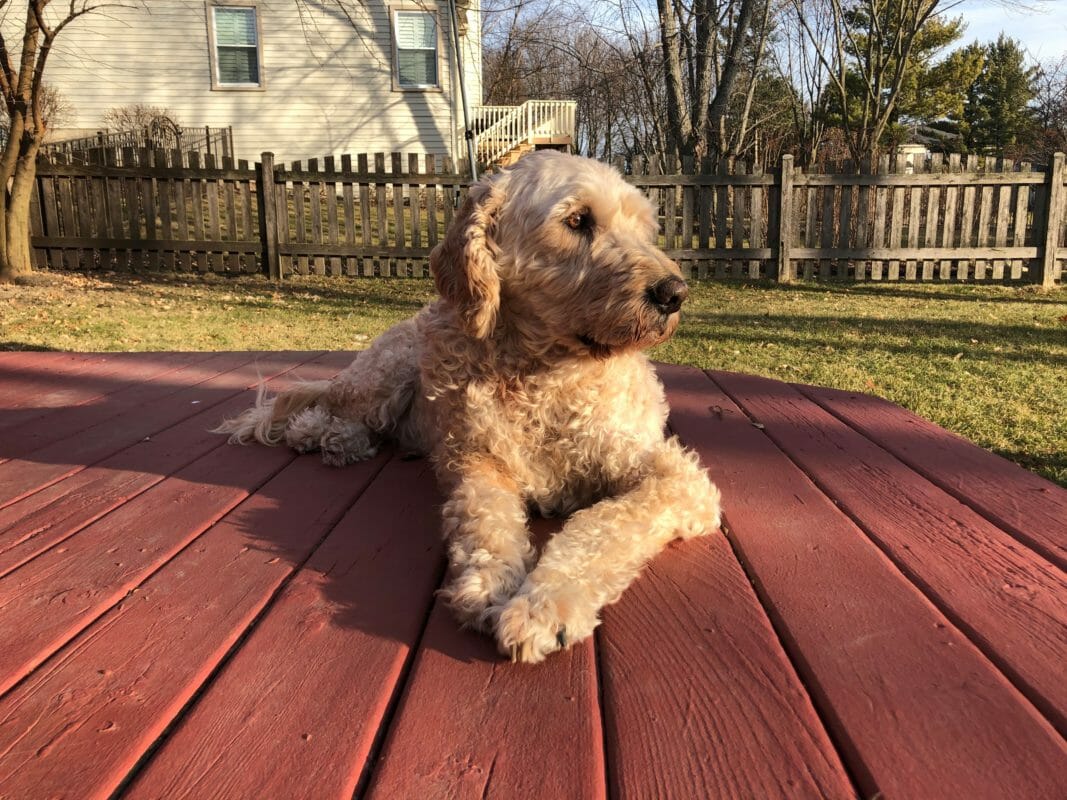 Making it to almost fifteen years old, Cosmo lived a full and glorious life. He never gave us a day of trouble and gave us years of unconditional love, laughs, joy, and filled each day with delight.
Also known as Cozzy, Cosmo Schmazzo, Cozzy Shmozzy, Cozzy Wazzy, Cozzy Wazzy Whizzy Whazzy, Mr. Barky Bark, he was a handsome dog, and a brave dog, and a good-looking dog, and a funny dog. Fond of both proteins and carbs, favorite escapades included licking David's face when David took off his shoes every night, doing the "crazy dog" on the bed (when he could still get up on it), stealing six uncooked brats off the platter of BBQ-bound links, getting out of the house unbeknownst to me and lurking, waiting for me on the front stoop two hours later when I returned from the store, feeling bad about the occasional errant crap or vomit on the carpet (few and far between), playing "Where's Cosmo," having somewhat inappropriate relations with Blanky, and joining us every Friday night for Shabbat. His life has been documented in hundreds of photos, videos, and his personality inspired my play "Dogs Are People Too."
He protected us to the end, even sparing us having to make the difficult end-of-life decision many animal owners are faced with. Our hearts are not broken because he filled them up with fifteen years of love. But they certainly ache. A true member of our family, his gentle soul was a huge presence in our lives. Cosmo was a legendary dog. He will be deeply missed.
Ellie
Loved by Linnaea Scott, DVM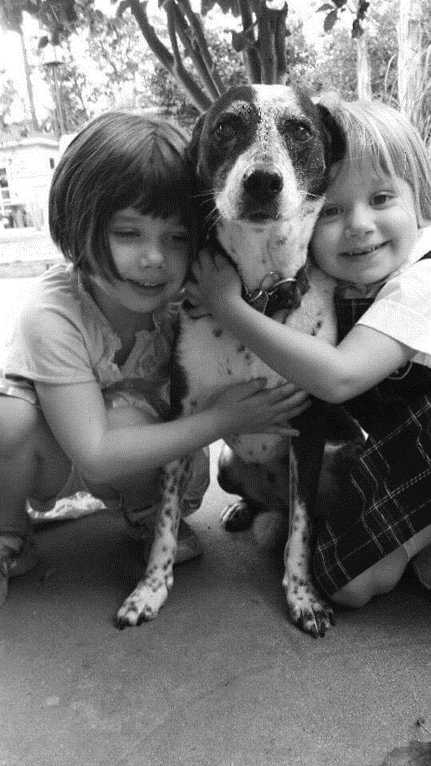 I didn't have cats or dogs in my childhood, so, of course, I grew up to be a vet. My first dog came into my life when I was in my early 20s, and fresh out of vet school. A 5-month-old puppy was relinquished to the hospital where I worked because she was suffering from parvoviral enteritis.
Parvo is a terrible intestinal infection that kills puppies, but it can be prevented by a series of vaccines. Fortunately, this joyful puppy survived parvo, and never looked back.
That puppy, Ellie, became my daily companion. She came to work with me, slept snuggled next to me every night, and hiked with me every weekend.
Ellie loved running on the beach in Morro Bay, Calif., and eating the dead jellyfish that washed up on shore; she joyfully rode in the back seat of my yellow Volkswagen Bug all over California; she would do every trick she knew (all at once) for a spoonful of peanut butter.
During Ellie's life, she graciously welcomed a husband, two human babies and three sassy cats. She saved other parvo puppies by a donation of her blood. Ellie's friendly and outgoing personality charmed people of all ages. She was pure kindness and love, in the way that only a beloved dog can be.
Nearing 14 years-old, time caught up with our wonderful Ellie. She passed away in our arms as my colleague helped her along the way, licking peanut butter from a spoon as she went peacefully. The love we felt for this dog can't be described.
At the end, there was no question we wanted to support Western University of Health Sciences' veterinary students with a donation of Ellie's body to their program. Most vet schools do not have an ethical source for their anatomy labs, and it's important to show that this can be achieved. It brings some comfort that sweet Ellie has something to teach future veterinarians.
Dr. Scott practices veterinary medicine at TLC Pet Medical Center in Temple City, Calif.
Frankie
Loved by Andrea Barrios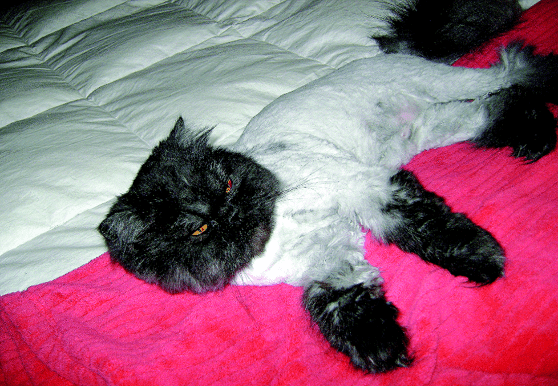 I met Frankie through a breeder of Persian kittens. He was five months old and I fell in love with his huge orange eyes. Frankie had a unique personality and wanted to be held all the time. I would hold him on his back like a baby, and he would just stretch and lay limp like a lazy dog in my arms. He enjoyed playing fetch with rolled-up paper balls and wasn't shy about letting me know that HE decides when playtime is over. He enjoyed riding in the car with me, being groomed, and having the run of my apartment.
One day his groomer told me Frankie had a large bruise on his lower stomach. It didn't get better after two weeks, so I took him to the vet. After three more weeks, we had his skin biopsied. We learned that Frankie had a malignant tumor of blood vessel cells. Two surgeries and 10 weeks later, we realized he was dying, so I had to let him go. He was a month short of his third birthday.
George
Loved by Chrissy & Bill Valentine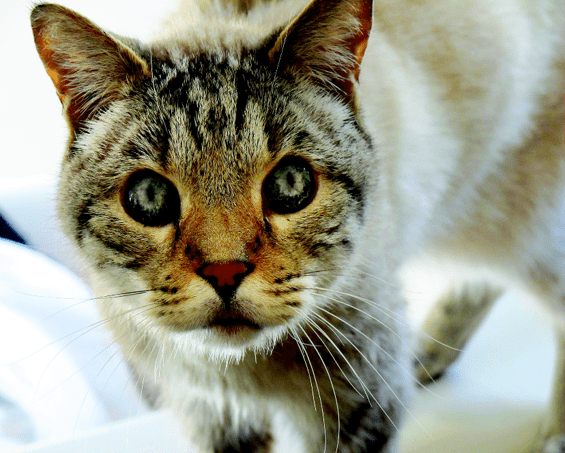 One Saturday in November 2006, we decided to stop by the Pasadena Humane Society, as we often do, and take a look at the animals.
It was Chrissy's birthday and what better way for two animal lovers to celebrate than to adopt a new member of the family?
The cat room was filled with adorable, meowing kittens and full-grown cats rubbing their faces against cages, begging for attention. And then there was George. He was skinny, 10 years old, listed as a stray, facing the back of the cage and wheezing due to an upper respiratory infection he contracted while at the shelter. Without missing a beat, Bill said,
"This is the cat for us."
We took him home and when his infection was gone, introduced him to the rest of the family, another cat named Miles and a dachshund named Ralphie. George and Miles became the best of friends, sleeping in the sun on the same chair together for hours at a time. After Miles passed away, George would split his time between that same chair and the bottom shelf of the linen cabinet in the bathroom.
As the years passed, George developed kidney disease, but continued to eat his favorite canned food (but only if it was heated slightly in the microwave) and demand his morning grooming session with his favorite wire bristle brush.
George was a sweet, dignified member of our family and we miss him very much. We don't know what his life was like before he came to live with us, but we do know that we are so happy that he could spend his final years with us. We hope George will help other animals.
Lil
Loved by Casey Chaney, PT, PhD, OCS, CSCSe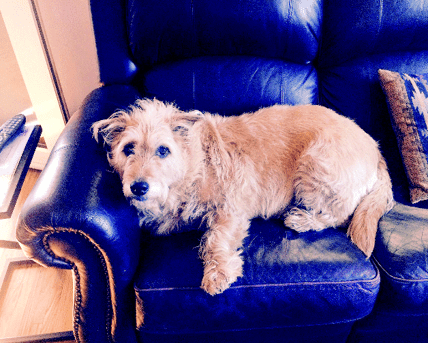 Lil was unique. Her Welsh corgi legs, Labrador body and terrier hair were part of it, but that uniqueness was more how she would draw people in with her eyes and how she cocked her head.
Initially dubbed "Diamond" for a marking on her chest, I named her Diamond Lil, after a restaurant I had known. She soon became just Lil. She had short legs and a short name, but a big personality.
She made people smile and piqued their curiosity. Many times, when we were out for a walk, people would roll down their car windows as they passed by to ask, "What kind of dog is that?"
Once drawn in, people could only get so close before she rejected them with a sharp barking rebuke. Her world was mostly her "mom" and her "brother" Max, a tall and muscular yellow Lab and shar pei mix.
Lil survived four surgeries, two of them major, and always came back with sass and a bounce in her step. We celebrated her victory over cancer in October 2016, when we reached the one-year anniversary of her surgeries. Sadly, after Thanksgiving Day, she began to limp. Ultimately, it was thought to be osteosarcoma, or bone cancer, in her shoulder. After a bone scan confirmed our fears, she did not ever get "comfortable" again.
She bravely rode with me to one veterinarian visit after another, but almost as soon as we walked in the door, she was ready to leave and get back in the car. But it was the nights that were horrid; her medication did not significantly diminish her pain.
I had to make the hard decision to let her go. WesternU's willed body program offered us the opportunity for students to learn from her suffering. So, with the hope that students may learn from the body of this unique little soul, I signed her over.
Dr. Chaney is a professor of physical therapy at the WesternU College of Allied Health Professions.
Mews Manfredi
Loved by Adriana Manfredi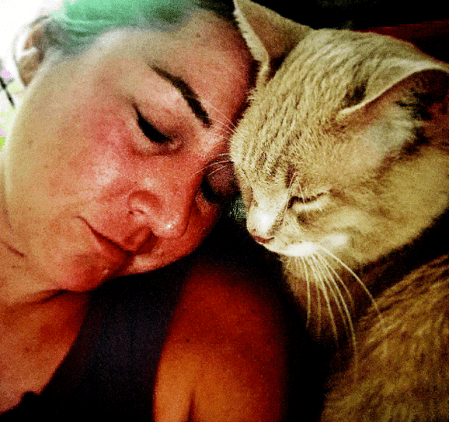 Mews appeared first in the backyard of the Highland Park home of our friends, Anna Schubert and Aaron Doyle. Anna and I are both members of the Los Angeles Opera Chorus. She said they discovered the orange feral cat had been living there when they returned home from a trip in May, and that he was more affectionate and sweeter than their own two domesticated cats. After getting him cleaned up, vaccinated, and fixed, they started looking for a new home. "He's ready to start living a civilized life," Anna said.
We owe a special thanks to Anna and Aaron for sending Mewsie into our lives for a few lovely months. He was a sweet scrabbler who befriended everyone he met; I'm convinced that is how he survived in the wild for seven-ish years before he joined our household. Even our veterinarian loved him, and said that if anything happened to us, she would take Mews.
This special cat knew when people needed him, and we all did need him, but usually he just wanted to say "hey," and snuggle. He ate fresh baked bread and even sipped my coffee if I wasn't paying attention. If Mews really liked you, he sneezed on you, a weird endearing first for me.
Our dear Mews had what we thought was an eye infection, but it turned out to be cancer. A few days after Thanksgiving, we said goodbye to him.
Happy trails, sweet Mews, you lived life well and we loved being your forever home for the time we could.
The Manfredis have since adopted a feral kitten from the same Highland Park Hills area and named her Chloe. The family also has a rescued bearded dragon named Mr. Smee.
Nachito
Loved by Gloriana Perez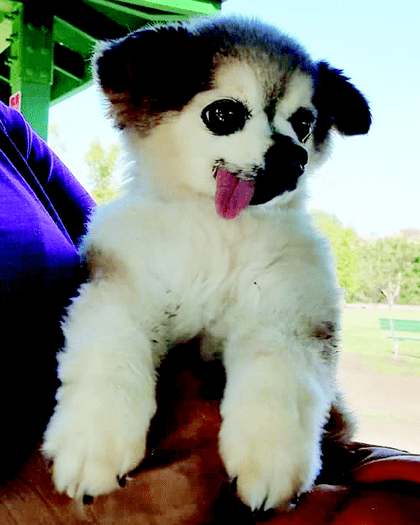 Nachito was found on the streets of Pomona and was a joy in my life ever since he jumped into my arms. He found a person who needed him and filled an emptiness I didn't know I had. Nachito is only one of the true heroes who will help veterinary students learn the skills and knowledge to better serve our family pets and provide for the health and quality of life for all kinds of animals.
He was donated to the WAVE Program because he comes from a family that works in organ, eye and tissue donation, and believes in the gift of life.
Gloriana Perez is a supervisor for Recovery Operations in Orange, California.
Pudge
Loved by Jack & Judy Davis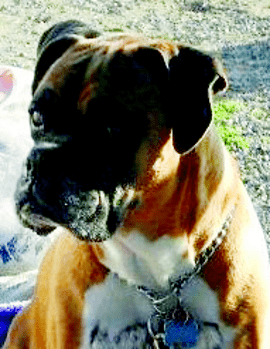 We brought Pudge home as a puppy, on June 6, 2001. He instantly became a member of our family. Pudge loved our children, grandchildren and extended family as was evidenced by his wagging tail and lapping tongue each time they visited throughout the years.
He slept with us nightly, usually taking up more than his fair share of the bed. Always wanting to be touching one of us, at times he even hugged us by laying his front leg and paw over our neck.
From the time he was a puppy until his last day, he would sit on Judy's lap and be loved on, or push Jack out of the chair or off the sofa so he could have it to himself.
Pudge always enjoyed camping. As soon as camping supplies were readied, he followed to make sure he got to go, too. And he always did. Playing on the sand at the beach and frolicking in the waves was one of his favorite things to do. At one campground we frequented, he decided to play tether ball with our granddaughter and then on his own. People would always stop to watch him and comment on how amazed and entertained they were by him.
Over a period of several years, he had many health trials. Our vet called him "Pudgeriffic" because he had a strong will to live and overcame so many major illnesses. For this reason, we wanted Pudge's life to matter even in death. While our hearts ached and we wanted to bring him home, our heads said, "Maybe students can learn what caused so many of his health issues so other dogs may not have to go through what he went through."
We miss our precious boy Pudge more than words can express, yet were blessed by him for almost 11 years.
Roxy
Loved by Steve Siegel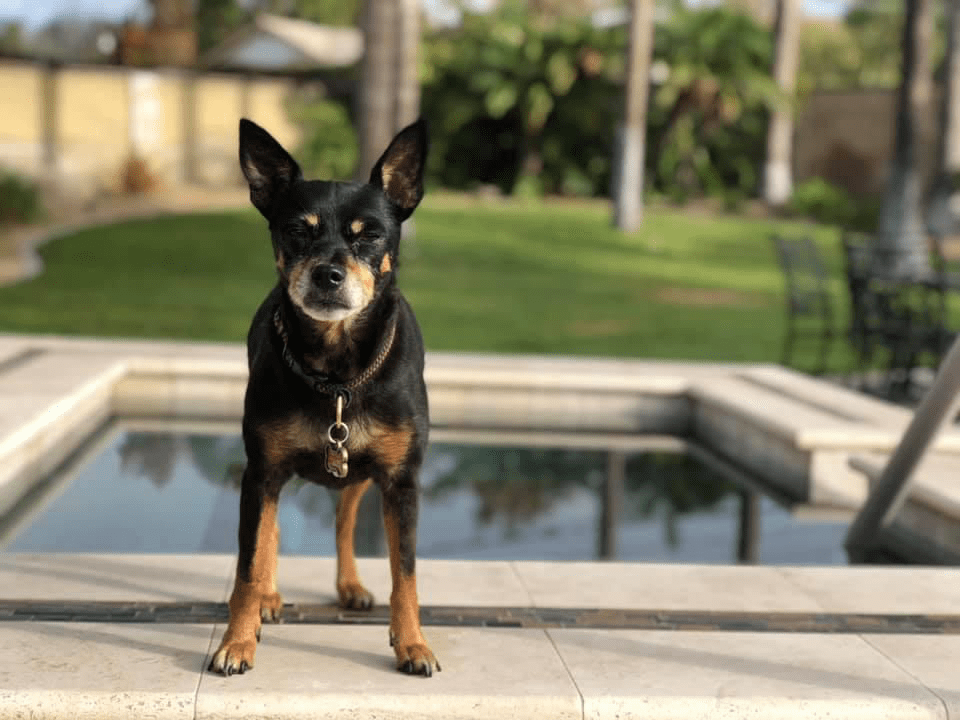 Our little miniature pinscher munchkin, Roxy, passed away. She came into our lives 15 1/2 years ago at the age of six weeks. She stole our hearts every day since. At six months old, Roxy went missing, only to return by some divine intervention ten weeks later. She never told us where she was during that time. Over the years, she played nurse, was a great driving companion, provided countless hours of entertainment, and simply made our lives brighter. She disliked the desert, even though our condo is a mini-shrine to her. But she loved coming out to dinner with us and reveling in her people. Our COVID self-quarantine was probably good for all of us. She had us around 24-7 and could head outside to bask in the sun at will. She was a sweet little diva.
The care team at WesternU Pet Health we're part of her care team for a year or so. Everyone here was amazing and gave us the best advice they could. We appreciate our care at WesternU.
Sydney (aka Syd or Syd-o)
Loved by James, Lisa & Addi Griffith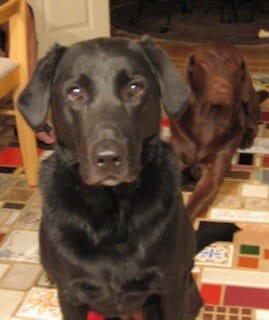 Sydney, our black lab, first came into James Griffith's life when he had taken a break from graduate school in 1998. James adopted Sydney while living a single man's life in Utah. Within months, Sydney became his best companion. James took her everywhere and she not only became accustomed to being a shotgun passenger, she expected to go on all car rides. By the time Sydney was a year old, James returned to Claremont, California to pursue his Ph.D. and began dating. He eventually introduced another human into the family. These were happy times—for a brief moment—while James, Lisa, Sydney, and Sixx (Lisa's cat) all slept in the same bed. It wasn't until Sydney and Sixx began to take up and demand most of the bed that the nights were spent cozied up together.
In 2009, James and Lisa introduced another little human into this family—Addi Griffith. Her first word at ten months was, "dog." They formed a strong bond and Addi and Syd followed each other everywhere they went. It's funny how innocent both are—a child and her dog. By then, one would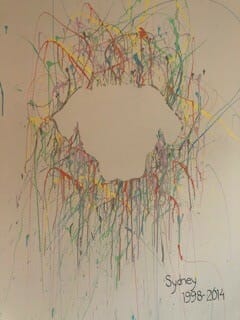 have expected for Sydney to have matured into a more serious dog. The vet kept assuring us, "Don't worry, she'll grow out of her puppy stage by next year." Sydney kept her puppy fun loving stage for most of her life. She and Addi were two young ones who romped around and played all day long. Addi loved the companionship.
By 2014, Sydney's age had caught up to her. She had slowed down and had finally become the mature dog we were waiting for. We then wished we would have never waited for this stage of her life… On her last days with us, we laid her down in the living room floor—the same floor where she had laid many nights next to us while we watched movies. Addi laid next to her for hours as Sydney slept and opened her eyes periodically. Addi gave her hugs and kisses, and eventually said her goodbyes. Grandma picked up Addi and took her for the night. James stayed with Syd throughout the night. He later wondered whether we had let her go like this too long…
A woman came to our home…we had soft music playing in the background as we sat next to Syd and let our tears fall down our face. Quietly, we each whispered in her "little" ear and shared our love for her and our goodbyes. The woman asked if we were ready. We kept petting Sydney and telling her it was going to be okay. She closed her eyes. She was driven away. Sydney impacted our lives. She made us better people. She prepared us for parenthood. She loved us and Addi unconditionally. She still makes us laugh. She's still our Syd-O. She will forever remain James's first girl.
Taffy
Loved by Louise Taylor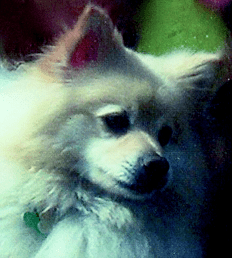 Our Pomeranian, Taffy, was the type of endearing pet we all seek, offering unbridled joy to a return home, comic relief on an uneventful day, and an eternal puppy playfulness even at age 12. Her four-foot jump capacity tempted us to change her name to Tigger.
Taffy was both incessantly curious and insatiably hungry, finding morsels everywhere, and begging for dinner daily beginning at 3 p.m., despite the 5 p.m. meal routine. To our sadness, her appetite and curiosity led her to dig under a one-inch crevice beneath the outside barbecue to retrieve and consume rat poison – a tragic step that days of plasma and blood transfusions, medications, vitamin K, and vet care could not reverse.
Our sorrow at her death was mitigated when we learned that she could continue to offer support through the donation of her body to veterinary education. We miss her and her antics, but know she will continue to help veterinary students prepare for the care and health of many pets for years to come.