Greetings from the Chair of the Faculty-Alumni Relations Committee
Dear WesternU CVM alumni,
This is yours truly Dr T! I was put in charge to re-connect with all of you out there working hard in your veterinary careers and becoming ambassadors of our program. As we handed out DVM diploma to our 1,000th CVM graduate in 2017, and in planning your return to the Campus in September 2018 for classes  2008 and 2013, we would like to invite you all to look at the WesternU Alumni web page and join our efforts to make your visit memorable and worthwhile the effort, especially for all of you coming from different corners of the North America and even the world. In that effort, I invite you to assist us with the following:
Update your contact e-mails  and let us know/update us of your personal and professional achievements
Let us know how we can contribute to your LIFE-LONG LEARNING EXPERIENCES, since I am trying to organize a useful CE experience for all of you coming back to Campus in the morning of the planned WesternU reunion (Sept 15). Which topics are you interested in?
Which 3-4 activities on WesternU Campus  would most appeal to you? (the campus open house and general interest presentations? Library updates? Research /scholarship updates? Center for innovation? )
Please feel free to drop me a line to my e-mail: stkalcic@westernu.edu. You can also find more info and ways to re-connect with WesternU on our alumni web site: https://www.westernu.edu/alumni/alumni-welcome/
Thank you for entrusting your education to WesternU CVM and becoming members of the WesternU Alumni family.  
You make us all proud and we miss you!
Sincerely,
Dr. Tkalcic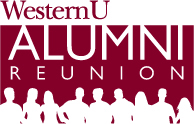 YOUR ALMA MATER IS CALLING!  All WesternU alumni and their guests are invited back to campus on Saturday, September 15, 2018 for the WesternU Alumni Reunion, as we honor the classes of 2008, and 2013! Save the date to return to Pomona, reminisce with your fellow alumni, revel in the present with your favorite faculty, and reveal dreams for the future with current students. Registration will open this summer, and details will be posted online at https://www.westernu.edu/AlumniReunion.
Do not MISs!
Are you MISsing something in your practice? Minimally Invasive Surgery is something to consider. Do not MISs this opportunity during the Alumni Reunion 2018.
Your CVM Alma Mater and Dr. Ohad Levi are offering a chance to get introduced to the:
Laparoscopy in Veterinary Medicine: Introductory lecture and hands-on lab (on simulators)
This short course will take place on September 15, 2018 on the Western U campus, before your Alumni Reunion events. For registration click here.
For those who take this short introductory course will get a 10% discount off their registration for the Small Animal Laparoscopy Weekend Course being offered during the summer of 2019.