Betty Church Wagner
Loved by Betty's dads: Christopher Church and Sidney Wagner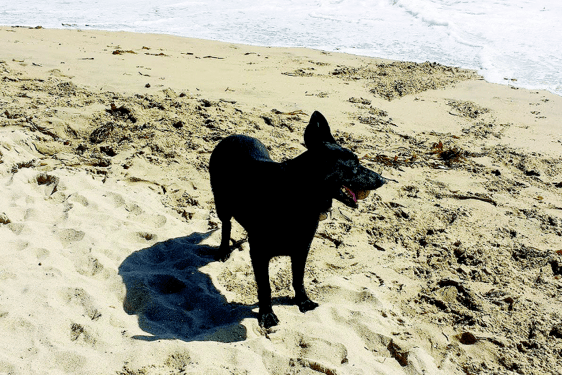 Betty Church-Wagner was a loyal friend and fierce defender of our family. When she came to live with us in 2009, she soon realized there were serious security lapses in our home, and she quickly created her own job as head of security. Friends were welcomed in with curiosity and happiness, but passersby were warned off with loud barking, and despite coming to the front door six times a week, the post-office letter carrier never managed to cause any mayhem on Betty's watch.
We don't know much about Betty's life before she was about a year old, when she was found wandering the streets of Los Angeles, but when she came home that first day and discovered that yes, that bowl of food was all for her, she took a few bites and then ran back to her new human family, smothering us with face-licks of gratitude. Each time we returned home after that, whether we'd been gone for two hours or two weeks, we were greeted with unbridled joy and excitement.
On her daily walk, Betty was always on patrol, sniffing out discarded people food to snack on, sampling the foliage for palatability, confronting neighborhood dogs, and more than once wisely stepping away when a cat decided to stand its ground with her. At the beach she was more concerned about herding her humans, circling around us in a figure-8 pattern as we strolled, than she was about jumping in the surf.
Never has there been a smarter, kinder, and more loyal companion than Betty Church-Wagner, and our hearts are broken at losing her. It is a consolation that she might help ease the suffering of other animals through participating in the WAVE program.
Back to Pet Memorial    |    Donate in Betty Church Wagner's Name