Abby
Loved by Judy Levitow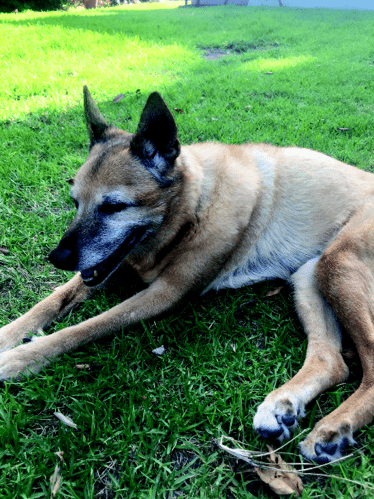 I'm so pleased to be able to share with Western University Vet students something about my dog Abby's life. While I'm glad that her body will be useful in death, I am very happy to tell you a bit about how wonderful she was in life.
I found Abby at a local ASPCA. She was my first dog as an adult and I was so excited but nervous about caring for her. My husband and I finally had a house with a backyard. She came to the ASPCA with her two brothers, just 8 weeks old, so I had to wait to take her home. All we knew was that she was a Shepard mix.
She was always happy, energetic, and loved to run and play—just the perfect dog. She was very smart and became well trained. We went on many hikes and on the back trails, she was often off-leash, trained by voice command. She loved all people and dogs and she even loved my neighbors kids so much sometimes she would jump the fence in our yard to go visit them. A trainer and new fence helped with that.
When Abby was about 5, we got a second dog, Lilah— because I dreaded the thought of losing her so much.
My husband died of cancer when she was 9 years old. So the two dogs have been my comfort and joy these past years. Abby always followed me from room to room — even when I went to the bathroom or showered. When she stopped eating and drinking at age 16, I had to put her down. I will always miss her very much—to me, she was simply incomparable.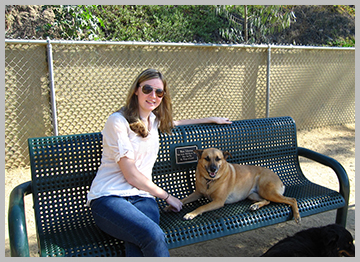 Abby with my stepdaughter Bridget, a memorial bench for my husband.
Back to Pet Memorial    |    Donate in Abby's name