Ellie
Loved by Linnaea Scott, DVM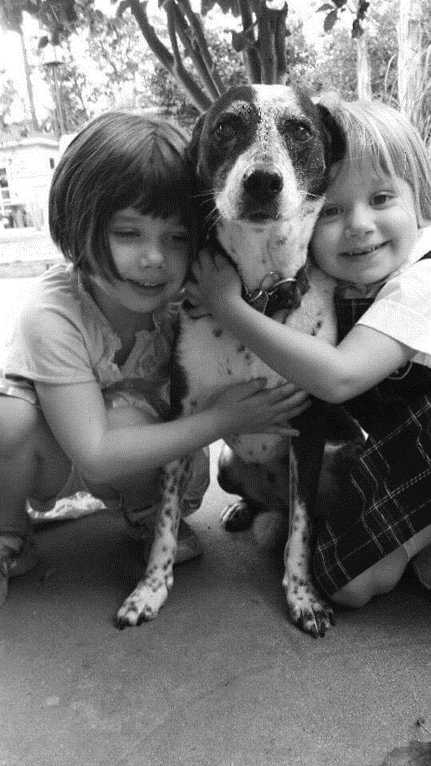 I didn't have cats or dogs in my childhood, so, of course, I grew up to be a vet. My first dog came into my life when I was in my early 20s, and fresh out of vet school. A 5-month-old puppy was relinquished to the hospital where I worked because she was suffering from parvoviral enteritis.
Parvo is a terrible intestinal infection that kills puppies, but it can be prevented by a series of vaccines. Fortunately, this joyful puppy survived parvo, and never looked back.
That puppy, Ellie, became my daily companion. She came to work with me, slept snuggled next to me every night, and hiked with me every weekend.
Ellie loved running on the beach in Morro Bay, Calif., and eating the dead jellyfish that washed up on shore; she joyfully rode in the back seat of my yellow Volkswagen Bug all over California; she would do every trick she knew (all at once) for a spoonful of peanut butter.
During Ellie's life, she graciously welcomed a husband, two human babies and three sassy cats. She saved other parvo puppies by a donation of her blood. Ellie's friendly and outgoing personality charmed people of all ages. She was pure kindness and love, in the way that only a beloved dog can be.
Nearing 14 years-old, time caught up with our wonderful Ellie. She passed away in our arms as my colleague helped her along the way, licking peanut butter from a spoon as she went peacefully. The love we felt for this dog can't be described.
At the end, there was no question we wanted to support Western University of Health Sciences' veterinary students with a donation of Ellie's body to their program. Most vet schools do not have an ethical source for their anatomy labs, and it's important to show that this can be achieved. It brings some comfort that sweet Ellie has something to teach future veterinarians.
Dr. Scott practices veterinary medicine at TLC Pet Medical Center in Temple City, Calif.
Back to Pet Memorial    |    Donate in Ellie's Name