Lil
Loved by Casey Chaney, PT, PhD, OCS, CSCSe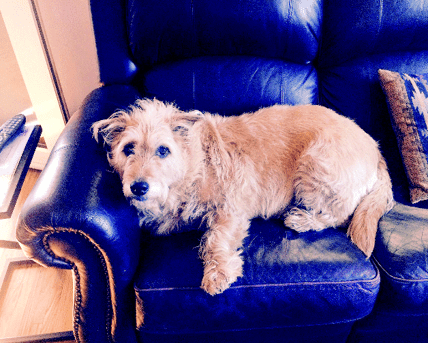 Lil was unique. Her Welsh corgi legs, Labrador body and terrier hair were part of it, but that uniqueness was more how she would draw people in with her eyes and how she cocked her head.
Initially dubbed "Diamond" for a marking on her chest, I named her Diamond Lil, after a restaurant I had known. She soon became just Lil. She had short legs and a short name, but a big personality.
She made people smile and piqued their curiosity. Many times, when we were out for a walk, people would roll down their car windows as they passed by to ask, "What kind of dog is that?" 
Once drawn in, people could only get so close before she rejected them with a sharp barking rebuke. Her world was mostly her "mom" and her "brother" Max, a tall and muscular yellow Lab and shar pei mix.
Lil survived four surgeries, two of them major, and always came back with sass and a bounce in her step. We celebrated her victory over cancer in October 2016, when we reached the one-year anniversary of her surgeries. Sadly, after Thanksgiving Day, she began to limp. Ultimately, it was thought to be osteosarcoma, or bone cancer, in her shoulder. After a bone scan confirmed our fears, she did not ever get "comfortable" again.
She bravely rode with me to one veterinarian visit after another, but almost as soon as we walked in the door, she was ready to leave and get back in the car. But it was the nights that were horrid; her medication did not significantly diminish her pain.
I had to make the hard decision to let her go. WesternU's willed body program offered us the opportunity for students to learn from her suffering. So, with the hope that students may learn from the body of this unique little soul, I signed her over.
Dr. Chaney is a professor of physical therapy at the WesternU College of Allied Health Professions.
Back to Pet Memorial    |    Donate in Lil's Name