Mews Manfredi
Loved by Adriana Manfredi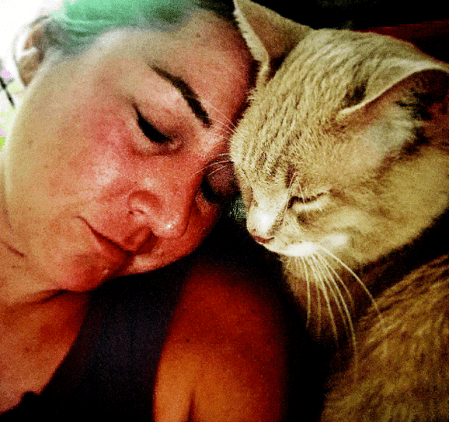 Mews appeared first in the backyard of the Highland Park home of our friends, Anna Schubert and Aaron Doyle. Anna and I are both members of the Los Angeles Opera Chorus. She said they discovered the orange feral cat had been living there when they returned home from a trip in May, and that he was more affectionate and sweeter than their own two domesticated cats. After getting him cleaned up, vaccinated, and fixed, they started looking for a new home. "He's ready to start living a civilized life," Anna said.
We owe a special thanks to Anna and Aaron for sending Mewsie into our lives for a few lovely months. He was a sweet scrabbler who befriended everyone he met; I'm convinced that is how he survived in the wild for seven-ish years before he joined our household. Even our veterinarian loved him, and said that if anything happened to us, she would take Mews.
This special cat knew when people needed him, and we all did need him, but usually he just wanted to say "hey," and snuggle. He ate fresh baked bread and even sipped my coffee if I wasn't paying attention. If Mews really liked you, he sneezed on you, a weird endearing first for me.
Our dear Mews had what we thought was an eye infection, but it turned out to be cancer. A few days after Thanksgiving, we said goodbye to him.
Happy trails, sweet Mews, you lived life well and we loved being your forever home for the time we could.
The Manfredis have since adopted a feral kitten from the same Highland Park Hills area and named her Chloe. The family also has a rescued bearded dragon named Mr. Smee.
Back to Pet Memorial    |    Donate in Mews Manfredi's Name