Pudge
Loved by Jack & Judy Davis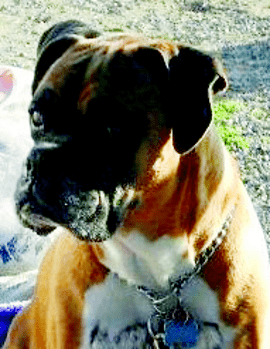 We brought Pudge home as a puppy, on June 6, 2001. He instantly became a member of our family. Pudge loved our children, grandchildren and extended family as was evidenced by his wagging tail and lapping tongue each time they visited throughout the years. 
He slept with us nightly, usually taking up more than his fair share of the bed.  Always wanting to be touching one of us, at times he even hugged us by laying his front leg and paw over our neck.
 From the time he was a puppy until his last day, he would sit on Judy's lap and be loved on, or push Jack out of the chair or off the sofa so he could have it to himself.
Pudge always enjoyed camping. As soon as camping supplies were readied, he followed to make sure he got to go, too. And he always did. Playing on the sand at the beach and frolicking in the waves was one of his favorite things to do. At one campground we frequented, he decided to play tether ball with our granddaughter and then on his own. People would always stop to watch him and comment on how amazed and entertained they were by him.
Over a period of several years, he had many health trials. Our vet called him "Pudgeriffic" because he had a strong will to live and overcame so many major illnesses. For this reason, we wanted Pudge's life to matter even in death. While our hearts ached and we wanted to bring him home, our heads said, "Maybe students can learn what caused so many of his health issues so other dogs may not have to go through what he went through." 
We miss our precious boy Pudge more than words can express, yet were blessed by him for almost 11 years.
Back to Pet Memorial    |    Donate in Pudge's Name