Taffy
Loved by Louise Taylor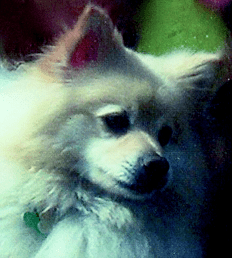 Our Pomeranian, Taffy, was the type of endearing pet we all seek, offering unbridled joy to a return home, comic relief on an uneventful day, and an eternal puppy playfulness even at age 12. Her four-foot jump capacity tempted us to change her name to Tigger.
Taffy was both incessantly curious and insatiably hungry, finding morsels everywhere, and begging for dinner daily beginning at 3 p.m., despite the 5 p.m. meal routine. To our sadness, her appetite and curiosity led her to dig under a one-inch crevice beneath the outside barbecue to retrieve and consume rat poison – a tragic step that days of plasma and blood transfusions, medications, vitamin K, and vet care could not reverse.
Our sorrow at her death was mitigated when we learned that she could continue to offer support through the donation of her body to veterinary education. We miss her and her antics, but know she will continue to help veterinary students prepare for the care and health of many pets for years to come.
Back to Pet Memorial    |    Donate in Taffy's Name