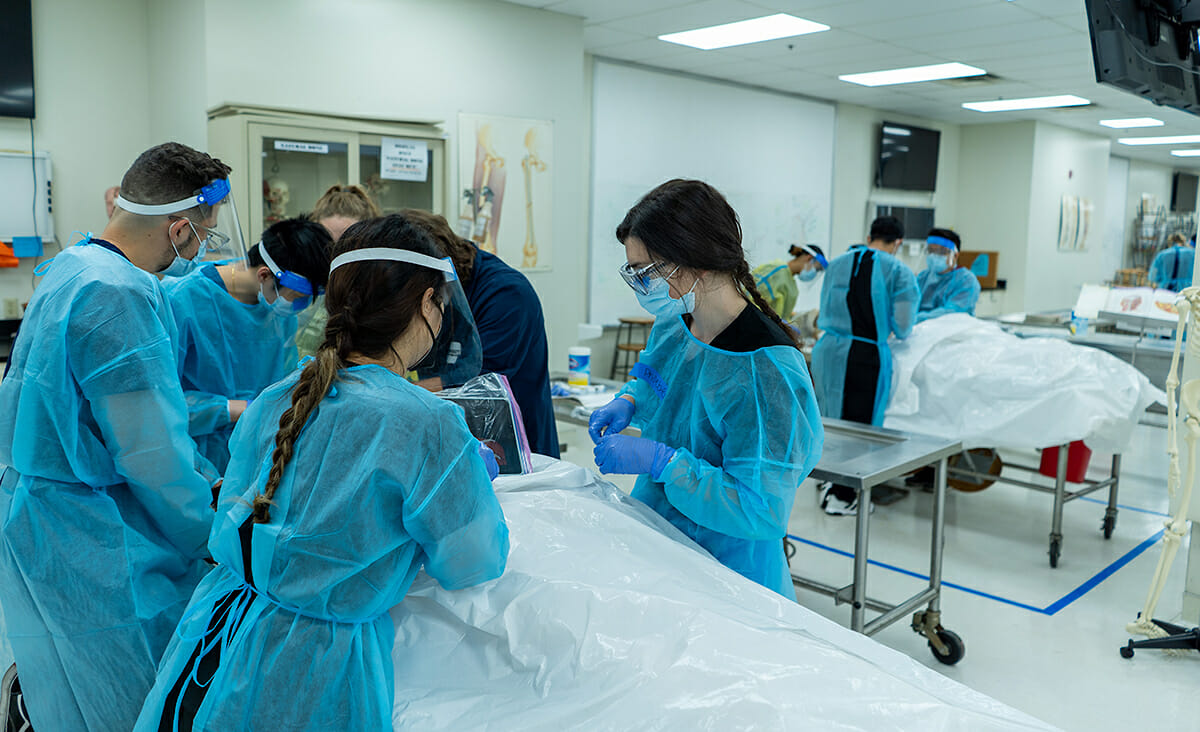 COMP & COMP-NW: Application Requirements
We use Acuity Insights to help us ensure we recruit only the highest-quality candidates for the highly-selective DO programs.
Acuity Insights has developed three assessments for evaluation of candidates for admission, CASPer, Snapshot, and Duet. The COMP and COMP-NW require that all applicants take the CASPer assessment. It should be taken concurrently with completing the Secondary Application. Applications will not be considered complete and ready for review without a CASPer Report. For the application year 2023-2024 COMP-Northwest has also chosen to trial Duet and is recommending that all applicants take the assessment. Duet will not be used in the decision process; its validity will be assessed against the data they collect.
Thank you for considering WesternU. Learn more about the application process and requirements.
Application Process
Step 1: Prerequisites And Application Requirement
The first step in the admissions process is to ensure you are on track to complete both the course prerequisites and application requirements (see below) in time to apply for your preferred year of entry.
International Students: We do not require a separate application or fee, and you should be prepared to meet all of the prerequisite and application requirements as outlined. If you need assistance with immigration (I-20 form, F-1 visa, SEVIS, etc.), our International Student Services (ISS) staff are available to help you. Visit the ISS website to learn more.
Step 2: Make Yourself A Competitive Candidate
Admission to the program is competitive so you should strive to not only meet, but exceed the minimum requirements. To get an idea of the competitiveness of those accepted into the class, we recommend that you view our Competitive Class Stats page.
Step 3: Preparing And Submitting Your Application
The apply now page will provide you with step-by-step instructions as well as an application checklist. There are a number of supporting materials that make up your completed application, and it is essential that you carefully follow the checklist to ensure that you properly submit these pieces by the deadline.
Prerequisite Courses
MINIMUM REQUIRED: ONE ACADEMIC YEAR
(6 Semester units each prerequisite)
College English
Behavioral Sciences
MINIMUM REQUIRED: ONE ACADEMIC YEAR
(8 Semester units each prerequisite)
Biological Sciences with lab
Organic Chemistry with lab
Inorganic Chemistry with lab
Physics with lab
NOT REQUIRED BUT RECOMMENDED
Biochemistry
Genetics
Physiology
ALL ​PREREQUISITES:
Must be completed at a regionally accredited U.S institution, institution recognized by the USDE, or its equivalent abroad
Must be completed by June 1 of the year you plan to enter the program (if accepted)
College Level Equivalency Program and A/P credits are accepted for prerequisite courses as long as the course credits are specified on the transcript and are class specific
All coursework taken from non-U.S. institutions (excluding Canada) must be submitted to an approved service for evaluation
COMP does not accept alternative educational experience or professional training to meet admissions requirement
Application Requirements
WesternU/COMP requires confirmation of a baccalaureate degree as a requirement for matriculation.
Completion of the majority of prerequisite courses listed.
Completion of a minimum of 90 semester units from a regionally accredited U.S. institution or its equivalent abroad at time of application.
Submitted official Medical College Admissions Test (MCAT) scores to AACOMAS
Scores cannot be older than three (3) years
​Two letters of recommendation
One (1) from a physician (MD or DO only, DO preferred)
One (1) from a science professor OR from a university health professions committee
Proof of Legal U.S. Residency – If Required
International applicants, or any other applicants who are not U.S. citizens and who are living in the U.S., must provide proof of legal U.S. residency prior to matriculation.