Western University of Health Sciences College of Podiatric Medicine's progressive and comprehensive medical education is leading the way in inspiring and preparing a new generation of podiatric physicians of the lower extremity whose expertise and compassionate care for the whole person improves lives.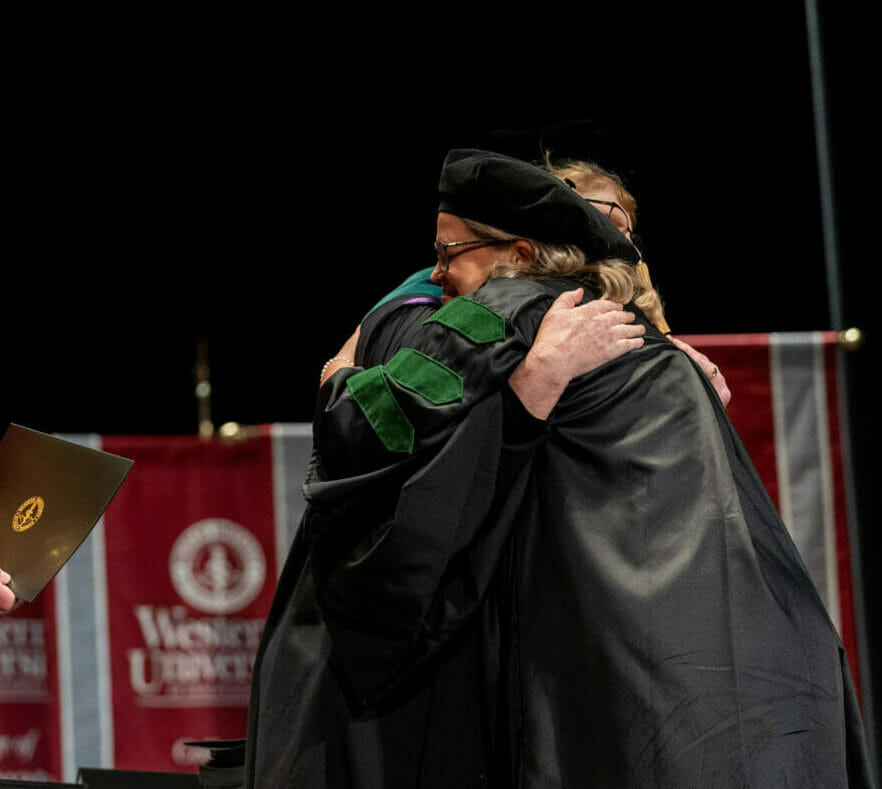 MAKE CONNECTIONS,
LIFELONG RELATIONSHIPS
Our students interact with ALL academic leadership and faculty here, not just those they may have in class. With leadership, faculty and students all working together, you'll find a learning environment that promotes collaboration over competition. Not only will students meet the dean of the College of Podiatric Medicine, they most likely will get to know her well.
---
MISSION
The mission of Western University of Health Sciences College of Podiatric Medicine is to mentor and educate students by providing innovative educational experiences, including interprofessional patient care, in an inclusive, diverse and equitable environment, and inspiring a passion to improve the lives of others.
VISION
To be the global leader of innovative and integrated Podiatric Medical Education.
CORE VALUES
Embody a humanistic tradition that encompasses compassion, humility, integrity, truth, quality, and service.
---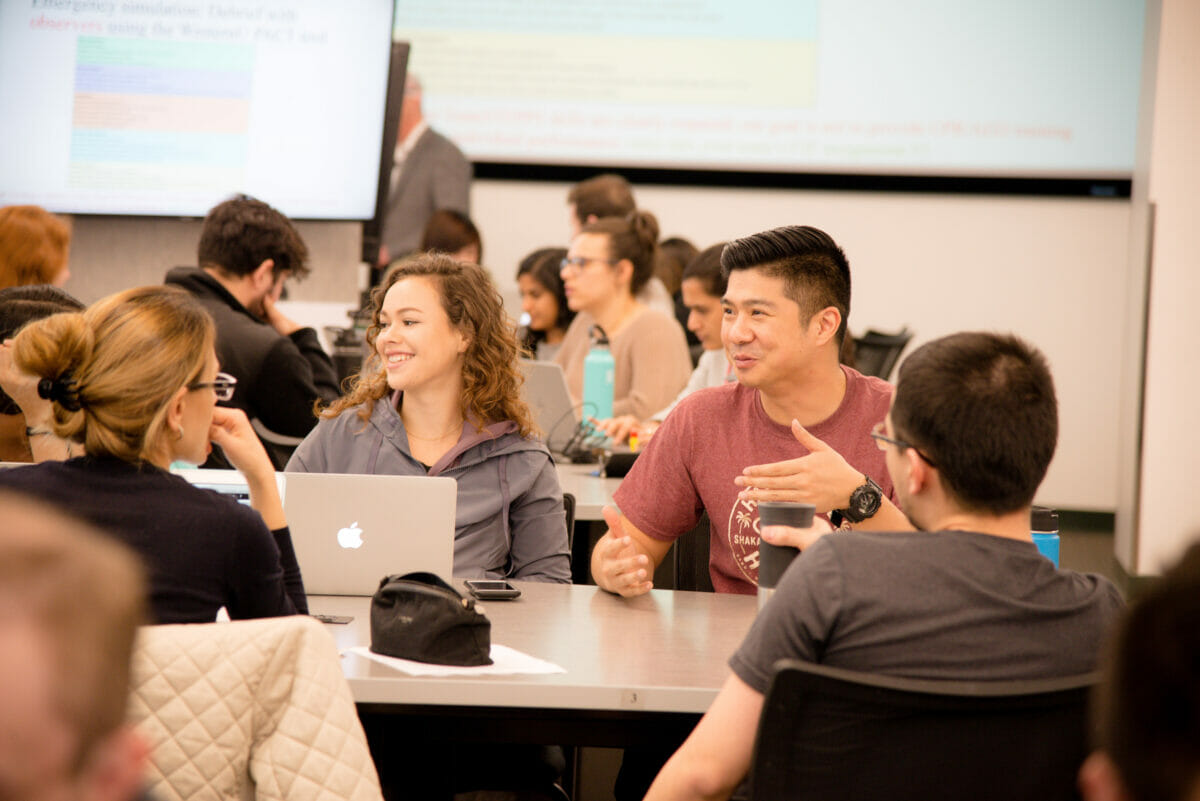 Interprofessional
Education
Many health care organizations embrace the concept of interprofessional education (IPE). IPE equips our students with the skills necessary to improve competency and confidence and decrease errors. Students gain valuable hands-on experience working side-by-side with other students and faculty members to address the changing needs of patients.
What makes WesternU College of Podiatric Medicine different?
CPM helps you to become a whole-body physician specializing in lower extremity medicine and surgery.
Early Hands-On Experiences
Over 40 standardized patient experiences starting in fall of Year One
Community outreach through service-learning opportunities like Special Olympics and student-run clinics
Busy urban and suburban clinics
Real Research Opportunities
Extremitas peer-review student journal
Paid summer research fellowships
Assistance to attend conferences to present work
Proven track record of student research presented at national conferences
Student-Focused Learning
Interprofessional education with 8 health care colleges
A remediation program that keeps students with their class for better on-time graduation rates
Paid subscriptions to board prep programs and online learning communities
Protected time for board prep
Free wellness and accommodative supportive services
Individualized student mentorship
Digital Doctor's Bag® – an iPad with pre-installed apps to assist you with learning
3-D Anatomy apps that allow virtual dissection
Mock residency interviews, case conferences and journal club to help students to prepare for audition rotations
A special University department dedicated to offering help in learning skills, providing tutors and wellness strategies
State-of-the -Art Facilities
New biomechanics lab with latest motion capture technology, orthotic production and traditional methods
Simulation labs with powered surgical equipment and sawbones for performing procedures
Virtual reality operating room experience
Computerized case simulations for reinforcement of skills
Beautiful Suburban Campus in Southern California
Year-round outdoor learning & playing spaces with WIFI enabled connectivity
45 minutes to the beaches or to the ski slopes
Many housing opportunities both on campus and within blocks of campus
The Most Rotation Months Possible
Up to 7 audition rotation months BEFORE residency interviews to optimize face-time with program directors
Southern California hospital rotations in year 3
National rotations in year four
Global Impact
Diabetic foot fellowships in India, expanding to the world
Opportunity to interact with physicians around the world
Global telemedicine experiences
World Class Faculty
Most faculty double boarded in medicine and surgery
Respected leaders in state and national organizations
Core Competencies in Support of the College's Mission
Core Competencies
Academic excellence
Innovative training practices
Interprofessional education
Compassion as health care providers
Health care team integration
Additionally, the College aspires to excellence in producing students in:
Medical knowledge
Podiatric medical knowledge
Patient-focused quality care
Professionalism (Leadership)
Research
Interprofessional and Communication Skills
Evidence-based learning
Systems-based practice
Lifelong learning
Curricular Outcomes/Goals
The goal of CPM's curriculum is to prepare every CPM student with the knowledge, attitudes, and skills to excel in postgraduate podiatric medicine and surgery residency training programs of their choice. Specifically, the student will develop the expected competencies to enable them to demonstrate:
Knowledge of pre-clinical science (application of didactic knowledge to clinical setting)
Prevention, recognition, diagnosis and management of systemic diseases and local disorders that adversely affect the foot, ankle, and lower extremity (LE), foot and ankle as seen in a podiatric medical practice
Development of professional ability to work with others, reflecting cultural competence, ethical behavior, humanistic behavior, compassion and concern for others
Demonstration of the ability to function as a member of an inter-professional team
Demonstration of the ability to understand research methodology and other scholarly activities
Demonstration of the ability to understand podiatric medical practice and delivery of care in the various health-delivery settings (private practice, hospital-based practice, and health care educational systems such as college and academic health science centers, free standing colleges of podiatric medicine, health maintenance organizations group practices and inter-disciplinary practice settings)
Demonstrate practice habits and management techniques for quality patient care in a variety of communities, health care settings, and living arrangements
Pre-clinical science knowledge
Prevention, diagnosis, and management of diseases and disorders of the LE In a cost-effect manner