You Will Practice Cutting Edge Podiatric Medicine 
The field of podiatry has changed dramatically. Podiatric medicine is exciting and benefits people in ways you've never imagined. A podiatric physician can help prevent amputations while saving limbs and lives. By the time you graduate, you will be able to apply the cutting edge technology of living cell to the field of diabetic wound healing. Imagine how you'll feel seeing someone walk again because of you. Or just as exciting, working with athletes to maintain their full potential by treating and preventing sports injuries. Podiatric medicine opens doors to research and participation in clinical trials for novel treatments and technologies. Whether you open up your own practice after graduation, participate in research, government consulting or join the pharmaceutical field, podiatric medicine is a diverse and financially rewarding medical career choice. 
Visit Step Into Podiatry to learn more about podiatric medicine, the work-life balance, and finding a mentor.
Curriculum
Our innovative curriculum is based on the latest literature to support adult learning, optimize multiple educational methods and retention to maximize your success and benefit your patients' well-being.
Overview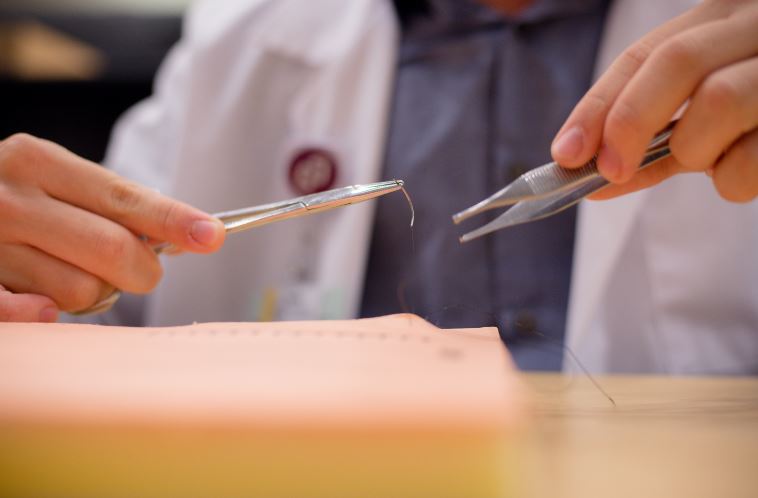 The first two years focus on the foundations of medicine in the classroom and small group activities, hands-on workshops, and standardized patients. The third and fourth years focus on clinical rotations learning to care for patients firsthand.
Pre-Clinical Education
1st-year focus: Normal functions of the body, health, and wellness.
2nd-year focus: Restoration of health, diagnosis, and treatment.
We present the material in integrated blocks of the sciences and clinical skills. Students also have podiatric specific courses and a two-year comprehensive course to help prepare for the boards.
Clinical Education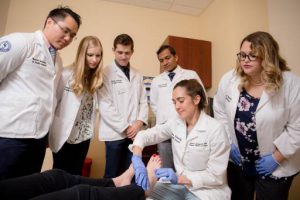 In the third year students complete clinical rotations in medicine, surgery and podiatric medicine, surgery & biomechanics at core LA area hospitals. Students also participate in a weekly didactic and skills session.
Externships begin the last two months of the third year at residency programs around the country.
Interprofessional Education
Students from our nine graduate/professional colleges work together in classrooms, small venues and with patients to develop an understanding of other healthcare professions and provide a team-based approach to patient care.
The National Academy of Medicine and national healthcare organizations emphasize collaborative care, making this an essential component of training future health care professionals.
Summer Programs
 Summer Preparedness and Readiness Course (SPaRC)
5 week student-centered and student-driven program
Designed to prepare incoming students for the rigor of their program
Introduces coursework, skills, and competencies in an interprofessional environment.
 Intensive Summer Anatomy Course (ISAC)
Fast-paced 6-week course
Covers the gross anatomy course except for the Head & Neck portion
Early exposure and improved faculty to student ratio
If your final grade is 80 or above you may be asked to facilitate the course during the academic year
Find us at prospective.westernu.edu/podiatry/welcome.