Learn about the search on the Provost Search page.
The Provost serves as the Chief Academic Officer and provides oversight of all existing educational programs and works to develop new educational offerings. In addition, as Chief Academic Officer, the Provost shares responsibility with the Colleges for the successful accreditation of the University and the professional degree programs.
Student Appeals
Student appeals to the Provost are initially handled by Carolina Alirez, Operations and Communications Coordinator
Provost Office, Academic Affairs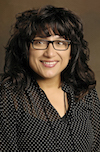 Carolina Alirez
Western University of Heath Sciences
309 E. Second Street
Pomona, CA 91766
909.706.3844
909.469.5694
calirez@westernu.edu
New Program Development
WesternU looks forward to developing new degree and certificate programs, both on campus and online. We are currently finalizing an electronic submission process where our campus community can share ideas for future health professions related programs. If you have a great idea that you would like to share now, please email that to us at pcrone@westernu.edu.