The Doctor of Podiatric Medicine Advanced-Standing Program grants a DPM degree to foreign-trained physicians who already have a medical degree that is not from a U.S. or Canadian medical school. Students admitted to this program will be inserted into the 3rd year of education.
Additional detailed Advanced Standing admissions policies and procedures can also be found in the College of Podiatric Medicine Catalog. If you have questions, please contact us at any time.
DPM Advanced Standing Cost of Attendance and Financial Aid information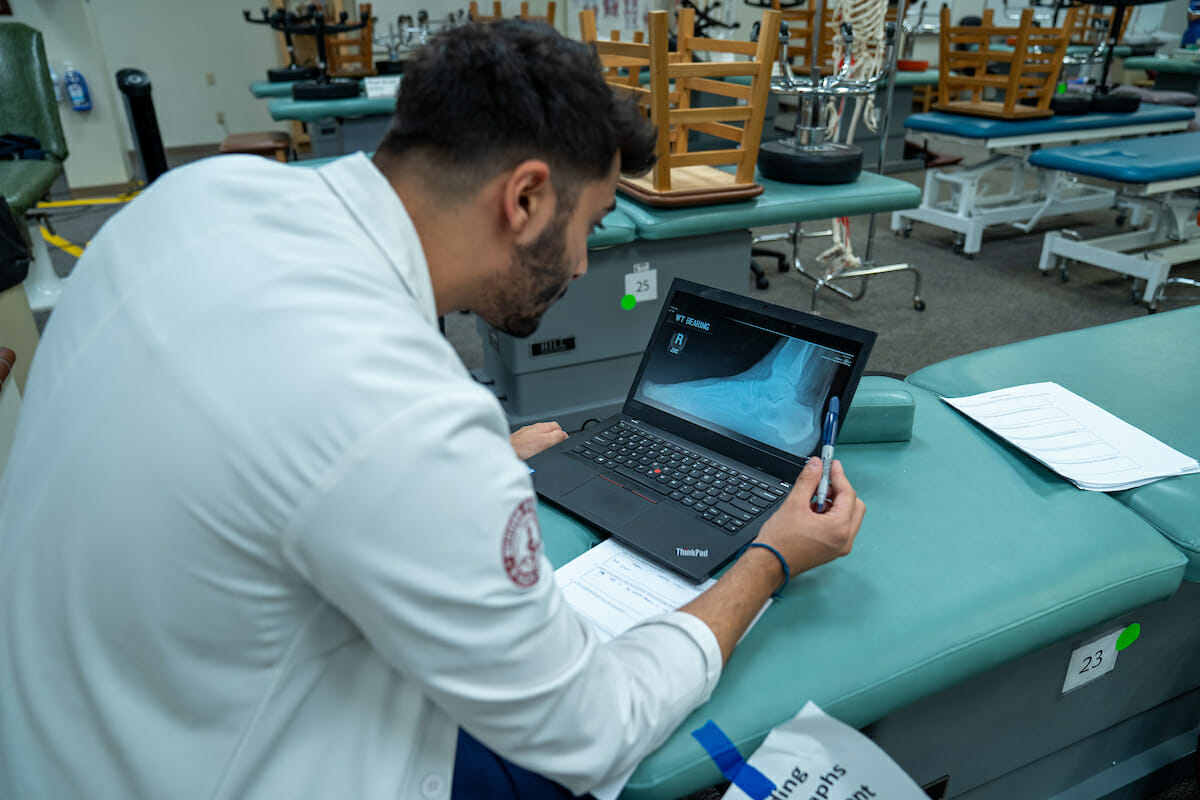 Apply Now
2024 Application
Opens: April 15, 2023
Closes: April 1, 2024

All application materials must be received on or before the deadline. Application materials received after the deadline will be considered late and will not be processed.
WesternU Application
A completed online application must be submitted on or before the application deadline.
A non-refundable application fee of $100 must be paid online at the time you submit your application
Degree Requirements
All applicants must already have a medical degree that is not from a U.S. or Canadian medical school.
Transcripts and Evaluations
Official transcripts for all coursework completed outside the United States must be submitted to one of the approved services listed below.
World Education Services (WES)
P.O. Box 5087, Bowling Green Station
New York, NY 10274-5087
(212) 966-6311
Educational Credential Evaluators (ECE)
101 W. Pleasant St. Suite 200
Milwaukee, WI 53212-3963
(414) 289-3400
Josef Silny & Associates (JSA)
7101 SW 102 Avenue
Miami, FL 33173
(305) 273-1616
International Education Research Foundation (IERF)
P.O. Box 3665
Culver City, CA 90231-3665
(310) 258-9451
All foreign transcripts must be evaluated course-by-course with letter grades, pass/fail, or credit/no credit, and must specify which courses are considered undergraduate, graduate and professional.
The evaluation service should send/release the official evaluation directly to WesternU.
Official transcripts for any courses completed at U.S. institutions must be submitted directly to WesternU.
English Language Proficiency
Applicants must be proficient in English speaking and reading comprehension.
All applicants whose native language is not English must submit official ETS TOEFL score results to WesternU.

A minimum score of 79 for the Internet-Based test must be submitted at the time of application.
TOEFL scores are valid for two years.
Exceptions

The TOEFL exam will be waived for permanent and temporary residents of the United States who have completed at least six semester unit of College English/English Composition from an accredited institution in the United States.
The TOEFL will be waived for those whose instruction in undergraduate and/or graduate degree programs was conducted entirely in English.
English courses taken from foreign countries whose native language is English will be accepted (e.g., Canada, Australia, Great Britain, New Zealand and the British West Indies).
NOTE: If, at the time of the interview, there are concerns about an applicant's English proficiency, they may be asked to take, or re-take, the TOEFL exam in order to complete the admissions process.
United States Medical Licensing Examination (USMLE)
Must have passed USMLE Step 1.
Official USMLE Step 1 test results must be submitted directly to WesternU.
Applications can be initially processed and sent for Committee review without USMLE scores, but official scores must be received on or before the application deadline.
Letters of Recommendation
A letter of recommendation from a medical school professor is required.

The request for a letter of recommendation will be sent electronically to your recommender with the information you provide in your application.
Curriculum Vitae
A current curriculum vitae with details of your current and/or past professional experiences must be submitted with your application.
Proof of Funding
International students are required to provide proof of funding for one academic year before an I-20 will be issued.
Interviews
An interview is required for admissions consideration. Competitive applicants can expect to receive an interview invitation. Further details will be provided at that time.
Proof of Legal US Residency – If Required
International applicants, or any other applicants who are not U.S. citizens and who are living in the U.S., must provide proof of legal U.S. residency prior to matriculation.
Related Links
Application Process
You may submit your application online today, then follow-up with the additional documentation outlined in the application checklist above.
If the Admissions Committee determines you are eligible to interview, we will contact you to schedule an appointment.
We are happy to answer your questions as you navigate through the application process, so please do not hesitate to contact us if we can help.