The oral cavity is one of the unique microenvironments in the body. The interactions between alveolar bone, dental tissues, oral mucosa, oral bacteria, immune cells, and saliva define several physiological and pathological processes that are specific to the oral cavity. Alveolar bone shows unique patterns of adaptation to mechanical loading, disuse, aging, and remodeling-altering medications, especially bisphosphonates.
Research Areas
Dr. Elsalanty's lab has been investigating the interaction between alveolar bone and the soft tissues during regeneration and mechanical loading.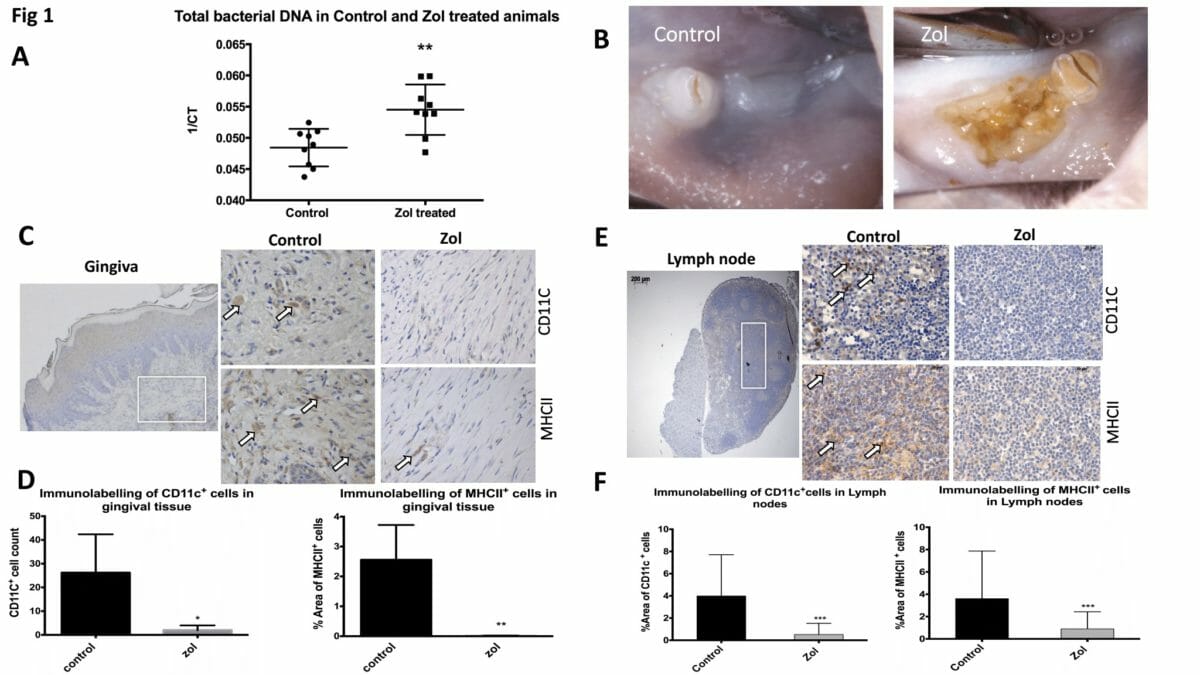 Zol impaired DCs' activity in vivo leading to increased bacterial load in MRONJ rat model:
Rats were treated with 80ug/kg Zol for 13 weeks (n=13 per group), oral swabs were taken for analysis of bacterial content followed by extractions of 1st and 2nd mandibular molars and isolation of cervical lymph nodes 2 weeks post extraction (n= 3 per group) and harvest of mandibles (n=10 per group) and gingival tissues (n=5 per group) 8 weeks after extraction. A: Universal 16SrRNA qPCR showing difference in bacterial content on oral mucosa of Zol and control animals; gene expression of the 16srRNA was assessed with the CT values and graph plotted as I/CT on the y-axis. B: Representative clinical pictures of extraction sites (8 weeks post extraction) of Zol and control animals. C: IHC labeling of DCs in gingival tissues using anti CD11c and anti MHCII in consecutive sections (2.5x photomicrograph of the gingival tissue was taken to show the area of analysis in lamina propria as indicated by white box, which was further magnified at 40x) and quantified using ImageJ software as shown with bar graphs in D. E: IHC labeling of DCs in cervical lymph nodes using anti CD11c and anti MHCII in consecutive sections, (2.5x photomicrograph of the lymph node was taken to show the area of analysis in paracortex as indicated by white box, which was further magnified at 40x) and quantified using ImageJ software as shown bar graphs in  F.  (* p<0.05, ** p<0.01, *** p<0.001)
---
Recently, his team has focused on exploring the mechanisms for medication-associated osteonecrosis of the jaw (ONJ), as a venue to explore the mechanisms that make the condition exclusive to jawbones, as well as developing strategies for preventing such a serious condition. They are currently exploring the unique response of alveolar bone to anti-resorptive medications from three interconnected directions. The first is to investigate the role of matrix-bound bisphosphonates in the pathogenesis of bisphosphonate-related osteonecrosis of the jaw (BRONJ). The hypothesis is that bisphosphonate molecules that become embedded into the bone matrix remain accessible and biologically active and they affect bone homeostasis through the impairment of osteoclast and osteocyte functions.
The second direction is to investigate the effects of bisphosphonates on osteoclast-mediated angiogenesis in alveolar bone. Strong preliminary data support the hypothesis that bisphosphonates impair post-extraction angiogenesis in the jaw. We are currently investigating the effect of bisphosphonates on PDGF-BB pathway in pre-osteoclasts, and whether this pathway plays a role in post-extraction angiogenesis.
The third direction is to study the effect of matrix-bound bisphosphonates on biofilm formation and localized immune response in the jaw. Preliminary data shows that bisphosphonate-treated animals have higher bacterial content in the oral cavity under baseline conditions. The long-term goal is to uncover mechanisms by which alveolar bone reacts to pathological conditions and aging-related changes and develop strategies to extend the health-span of musculoskeletal tissues.
Publications
Selected Publications
Elsayed R, Kurago Z, Cutler CW, Arce RM, Gerber J, Celis E, Sultan H, Elashiry M, Meghil M, Sun C, Auersvald CM, Awad ME, Zeitoun R, Elsayed R, Eldin M Elshikh M, Isales C, Elsalanty ME. Role of dendritic cell-mediated immune response in oral homeostasis: A new mechanism of osteonecrosis of the jaw. FASEB J. 2020 Feb;34(2):2595-2608. doi: 10.1096/fj.201901819RR. Epub 2020 Jan 9. PMID: 31919918
Awad ME, Sun C, Jernigan J, Elsalanty M. Serum C-terminal cross-linking telopeptide level as a predictive biomarker of osteonecrosis after dentoalveolar surgery in patients receiving bisphosphonate therapy: Systematic review and meta-analysis. J Am Dent Assoc. 2019 Aug;150(8):664-675.e8. doi:10.1016/j.adaj.2019.03.006. Epub 2019 Jun 28. PMID: 31256803; PMCID: PMC6839407.
Salgueiro M, Stribos M, Zhang LF, Stevens M, Awad ME, Elsalanty M. Value of pre-operative CTX serum levels in the prediction of medication-related osteonecrosis of the jaw (MRONJ): a retrospective clinical study. EPMA J. 2019 Jan 24;10(1):21-29. doi: 10.1007/s13167-019-0160-3. eCollection 2019 Mar. PubMed PMID: 30984311; PubMed Central PMCID: PMC6459452
Awad, ME; Altman, A; Elrefai,R; Shipman, P; Looney, S; Elsalanty. The Use of Vascularized fibula flap in Mandibular reconstruction; A comprehensive systematic review and Meta-analysis of the observational studies.Journal of Craniomaxillofacial surgery.
Elsayed R, Abraham P, Awad ME, Kurago Z, Baladhandayutham B, Whitford GM, Pashley DH, McKenna CE,ElsalantyME. Removal of matrix-bound zoledronate prevents post-extraction osteonecrosis of the jaw by rescuing osteoclast function. Bone. 2018 Feb 8;110:141-149. doi: 10.1016/j.bone.2018.01.030. [Epub ahead of print] PMID:29408511
Howie RN, Bhattacharyya M, Salama ME, Refaey ME, Isales C, Borke J, Daoudi A, Medani F, Elsalanty ME. Removal of pamidronate from bone in rats using systemic and local chelation. Arch Oral Biol. 2015 Sep 7;60(12):1699-1707. doi: 10.1016/j.archoralbio.2015.09.001. [Epub ahead of print] PMID: 26431826
Howie RN, Borke JL, Kurago Z, Daoudi A, Cray J, Zakhary IE, Brown TL, Raley JN, Tran LT, Messer R, Medani F, Elsalanty ME. A Model for Osteonecrosis of the Jaw with Zoledronate Treatment following Repeated Major Trauma. PLoS One. 2015 Jul 17;10(7):e0132520. doi: 10.1371/journal.pone.0132520. eCollection 2015. PMID: 26186665
Book Chapter: Elsalanty, ME. Bone Development and Histogenesis of the Jaw. In Tolstunov, L (Editor). Horizontal alveolar ridge augmentation in implant dentistry, 1st Edition, Wiley Blackwell, Inc. 2016
Educational Publications: Elsalanty M. Early Tooth Development. MedEdPORTAL; 2012. Available from: www.mededportal.org/publication/9169
Full List of Publication:https://pubmed.ncbi.nlm.nih.gov/?term=Elsalanty&sort=date
MOHAMMED E. ELSALANTY, PhD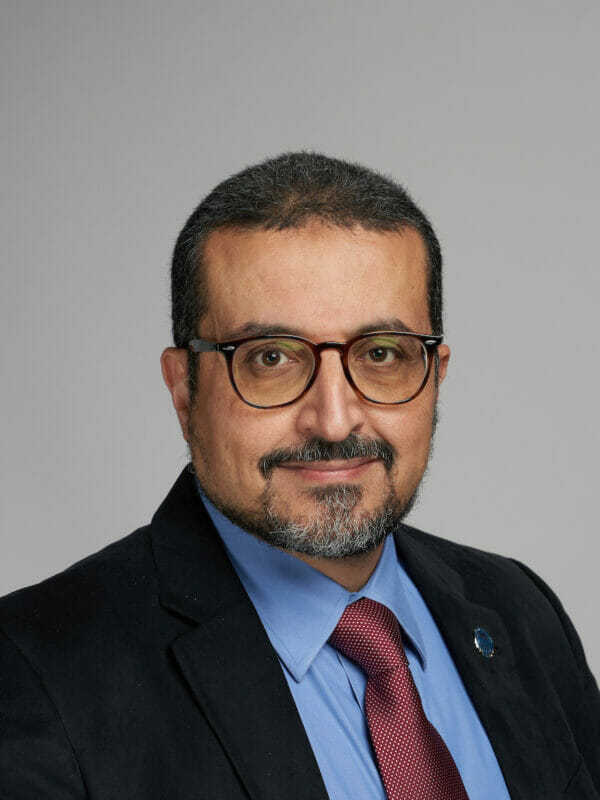 College of Osteopathic Medicine of the Pacific
Professor and Chair of Anatomy