Our Purpose
The University Mailroom is bound by US Postal Service (USPS) regulations regarding the handling of incoming and outgoing USPS mail, but the Mailroom is not affiliated with the USPS nor does it provide the same services.
WesternU's Mailroom Services (the "Mailroom") are designed to be used specifically for WesternU business-related mail. The University does not assume responsibility or liability for personal items sent via the Mailroom. We strongly advise that personal items be sent through a US Mail facility. Also, the Mailroom highly advises against sending any cash or any material that conflicts with the University Code of Conduct, University policies, and/or federal, state, or local laws and ordinances.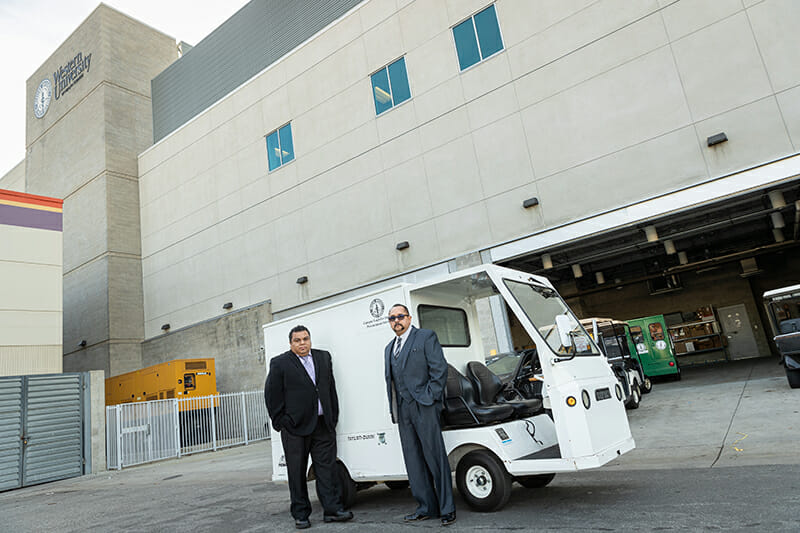 Services provided by
the Mailroom


Provide supporting documentation forms for select USPS services.
Assist end-user in package preparation.
Determine the weight and shape dimension of mail and calculate postage.
Track USPS correspondence.
Retrieve daily incoming WesternU business-related mail from the local USPS hub, sort, and route mail to the correct campus drop-off location.
Process airmail and international mail.
Assign metered postage for all outgoing WesternU business-related mail (envelopes and parcels).
Transport outgoing WesternU business-related mail directly to the local USPS hub.
Services not provided by the Mailroom:
Sell postage (stamped or metered) for any kind of personal use.
Provide packaging materials.
Accept or handle personal packages, even with postage already attached, for outgoing shipment
Additional customs declaration documentation may be required for items being sent to other countries and to certain postal destinations such as Military Installations or APO addresses. End users may consult the USPS (usps.com/) for additional information. WesternU accounts and discount structure with FedEx, DHL, UPS or any other contracted commercial carrier or messenger service may not be used for personal packages.
Mail Procedures
Outgoing University mail to be sent by USPS must be completely and accurately addressed and must be bundled with a postage voucher form with a valid FOAPAL to cover the postage cost.
The official and legal mailing address for the campus is:
Western University of Health Sciences
309 East Second Street
Pomona, CA 91766-1854.
Use this address for all business-related outgoing correspondence. Since the USPS does not deliver WesternU addressed mail directly to the University, DO NOT use other campus building address numbers.
Interdepartmental mail should be addressed with:
1) The recipient's name; and
2) Department/College name.
The Mailroom assumes no responsibility for any mail left on the counter or on the floor of the lobby that is not bundled with a postage voucher form.
Only Authorized Procurement Services staff and couriers with a valid company photo ID may enter the WesternU Mailroom. Please do not enter the If you require assistance, please ring the service bell and announce yourself at the service door so that a Mailroom staff member may assist you.
Individuals are encouraged to use official USPS mailboxes and post offices for sending personal mail. Although it is highly advised against, personal stamped mail may be dropped off at the Mailroom dropbox located at the HEC Loading Dock.
Incoming Mail
The Mailroom staff sort and distribute incoming USPS and interoffice mail. The Mailroom alerts Departments/Laboratories by phone and/or email when time-sensitive correspondence and packages are received (e.g., US Priority/Express, FedEx, DHL, UPS, and hand-delivered messenger service).
Personnel who have been authorized by college deans or directors of operations may retrieve mail from the Mailroom. Individual(s) may be required to present a valid WesternU identification card before Mailroom staff may release items to them. Recipients may be required to sign for items.
Delivery of Mail
Based on the timing of USPS/courier delivery schedules and Mailroom staffing availability, the Mailroom staff delivers mail to and retrieves outgoing mail from Administrative Departments.
Mailroom staff is authorized to request and verify the recipient's identification for the release of mail. Recipients may be required to sign for items.
Federal Express
Assistance with Common Courier Service:
Federal Express
The Mailroom staff will accept properly prepared packages of University business-related materials for shipment by Federal Express (FedEx) only. Mailroom staff provides limited assistance related to FedEx shipments. Requests for technical assistance related to FedEx shipments should be directed to FedEx.
Departments and Laboratories are encouraged to obtain preprinted FedEx airbills and to track the status of their packages from FedEx directly (Tel#: 800-GOFEDEX or https://www.fedex.com). End-users should retain the sender copy of the airbill for their records.
During Mailroom business hours, outgoing FedEx packages brought to the Mailroom are reviewed by the Mailroom staff, ensuring that the FedEx airbill has been properly completed and includes the complete shipper and sender address and contact information and a valid FOAPAL. International FedEx packages that are valued over $2,000 may require additional insurance, customs declaration, and commercial invoices.
FedEx packages are generally picked up once a day by 3:00 pm. As such, it is the end user's responsibility to ensure that outgoing FedEx packages are delivered to the Mailroom at least ½ hour before 3:00 pm and that the air bill is appropriately completed.
Sending Hazardous Materials
Hazardous materials may NOT be sent by US mail. For more specific information regarding the shipment of hazardous materials, contact the University's Environmental Health and Safety Office.
FedEx and other commercial carriers have very clear guidelines for the shipment of hazardous materials. Please contact the respective customer service departments of the commercial carriers for additional information on shipping hazardous materials. In certain cases, additional permits and/or documentation and/or training on DOT and IATA regulations may be required.